Warhawk Weekly 11–7: Mustang Battalion places first; Accounting students named finalists
Warhawk Weekly 11–7: Mustang Battalion places first; Accounting students named finalists
AUM IN THE NEWS
PRINT & ONLINE
Mustang Battalion places first
The AUM Army ROTC team placed first in the annual State Ranger Challenge competition. Ten schools from Alabama and West Florida competed in the two-day competition on Oct. 26–27 at Oak Mountain State Park in Pelham, Ala.
The competition consisted of seven events — the Army Physical Fitness test, an assessment on military tactical knowledge, building a rope bridge, casualty care, day land navigation, Zodiac rafting operation, and a 17-mile foot march with 35-pound rucksacks.
The Mustang Battalion team consisted of eleven cadets from AUM and its partner programs, representing each military science academic level. Their goal this year was to settle for nothing less than first place, which they reached and will send them to the Brigade Ranger Challenge Competition on Jan. 19–21, 2018 at Camp Blanding, Fla. The top two teams of the Brigade competition will then progress to the Sandhurst National Competition at West Point, N.Y. in April 2018.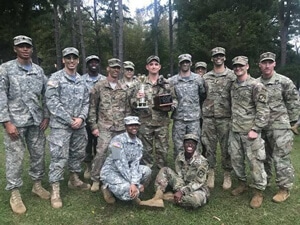 Accounting students named finalists
The Association of Government Accountants' (AGA) Government Finance Case Challenge is an international undergraduate student case challenge where student teams collaboratively analyze data for a specified U.S. state, city or county government. The teams then develop a four-page document that summarizes the government's finances, services and demographics, goals and performance information, and strategic analysis of "what's next" to meet the needs of the community in the following year.
This year's case study city was Fairfax, Virginia, and students had 15 days to research and submit their document to the national AGA staff for the competition. The AUM team — made up of three School of Accountancy undergraduate majors: Jackson Boan, Kailey Ingram, and Martha Lewis — was selected as one of four finalists for the 2017 challenge.
The AUM team will now revise their report based on the judge's feedback and submit a 25-minute video presentation discussing their final report in a mock city council setting, which is scheduled for Nov. 10.
The winning team will be announced in late November/early December.
Words of encouragement: Rocks Rock!
Several UNIV classes are participating in a service-learning project and want to encourage everyone to stay focused during the semester. Through the random acts of kindness project, UNIV students aspire to motivate other students in order to build confidence in their abilities.
These classes will be painting inspirational words on rocks in an effort to spread positivity among the student body. The colorful rocks will be placed around the campus grounds. Students, faculty and staff are encouraged to find a rock, read the message provided, and share with others.
Spring 2018 payment plans open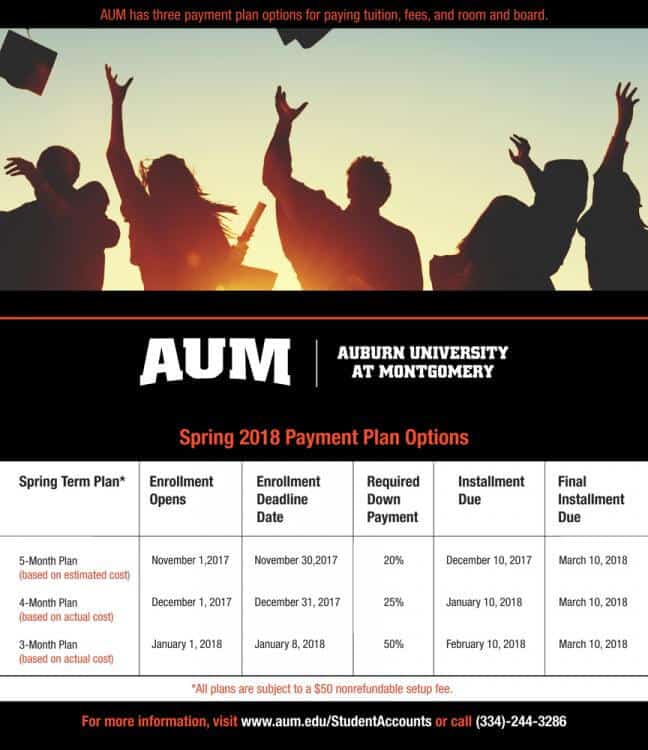 Internship in Japan informational
The JET (Japanese Exchange & Teaching) Program is a Japanese government-supported internship program. Since 1986, more than 60 thousand JET Program participants from over 40 countries have lived and worked in cities, towns and villages throughout Japan. Through this program, students will have the opportunity to teach English in Japan and get paid. U.S. students with a bachelor's degree are eligible to apply.
AUM Professor Naomi Chiba invited the ambassadors from the Consulate-General of Japan in Atlanta, Ga. to come to AUM and give our students a comprehensive introduction about the JET Program. They will bring the traditional instruments and give our students a Japanese music festival as well.
This is not only a great job opportunity, but also a good chance to have a hands-on experience with Japanese culture.
Tue., Nov. 7 | Noon–3 p.m. | Taylor Center 223
Operation Gratitude
The Peer Advocates would like to invite students, faculty and staff to Operation Gratitude: Saying, "Thank You" to all who serve.
Tue., Nov. 7–8 | Noon–2 p.m. | In front of AUMazing Bean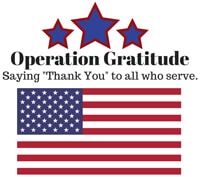 AUM SVA honors veterans
Free showing of Blood Stripe
The trials and tribulations of a female combat veteran and her battle with vigorous PTSD. Light refreshments will be served.
Wed., Nov. 8 | 4 p.m., 7 p.m. | Taylor Center 230
Picnic with Patriots
Free for students in uniform, military affiliated clothing, or with military ID.
$2 for all other students.
$3 for faculty and staff.
Thu., Nov. 9 | 11 a.m.–1 p.m. | The Quad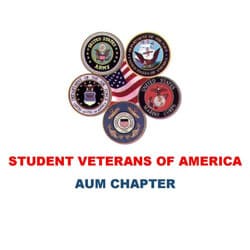 CAB entertains in November
AUM Bowling Night
Enjoy a night of bowling at the Brunswick Lanes on College Night. Transportation provided.
Wed., Nov. 8 | 7–9 p.m. | Brunswick Lanes
Sex in the Dark: Safe Sex Forum
It is a common thing in college; it is always good to be informed.
Mon., Nov. 13 | 6–8 p.m. | Goodwyn Hall 109
Diabetes Awareness
November is National Diabetes Month. Stop by the table to get informed on the subject.
Thu., Nov. 16 | Noon–2 p.m. |  In front of AUMazing Bean
Business Breakfast series continues
OutReach at Auburn University at Montgomery's Business Breakfast series begins Oct. 3. Each breakfast lecture is $30 for AUM students and employees or $35 for general admission. Tables of 8 can be reserved at a discounted rate for AUM departments.
Registration is required.
J. Walker Smith, Exec. Chairman of Kantar Futures
Thu., Nov. 9 | 7:30–9 a.m. | The Marriott Legends at Capitol Hill
Phil Bush, Director of MavRen Marketing and Sales
Tue., Jan. 23 | 7:30–9 a.m. | Wynlakes Golf & Country Club
Peggy Brockman, Author, inspirational speaker and business coach
Tue., Feb. 27 | 7:30–9 a.m. | The Marriott Legends at Capitol Hill
William Espey, Branding Visionary for Chipotle Mexican Grill
Tue., Mar. 20 | 7:30–9 a.m. | Wynlakes Golf & Country Club
Final AUM Connected events
AUM Connected will be showing the movie Let Me In as part of the Connected Common Reading events. Light refreshments will be provided and the event is free to all AUM students, faculty and staff.
Thu., Nov. 9 | 6:30–9 p.m. | Goodwyn Hall 111
A staged reading of Dracula will be performed by Theatre AUM
Dec. 1–3 | Theatre AUM
For more information, contact Danitra Tolbert at 334-244-3525 or [email protected].
Theatre AUM presents Woyzeck
Sacrificed to powers larger than himself, Woyzeck is one of the theatre's first anti-heroes. He serves a German captain and makes money by allowing a doctor to experiment on him, but his deeper morality leads him to a tragic end. A remarkable piece of theatre, Woyzeck is not bound by strictures of conventional space and time. It is a tiny play but an epic.
Woyzeck runs Thursday thru Saturday, Nov. 9, 10, 11 and Sunday, Nov. 12. Show times are 7:30 p.m. on Thursday thru Saturday and 2 p.m. for the Sunday matinee.
Tickets are $10 general admission, $5 senior citizen, student and military. AUM students, faculty, staff and alumni are free with ID.
For more information, contact Katie Pearson at [email protected] or 334-244-3632.
Thu., Nov. 9 | 7:30 p.m. | Theatre AUM
Salvation Army community service opportunity
Housing and Residence Life has been serving all over the community this year! Join us for our final community service effort of the fall semester. We'll be going to the Salvation Army to help the residents of Montgomery and just in time for the holidays! Lunch will be provided for those that serve.
Fri., Nov. 10 | 9:30 a.m. | Meet at the Nest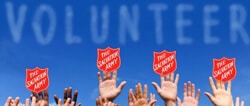 Deep learning, deep linear
Dr. Tianran Chen will be speaking on deep structured learning, which is a fairly new trend in machine learning and the broader field of artificial intelligence.
There will also be a social gathering for the Math Club, Engineering Club, and Computer Science Club.
Fri., Nov. 10 | 12:30–2 p.m. | Goodwyn Hall 201
Student, Faculty, Staff softball game
There will be a Student vs. Faculty/Staff softball game held on the AUM Women's Softball field.
This is the last event of the Wellness Six Week Challenge. All interested students, faculty and staff are encouraged to come and participate in the game.
Fri., Nov. 10 | 3:30 p.m. | AUM Softball field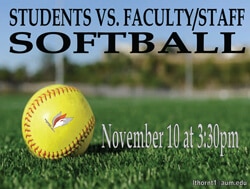 Political Film Series: When Trumpets Fade
The film revolves around the actions of Private David Manning, a soldier in the 28th Infantry Division who, in order to survive, does just enough to stay out of trouble, but not enough to actually make a difference. HBO's When Trumpets Fade is one of the most underrated war movies; a movie that provides the audience with a close-up look at the brutal reality of combat and insights to what war does to a man.
The film will be introduced by Dr. Ben Severance, professor in the Department of History & World Languages & Cultures, and is co-sponsored by the College of Arts & Sciences.
Mon., Nov. 13 | 7 p.m. | Goodwyn Hall 111
Grad School Preview night
If you're ready to start building the next phase of your career, maybe it's time to investigate a master's degree.
AUM's Grad School Preview night will give you the opportunity to identify the best graduate program for your field and your future — and for your professional timeline.
For more information, visit www.aum.edu/gradpreview.
Thu., Nov. 16 | 5–7 p.m. | Taylor Center 221–223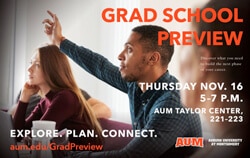 Hot Topics Café: Trump's America
It's been one year since President Donald Trump took office. Join us for an open, honest conversation about the previous year and what it means for us going forward. Snacks will be served.
Wed., Nov. 15 | 7 p.m. | The Landing (in the Nest)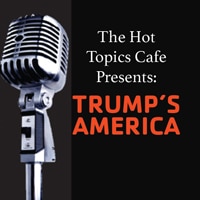 Professors -N- Pajamas
It's that time again! Professors -N- Pajamas is back and so are the prizes and bottomless breakfast. Housing and Residence Life's flagship event provides all students a chance to relax with friends, study with professors, and of course, eat lots of food before hitting their final exams out of the park. We'll see you there!
Wed., Nov. 29 | 8 p.m. | Taylor Center 221–223, 230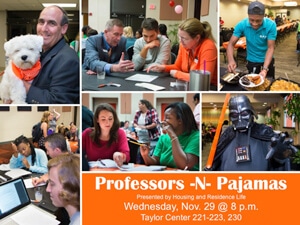 Filibuster accepting submissions
The Filibuster, AUM's literary magazine, is accepting poetry, prose, photographs and artwork for its 2018 issue.
Any student currently enrolled at AUM may submit his or her work as an attached file (.txt, .doc, or .docx) to [email protected]. Students should title their file using the following pattern: Last Name_Title of Story_Genre. Written work should be in Times New Roman, 12 pt.-font and double-spaced. Files containing photographs or scanned artwork (.png, .jpeg, or .bmp) should be at least 300 PPI.
There is no limit on the number of submission per student. The deadline for submissions is Dec. 31, 2017.
For more information, contact the 2018 issue editor, Caitlin Celka at [email protected].
AUMCappella, AUM Chorus Fall Concert
AUMCappella and AUM Chorus will host its Fall Concert in November.
While primarily for the benefit of AUM students, members of the ensemble include faculty, staff, alumni, and friends of the university as well. The literature performed represents a broad range of genres including classical, folk songs, spirituals, Broadway show tunes, and other popular styles.
Thu., Nov. 30 | 7:30 p.m. | Goodwyn Hall 109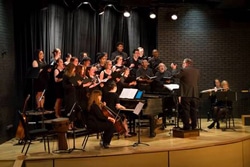 TV Tuesdays: The Good Doctor
Join the Warhawk Disability Alliance for TV Tuesdays. The featured TV show for the semester is The Good Doctor, starring Freddie Highmore as a young surgeon with autism and Savant syndrome that is recruited into the pediatric surgical unit of a prestigious hospital. The question will arise: Can he adapt to his environment and debunk others' expectations of him in order to save the lives of his patients?
Tuesdays | 11 a.m.–Noon | Global Education Center, Taylor Center 219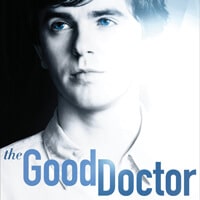 LGBTQ Meet-Up
Counseling and Health Promotion Services is offering an LGBTQ meet-up to any LGBTQ student, identified or questioning, on Thursdays.
Topics to be covered include relationships, disclosure, esteem and body image, and coping with anxiety and depression. This informal group is meant to serve as a safe place to discuss thoughts and feelings related to one's identity in an affirmative and empowering environment.
Thursdays | 4–5 p.m. | Taylor Center 158