Warhawk Weekly 11–28: Student Accounts policies change; Spring payment plans open
Warhawk Weekly 11–28: Student Accounts policies change; Spring payment plans open
AUM IN THE NEWS
PRINT & ONLINE
TV (please note: footage is only available for 30 days)
Account Holds, Registration Cancellation policies change
The Office of Student Accounts is implementing changes to the Student Account Holds Policy and the Registration Cancellation Policy.
Students with account balances of $500 or less will no longer be blocked from registration. However, a hold will be placed on the release of the transcript until the balance is paid in full. If you have a balance of greater than $500, you can either pay it down to the minimum limit of $500 or submit a Request for Finance Clearance Form.
Additionally, only students with a balance greater than $3,000 as of the registration cancellation deadline will have their classes cancelled. However, it is important to note, students whose balance is $3,000 or less are still financially obligated to pay even if they do not attend. If you choose not to attend for a term, you must withdraw online or through the Registrars Office to clear the financial obligation.
Spring 2018 payment plans open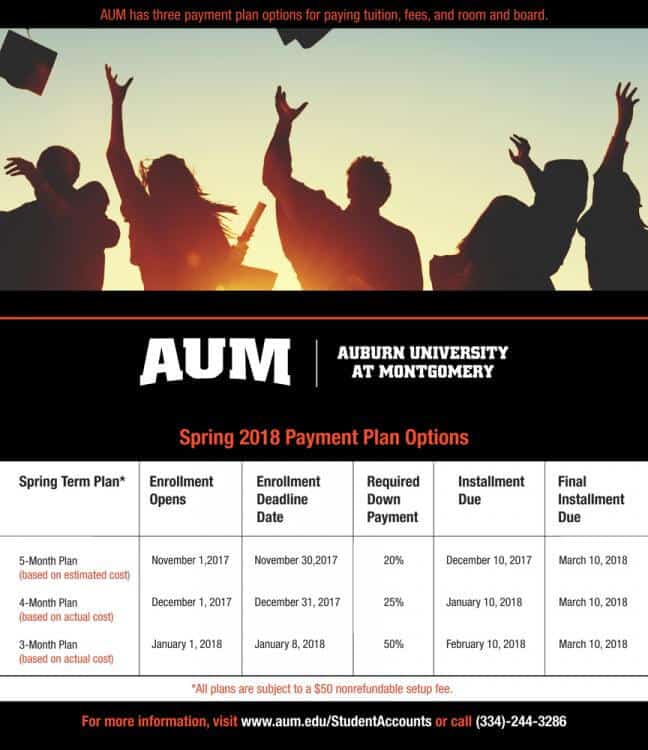 AUM-SPLC on Campus Club meeting
The AUM-SPLC on Campus Delegation that visited Stewart would like to share their somber but, nonetheless, important and informative impressions from the field trip with other club members and any interested AUM students, faculty and staff at their upcoming meeting. The meeting will also serve as an opportunity to discuss how AUM students may support the mission of El Refugio and the SPLC field office serving the detained immigrants.
Tue., Nov. 28 | 5 p.m. | Goodwyn Hall 218
Professors -N- Pajamas
It's that time again! Professors -N- Pajamas is back and so are the prizes and bottomless breakfast. Housing and Residence Life's flagship event provides all students a chance to relax with friends, study with professors, and of course, eat lots of food before hitting their final exams out of the park. We'll see you there!
Wed., Nov. 29 | 8 p.m. | Taylor Center 221–223, 230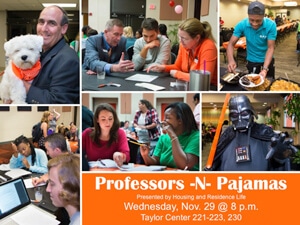 AUMCapella, AUM Chorus Fall Concert
AUMCapella and AUM Chorus will host its Fall Concert in November.
While primarily for the benefit of AUM students, members of the ensemble include faculty, staff, alumni, and friends of the university as well. The literature performed represents a broad range of genres including classical, folk songs, spirituals, Broadway show tunes, and other popular styles.
Thu., Nov. 30 | 7:30 p.m. | Goodwyn Hall 109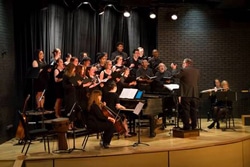 Final AUM Connected event: Staged Reading of Dracula
Theatre AUM is present a staged reading of the play, Dracula. It will be similar to being in the studio audience of a radio play. The actors, directors, stage manager and technicians are comprised of AUM students and alumni.
The staged reading of Dracula is Theatre AUM's contribution to the AUM Connected Common Reading book for 2017-18. Students in UNIV are encouraged to attend.
The event is FREE and open to the community.
Dec. 1–2 | 7:30 p.m. | Theatre AUM
Dec. 3 | 2 p.m. | Theatre AUM
For more information, contact Danitra Tolbert at 334-244-3525 or [email protected].
Filibuster accepting submissions
The Filibuster, AUM's literary magazine, is accepting poetry, prose, photographs and artwork for its 2018 issue.
Any student currently enrolled at AUM may submit his or her work as an attached file (.txt, .doc, or .docx) to [email protected]. Students should title their file using the following pattern: Last Name_Title of Story_Genre. Written work should be in Times New Roman, 12-pt. font and double-spaced. Files containing photographs or scanned artwork (.png, .jpeg, or .bmp) should be at least 300 PPI.
There is no limit on the number of submission per student. The deadline for submissions is Dec. 31, 2017.
For more information, contact the 2018 issue editor, Caitlin Celka at [email protected].
AUM Athletics needs you!
The AUM Department of Athletics and the Intercollegiate Athletics Committee have partnered to create the AUM College Competition, a competition between campus colleges and departments to increase attendance of faculty and staff at home sporting events.
Make sure to sign-in when you arrive at the games so that the points are counted for your respective college!
The women's basketball games all begin at 6 p.m. with the men's basketball team following at 8 p.m. for the following games:
Mon., Jan. 15 | vs. University of North Alabama
Thu., Feb. 22 | vs. University of West Georgia
Admission is free to all faculty and staff and children under 12. Family members of faculty and staff are $3.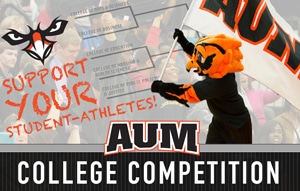 TV Tuesdays: The Good Doctor
Join the Warhawk Disability Alliance for TV Tuesdays. The featured TV show for the semester is The Good Doctor, starring Freddie Highmore as a young surgeon with autism and Savant syndrome that is recruited into the pediatric surgical unit of a prestigious hospital. The question will arise: Can he adapt to his environment and debunk others' expectations of him in order to save the lives of his patients?
Tuesdays | 11 a.m.–Noon | Global Education Center, Taylor Center 219