Warhawk Weekly 12–5: Commencement Saturday; 2018 payment plans open
Warhawk Weekly 12–5: Commencement Saturday; 2018 payment plans open
Medical, Clinical Lab Sciences wishes happy holidays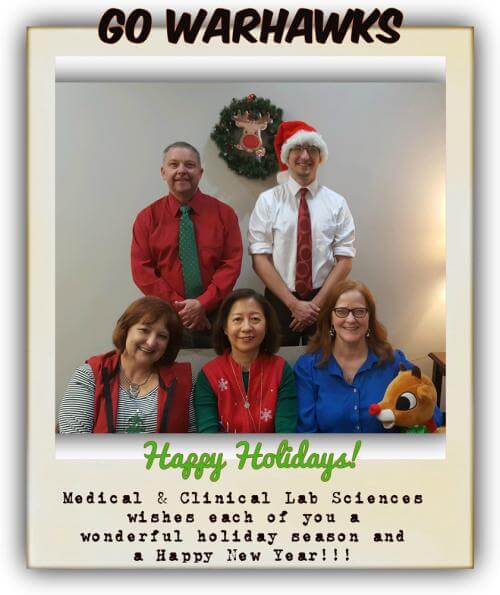 Deal committee post recognizes student job placements
Keren Deal, professor of accounting, was recently selected to serve on the Association of Government Accountants (AGA) Higher Education Committee. AGA is an international committee that has ten members with 3, including Deal, full-time academia serving on it. Her term will last for the next four years.
"It is an honor to be recognized for my past work in both placement of students in government financial management positions, as well as my research and service in government financial management at the international level," Deal says. "The committee's goal is to connect the 100 AGA chapters with higher education entities while promoting careers and certification in government financial management among college and university students."
Account Holds, Registration Cancellation policies change
The Office of Student Accounts is implementing changes to the Student Account Holds Policy and the Registration Cancellation Policy.
Students with account balances of $500 or less will no longer be blocked from registration. However, a hold will be placed on the release of the transcript until the balance is paid in full. If you have a balance of greater than $500, you can either pay it down to the minimum limit of $500 or submit a Request for Finance Clearance Form.
Additionally, only students with a balance greater than $3,000 as of the registration cancellation deadline will have their classes cancelled. However, it is important to note, students whose balance is $3,000 or less are still financially obligated to pay even if they do not attend. If you choose not to attend for a term, you must withdraw online or through the Registrars Office to clear the financial obligation.
Spring 2018 payment plans open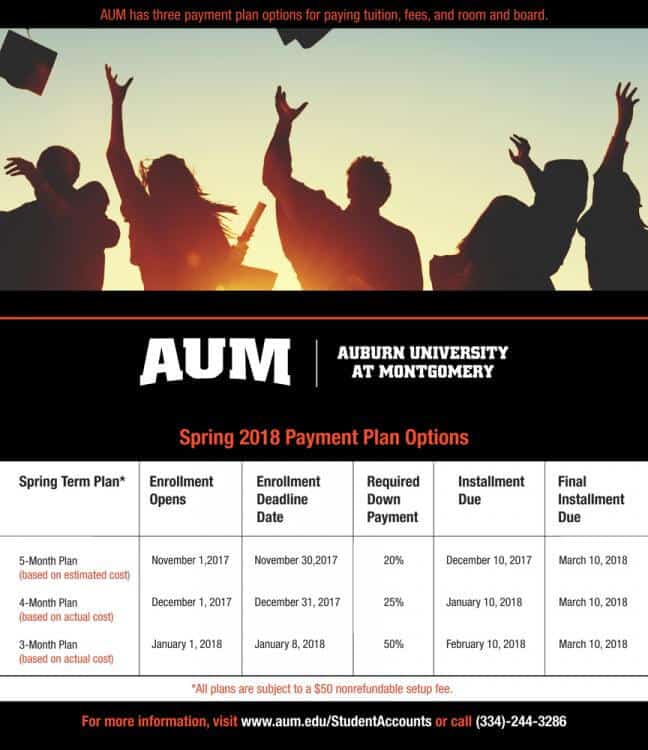 Fall commencement ceremony Saturday
Congratulations, graduating Warhawks! Commencement is this Saturday, Dec. 9. Mayor Todd Strange will be the commencement speaker.
The morning ceremony is at 10 a.m.; the afternoon ceremony is at 2 p.m. All ceremonies are in the AUM Athletics Complex.
General information on graduation can be found at www.aum.edu/graduation. You can also watch the commencement ceremony live.
Commencement Ceremony
10 a.m., doors close at 9:45 a.m. | AUM Athletics Complex
2 p.m., doors close at 1:45 p.m. | AUM Athletics Complex
Alternate Viewing (late seating)
Watch live | Goodwyn Hall
Filibuster accepting submissions
The Filibuster, AUM's literary magazine, is accepting poetry, prose, photographs and artwork for its 2018 issue.
Any student currently enrolled at AUM may submit his or her work as an attached file (.txt, .doc, or .docx) to [email protected]. Students should title their file using the following pattern: Last Name_Title of Story_Genre. Written work should be in Times New Roman, 12 pt.-font and double-spaced. Files containing photographs or scanned artwork (.png, .jpeg, or .bmp) should be at least 300 PPI.
There is no limit on the number of submission per student. The deadline for submissions is Dec. 31, 2017.
For more information, contact the 2018 issue editor, Caitlin Celka at [email protected].
AUM Athletics needs you!
The AUM Department of Athletics and the Intercollegiate Athletics Committee have partnered to create the AUM College Competition, a competition between campus colleges and departments to increase attendance of faculty and staff at home sporting events.
Make sure to sign-in when you arrive at the games so that the points are counted for your respective college!
The women's basketball games all begin at 6 p.m with the men's basketball team following at 8 p.m. for the following games:
Mon., Jan. 15 | vs. University of North Alabama
Thu., Feb. 22 | vs. University of West Georgia
Admission is free to all faculty and staff and children under 12. Family members of faculty and staff are $3.