Warhawk Weekly 10–30: Learn about FERPA; Filibuster accepting submissions
Warhawk Weekly 10–30: Learn about FERPA; Filibuster accepting submissions
NEWS
Know Your Rights: FERPA
Filibuster accepting submissions
Apply for Spring Graduation
SK Day success
Volunteer for Full Life Ahead family weekend
Deadline for Hall of Fame nominations
Reminder: Flu vaccines available
EVENTS
Shriek Week is here!
ELC Halloween Parade
Theatre AUM presents Child's Play
Thanks Giving around the World
Student Art Market
GIS Day
NEWS
Filibuster accepting submissions
AUM's Filibuster, the school's literary magazine, is accepting poetry, prose, photographs, and art for its 2019 issue!
Any student currently enrolled at AUM may submit his or her work as an attached file (.txt, .doc, or .docx) to [email protected]. Students should title their file using the following pattern: Last Name_Title of Work_Genre. Written work should be in Times New Roman 12 pt. font and double-spaced. Files containing photographs or scanned artwork (.png, .jpeg, or .bmp) should be at least 300 PPI.
There is no limit on the number of submissions per student. The deadline for submissions is Dec. 31. For more information, please email the editor for the 2019 issue, Michelle Aitken.
Apply for Spring Graduation
Spring 2019 graduation application deadline is Jan. 25. Apply online in MyAUM. If you have any questions, please email [email protected].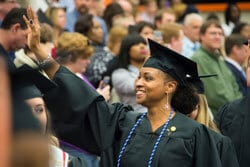 SK Day success
The eleventh annual Sonya Kovalevsky Mathematics Day was held Oct. 19 and was a great success! There 21 workshops led by 9 workshop leaders in 3 sessions and a career panel with 5 panelists. The entire program ran for about 6 hours. In total, 142 students and 15 teachers and parents participated in the event.
We would like to thank the following groups for their contributions to the success of the event: the organizers, the career panelists, the workshop leaders, the logistics team for providing great help before and during the event, the student team from the Math/CS/Engineering for their great assistance in workshops, and last but not least, to Dean Ragland for his great support to the event.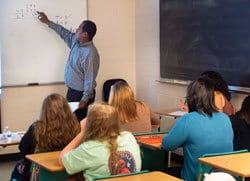 AUM's Sonia Kovalevsky (SK) Day is a one day program for young women who are enrolled in Algebra I or higher. The Department of Mathematics here at AUM hosted its first SK Day back in February 2004. Since that time, AUM has hosted a total of eleven SK Day events. Similar events have been presented across the country with partial funding through grants from the Association for Women in Mathematics (AWM), the National Security Agency (NSA), and various universities. This program has always been strongly supported by AUM administration and has opened up opportunities for young women by having them actively learn about various mathematics topics, hear from a respected female mathematician, and learn about numerous math related careers through a career panel.
Volunteer for Full Life Ahead family weekend
Volunteers are needed for the Full Life Ahead family weekend. You will be helping teens and young adults with disabilities get a chance to have fun as they practice real life skills and make new friends. The retreat weekend workshop will be Nov. 1–4 at Lake Martin. To register for volunteer hours, which can be verified as volunteer hours for organizations or practicums, please visit www.FullLifeAhead.org/family-weekend-registration/
Deadline for Hall of Fame nominations
The Department of Athletics is accepting nominations for its Hall of Fame Class of 2018. The inductees will be formally inducted in a ceremony in the spring of 2019.
Athletes who made outstanding contributions in athletics as students at AUM, coaches of AUM's intercollegiate teams, and other individuals who have made significant contributions to AUM Athletics are eligible for membership in the Hall of Fame.
In order to nominate a former student-athlete, he/she must have completed their athletic eligibility at AUM for the 2012-13 season. The nominee must have also graduated from a four-year institution. For coaches, he/she must have coached at AUM for at least five years.
To nominate, please complete the Hall of Fame nomination form online. If you have any questions, please email Tim Lutz. Deadlines for nominations are Oct. 31.
Reminder: Flu vaccines available
Student Health Services currently has flu vaccines and would like to encourage everyone to get one this year!
The vaccines are given everyday from 9–11 a.m. and 1–4 p.m., and start at age 3 and up. Blue Cross and Blue Shield insurance cards will be accepted; otherwise, there is a $25 fee.
EVENTS
Shriek Week is here!
Shriek Week is back, and the Campus Activities Board is excited to present four days of exciting and spooky events. Shriek Week is a big tradition for AUM students, faculty and staff, so get ready to have a shrieking good time this year!
For a preview of Shriek Week, enjoy CAB's promo trailer!
Haunted House | Tue., Oct. 30 | 8–11 p.m. | Taylor Center 230
Costume Party | Wed., Oct. 31 | 8 p.m.–Midnight | Taylor Center 230
Pumpkin Painting | Wed., Oct. 31; Thu., Nov. 1 | 4–6 p.m. | Warhawk Alley
ELC Halloween Parade
The AUM Early Learning Center pre-school students will be walking around the sidewalks of the Quad to show off their costumes, decorated jack-o-lanterns, and dance moves as they "trick-or-treat."
Students, faculty and staff that would like to participate should stand along the sidewalk in the Quad to distribute candy, stickers, pencils, pens, notepads, balloons, etc.
Wed., Oct. 31 | 10:30 a.m. | The Quad
Theatre AUM presents Child's Play
Theatre AUM will be presenting Child's Play by Kevin Ferguson Nov. 1–11. Child's Play is directed by Neil David Seibel and is Theatre AUM's entry into the Kennedy Center American College Theatre Festival (KCACTF)
Child's Play centers on a traumatized child who has stopped speaking. She is helped by a therapist who struggles to peel back layers of mistrust by entering the internal world of the little girl to help her confront the dragon that has stolen her voice and threatens to completely destroy her.
Show times are 7:30 p.m. Thursday thru Saturday and 2 p.m. for the Sunday matinee. General admission is $10. Admission is $5 for senior citizens, students, and military. AUM students, faculty and staff are free with ID. For more information, please email Katie Pearson or call 334-244-3632.
Nov. 1–11 | 7:30 p.m., 2 p.m. | Theatre AUM
Thanks Giving around the World
Housing and Residence Life is ready to celebrate the beginning of the holiday season with Thanks Giving around the World, the annual celebration of food, family, and gratitude!
While Thanksgiving as a holiday has a unique place in the heart of Americans, many cultures around the world have feasts, holidays, and celebrations which offer thanks for the things that mean the most in life. Join us in the Taylor Center to learn about some of those cultures and dive into some of our favorite treats from around the world!
Tue., Nov. 13 | 6 p.m. | Taylor Center 221–223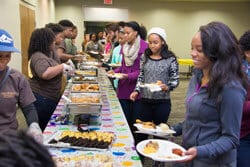 Student Art Market
The Department of Fine Arts will be hosting an Art Market featuring works from students and alumni for sale. Cash and checks will be accepted. There will be cookies for anyone who makes a purchase.
Wed., Nov. 14 | 11 a.m.–2 p.m. | Goodwyn Hall lobby
GIS Day
Join the Department of Biology and Environmental Science as they co-host the 7th Annual GIS Day, "Navigating the GIS Minefield." Whether you are a seasoned GIS professional or new to GIS, you will enjoy the matchless presentations covering a variety of topics and a lively roundtable discussion.
This opportunity for networking with other GIS professionals in segments of government, business, and industry is free and open to the public; however, seating is limited so registration is required.
For more information, please contact Terry Winemiller or call 334-244-3945 or visit the GIS Day webpage.
Wed., Nov. 14 | 8 a.m.–4 p.m. | ALDOT Southeast Region Montgomery Office