Warhawk Weekly 10–23: ELC Halloween Parade; Flu vaccines available
Warhawk Weekly 10–23: ELC Halloween Parade; Flu vaccines available
NEWS
ELC Halloween Parade
Flu vaccines available in Student Health Center
AUM honors Warhawk Spirit Award winners
Faculty honored at convocation
Visit Goodwyn Gallery before This Land closes
Okeke to present at renewable energy conference
Athletics Hall of Fame accepting nominations
Theatre AUM presents Child's Play
EVENTS
Nach "O" Average Hispanic Month Celebration
From Our Community to Yours: ZooBoo
Beyond the Veil Masquerade Ball
Triple Treat Dance Fitness Party
Shriek Week is back!
GIS Day
ELC Halloween Parade
The AUM Early Learning Center pre-school students will be walking around the sidewalks of the Quad to show off their costumes, decorated jack-o-lanterns, and dance moves as they "trick-or-treat."
Students, faculty and staff that would like to participate should stand along the sidewalk in the Quad to distribute candy, stickers, pencils, pens, notepads, balloons, etc.
Wed., Oct. 31 | 10:30 a.m. | The Quad
Flu vaccines available in Student Health Center
Student Health Services currently has flu vaccines and would like to encourage everyone to get one this year!
The vaccines are given everyday from 9–11 a.m. and 1–4 p.m., and start at age 3 and up. Blue Cross and Blue Shield insurance cards will be accepted; otherwise, there is a $25 fee.
AUM honors Warhawk Spirit Award winners
Four Auburn University at Montgomery employees earned Warhawk Spirit Awards as exemplars of the university's core values.
Associate Provost for Enrollment Management Sameer Pande, Institutional Research Officer Jessica Carroll, Senior Financial Associate Ashley Brewer and Department of Psychology Administrative Associate Tonya Sexton were honored by AUM Chancellor Carl A. Stockton during the university's fall convocation on October 19.
You can read more about those honored in the AUM Pressroom.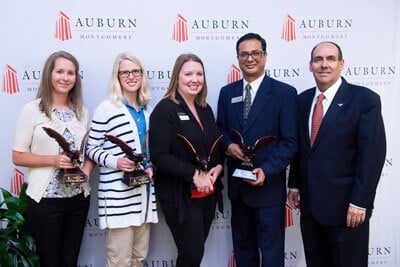 Faculty honored at convocation
Auburn University at Montgomery recently honored several professors through the Distinguished Faculty Awards presented at the Fall 2018 Convocation.
Presented by AUM Chancellor Carl A. Stockton and Provost and Senior Vice Chancellor Mrinal Varma, the Distinguished Faculty Awards honor professors and instructors who have demonstrated their excellence in teaching, research and outreach. Award winners by category included:
Paul Hard
Keith Krawcyznski
Nicholas Bourke
Val Winkelman
Don Chon
Eric Sterling
Sam Wallace
Dana Bice
Visit Goodwyn Gallery before This Land closes
The Fine Arts Department is pleased to present This land: Landscapes and National Identity, an exhibition of works from the Fine Arts Department collection curated by AUM students Lee Buford, Victoria Kenyon, and Lindsay Sanders.
The exhibition seeks to expand visitors' understandings of the many meanings of landscapes and will be on view in Goodwyn Gallery from Oct. 1–25.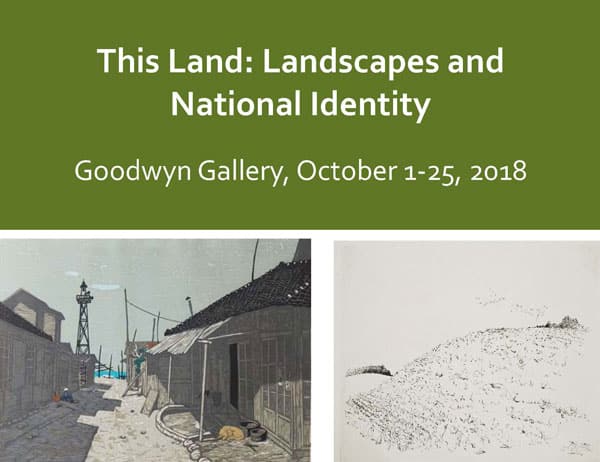 Okeke to present at renewable energy conference
Dr. Ben Okeke will be presenting at the International Conference on Renewable, Conventional Power and Green Technology on Oct. 29–31. For more information, please email Kay Shoneye or call 313-600-5200.
Athletics Hall of Fame accepting nominations
The Department of Athletics is accepting nominations for its Hall of Fame Class of 2018. The inductees will be formally inducted in a ceremony in the spring of 2019.
Athletes who made outstanding contributions in athletics as students at AUM, coaches of AUM's intercollegiate teams, and other individuals who have made significant contributions to AUM Athletics are eligible for membership in the Hall of Fame.
In order to nominate a former student-athlete, he/she must have completed their athletic eligibility at AUM for the 2012-13 season. The nominee must have also graduated from a four-year institution. For coaches, he/she must have coached at AUM for at least five years.
To nominate, please complete the Hall of Fame nomination form online. If you have any questions, please email Tim Lutz. Deadlines for nominations are Oct. 31.
Theatre AUM presents Child's Play
Theatre AUM will be presenting Child's Play by Kevin Ferguson Nov. 1–11. Child's Play is directed by Neil David Seibel and is Theatre AUM's entry into the Kennedy Center American College Theatre Festival (KCACTF)
Child's Play centers on a traumatized child who has stopped speaking. She is helped by a therapist who struggles to peel back layers of mistrust by entering the internal world of the little girl to help her confront the dragon that has stolen her voice and threatens to completely destroy her.
Show times are 7:30 p.m. Thursday thru Saturday and 2 p.m. for the Sunday matinee. General admission is $10; $5 for senior citizens, students, and military. AUM students, faculty and staff are free with ID. For more information, please email Katie Pearson or call 334-244-3632.
EVENTS
Nach "O" Average Hispanic Month Celebration
Please join the Office of Diversity & Inclusion in celebration of Hispanic Heritage Month. Experience food, culture and traditional music.
Wed., Oct. 24 | Noon–1 p.m. | Taylor Center 222
From Our Community to Yours: ZooBoo
Halloween is finally here! Join Housing and Residence Life for a Halloween tradition – volunteering at the Montgomery Zoo for their annual Halloween celebration. Sign up in the Housing office or by using the online link!
Transportation and costumes will be provided. Meet in the Nest at 5 p.m.
Fri., Oct. 26 | 5–10:30 p.m. | Meet in The Nest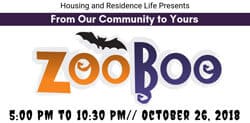 Beyond the Veil Masquerade Ball
Calling all spirits –– oh, and the living too! You are formally invited to join the University Honors Program as they journey "beyond the veil" for an enchanting night at the annual masquerade ball.
The night will consist of music, dancing, a served dinner, and the chance to compete in a dance contest for a ghostly gift bag! This event is free; however, entry does require a canned good, which will be donated to the university's own food pantry.
Come dressed in your finest and prepare for a ghoulishly good time!
Fri., Oct. 26 | 7–11 p.m. | Taylor Center 230
Triple Treat Dance Fitness Party
The Wellness Center is hosting a dance fitness party featuring three of the most popular high energy dance classes –– MixxedFit, Konga, and Zumba. Costumes are welcome!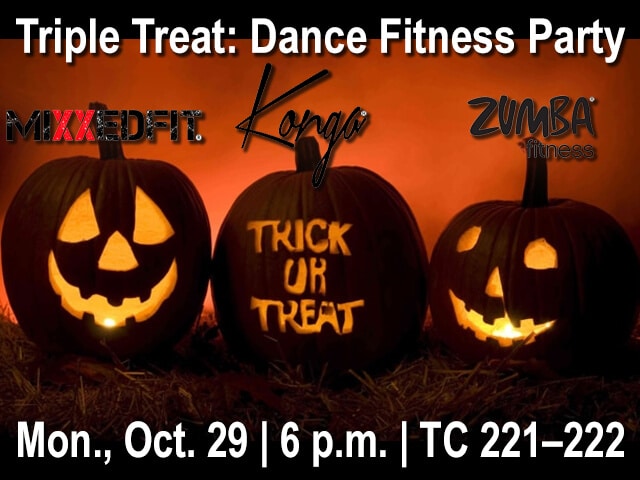 Mon., Oct. 29 | 6 p.m. | Taylor Center 221–222
Shriek Week is back!
Shriek Week is back, and the Campus Activities Board is excited to present four days of exciting and spooky events. Shriek Week is a big tradition for AUM students, faculty and staff, so get ready to have a shrieking good time this year!
For a preview of Shriek Week, enjoy CAB's promo trailer!
Hypnotist | Mon., Oct. 29 | 7–9 p.m. | Goodwyn Hall 109
Haunted House | Tue., Oct. 30 | 8–11 p.m. | Taylor Center 230
Costume Party | Wed., Oct. 31 | 8 p.m.–Midnight | Taylor Center 230
Pumpkin Painting | Wed., Oct. 31; Thu., Nov. 1 | 4–6 p.m. | Warhawk Alley
GIS Day
Join the Department of Biology and Environmental Science as they co-host the 7th Annual GIS Day, "Navigating the GIS Minefield." Whether you are a seasoned GIS professional or new to GIS, you will enjoy the matchless presentations covering a variety of topics and a lively roundtable discussion.
This opportunity for networking with other GIS professionals in segments of government, business, and industry is free and open to the public; however, seating is limited so registration is required.
For more information, please contact Terry Winemiller or call 334-244-3945 or visit the GIS Day webpage.
Wed., Nov. 14 | 8 a.m.–4 p.m. | ALDOT Southeast Region Montgomery Office