Warhawk Spotlight: Sarmiento earns Alabama Technology Foundation scholarship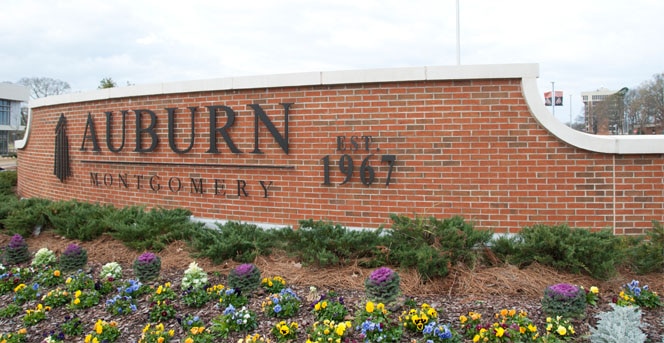 Warhawk Spotlight: Sarmiento earns Alabama Technology Foundation scholarship
Robots, and all of the factors involved in getting them to perform precise functions, captured Luis Sarmiento's imagination during his time as a high school student. Sarmiento immersed himself in the language of machines, the snippets of code that help determine whether it makes a right or left turn, the speed with which it moves and more.
"I entered a robotics program and I automatically knew I wanted to do something along the lines of programming or [information technology]," said Sarmiento, a senior information systems management major.
An interest in constructing and troubleshooting systems led Sarmiento to Auburn University at Montgomery and, in turn, AUM will direct him into a career in the banking or big data sectors after graduation in Spring 2019.
Sarmiento's excellence as a student and interest in being a part of Alabama's growing tech sector led to recent recognition from the Alabama Technology Foundation, an economic development and outreach non-profit dedicated to the development of workforce talent in the IT and engineering sectors.
Sarmiento earned one of three $500 scholarships presented by the ATF to state university students. ATF board member Renee Borg said the organization focuses on reducing the potential for "brain drain in Alabama" by identifying talented university students in the IT sector and maintaining a database that foundation sponsors can utilize to identify candidates for internships and full-time jobs.
While Sarmiento originally hails from Tegucigalpa, Honduras, he's a home-grown talent who wants to remain in Alabama after graduation. He has lived in Montgomery for more than a decade and graduated from Brewbaker Technology Magnet High School.
His experience in AUM's information systems program has validated his early interest in information technology and challenged him to pursue new directions. Sarmiento completed an internship with the Montgomery Area Chamber of Commerce's database department.
"AUM, in my opinion, was just the best university locally and in the geographic area," Sarmiento said. "AUM has truly been a blessing to me.
"What really brought me to [information system] is, in IT, sometimes you've got to create things that other people haven't created or do things in a different way than they've normally been done before. When you're working with programs, you write your code, but everyone's code is a big different. Your code might do the same thing as someone else's, but it's different and you created it."