Warhawk Spotlight: Library has AUM covered
AUM Strategic Communications and Marketing | Feb. 28, 2017
Students First/Collaboration: Whether students are looking for a book, help with library resources, a charging station or an energy snack, the AUM Library has them covered.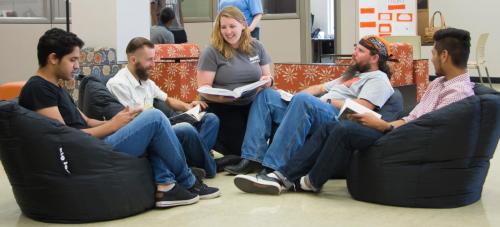 One of Library Dean Phill Johnson's first undertakings when he arrived on campus in 2015 was a survey to learn how customers could better be served. Since that survey, Johnson has worked with his staff and other departments on campus to make the Library more useful, more comfortable, and more customer friendly.
"Students want to use us. Faculty members want to connect with us," said Jessica Hayes, head of public services for the Library. "When they know we are putting the student first and that our focus is on them, it makes us a warm and welcoming space."
A Students First philosophy led to the survey, to which respondents requested more comfortable chairs and couches, vending machines, more study rooms, and lounges.
The Library is in the process of responding to these needs, and they've added other conveniences through their own awareness and responsiveness to students.
Since the library knows students are online, the staff has enhanced the second floor with charging stations for students whose technology needs a boost; and because studying often requires long periods of sitting, the Library also recently added soft-seating areas, including plush bean bags.
Saved by the 'Brellas
Since students are top of mind for the Library, Johnson was very concerned in mid-2016 when students were hustling through a sudden rainstorm, getting drenched without protection from the rain.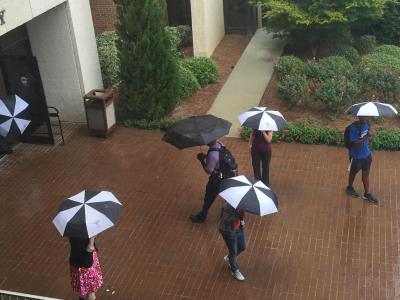 Seeing the need, the Library collaborated with the Learning Center and Warhawk Academic Success Center to purchase umbrellas branded with the Learning Center, WASC and Library names as well as the slogan "We've Got You Covered."
Students can check out the umbrellas and keep them for seven days.
"We couldn't individually buy those umbrellas, but together we did," Johnson said.
As with the umbrellas, the Library is focusing more on meeting not just library usability needs, but students' basic needs as well.
"Prior to my arrival, we weren't that involved with other units," Johnson said.
But that's changed dramatically.
In addition to the umbrella collaboration, the Library responded to the survey's hints for more food by purchasing a popcorn machine.
"It's a great connection with the library that they [students] never had before," Hayes said.
The Library often has hot corn popping on the first floor, but departments, Greek organizations, and international students also are allowed to borrow the popper to enhance and attract attendance at their functions.
Customer service focus
Although one might not immediately think of the Library as a business, a customer service orientation is very important, Hayes said.
Hayes said the library must be aware of common challenges, like anxiety, that students face.
"People, when they are faced with something they don't know how to use or do — math or when they're taking tests — they get anxious, and they shut down. They refuse to do it," Hayes said.
The Library's awareness that many of their users might not be familiar with an academic library beyond checking out books or utilizing study spaces inspires the staff's responsiveness to all students.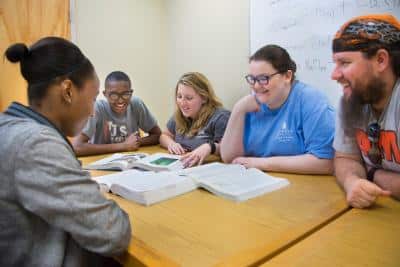 These students' first encounter with the Library can be overwhelming, from their very first look at the 10-floor tower, Hayes said.
"We have to be proactive in our customer service," Hayes said. "We cannot wait for students or any users to come to us; we have to go to them."
And the Library is with students constantly, even when they're not in the brick-and-mortar building. They visit its website, where they can seek additional help.
Last fall, the Library installed a chat box on its home page and helped users through 49 chats throughout Fall Semester. Even students who are in the building use the chat feature, says Johnson: "It's a lot easier to chat their questions than to worry about leaving their books and laptops or having to pack everything up just to go to the information desk."
The Library's chat feature isn't just responsive; it's proactive. Around Thanksgiving, staff members added a pop-up prompt that asks users after about 30 seconds, "How Can YOUR Library Help You Today?"
Since January, chats have increased to 111 visits, 85 of them initiated through prompt message. In addition, the Library has received resoundingly positive feedback from students who have utilized the chat conversations with Library staff members.
"Adding that prompt message was another way we were proactive," Hayes said. "If you wait for them to come to you, a lot of them won't. But people who think they might not need help, when they see that prompt, they think, 'Well, maybe I can ask them,'" Hayes said.
AUMazing Workshops
The Library's responsiveness to students is aided by collaboration with departments across campus.
Hayes recently launched the AUMazing Workshops series, instructional sessions offered twice a week, two times a day where students can receive additional help in a group setting.
Capitalizing on proximity to the Learning Center, the WASC, and the Bridge Program in the Library, the workshops teach students how to avoid plagiarism, correctly use citations, evaluate information, build e-portfolios, use LinkedIn, and many other skills.
The workshops also benefit students while clearing up instructional time for instructors, lecturers and professors.
"There's so many things that faculty members and librarians want covered that we can't get covered (in the classroom)," Hayes said.
"While the library doesn't teach all of the workshops, we reach out and partner with all these individual departments to get their message to students in a formalized group setting that they don't often have."
Improving Information Literacy
The collaboration across campus includes interaction between the Library and the UNIV program, which prepares freshmen for success at AUM through the program's UNIV 1000 course.
A key part of the UNIV 1000 course is learning how to use the library, and to advance this effort, Librarian Samantha McNeilly helps students complete a UNIV library research assignment.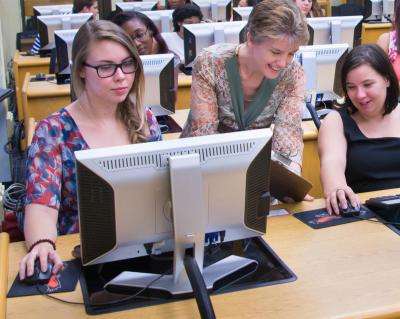 The assignment is a foundational exercise that helps students learn to find scholarly information without the pressure of having to write a research paper, introducing students to journals, databases and citation styles as well as the importance of citations.
"We're reaching out and touching all of those classes that we can and reaching as many of those students as we possibly can," Johnson said.
In Fall 2016 alone, the Library provided information literacy instruction to 42 UNIV sections, reaching more than 800 students, he said.
"We're reaching the people who need it the most — freshmen who are coming in completely blind," Hayes said. "We get irrelevant if people don't know how to use us."
OK to Fail
Hayes brings a flexible, caring approach to her role in introducing students to the Library, and she models an outlook toward learning meant to grow students' confidence.
When teaching students, if she makes a mistake like misspelling a word, she openly shows them her error, encouraging students to understand that learning is a give-and-take process.
"It's making yourself approachable and open, showing them that it's OK to fail," Hayes said. "You have to be approachable, you have to be friendly, you have to make cheesy jokes."
For Hayes, that means being able to laugh at herself.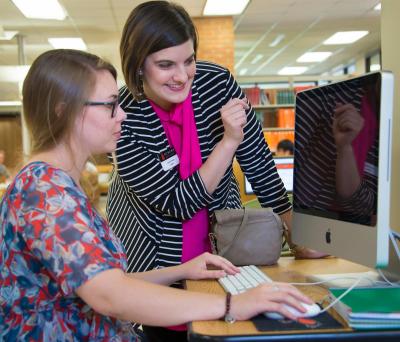 "They'll giggle and they'll remember you, and that's the important part," Hayes said. "And they'll know that I wasn't afraid to be embarrassed. I wasn't afraid to recognize I need help sometimes. That's what we really want them to take away from what we're doing: It's okay to ask for help; and we're here to help."
And, as the Library's success shows, it's easier to do more to put students first when you find good partners on campus to collaborate with.
(Editor's note: The Warhawk Spotlight features news about people, projects and programs at AUM that illustrate our Core Values. Need a refresher on our Core Values?)