Warhawk Spotlight: Haigh, McNeilly honor McEnerney with endowed fund
Warhawk Spotlight: Haigh, McNeilly honor McEnerney with endowed fund
AUM Office of Advancement | Jan. 30, 2017
Citizenship and Community: Dr. Jamey Haigh ('05, '09) and Ms. Samantha McNeilly ('04, '09) recently established the McEnerney-Haigh-McNeilly Endowed Fund for Excellence in the Auburn University at Montgomery Library.  It is named in honor of Martie McEnerney, a friend of the library and senior development officer in the AUM Office of Advancement, and will specifically support the AUM Library's Public Services department.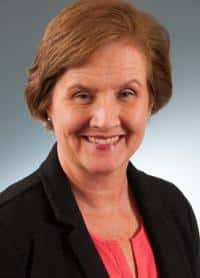 "I am humbled that Jamey and Samantha would choose to honor me in this way," said McEnerney. "To have my name associated with a permanent endowment is truly inspiring. We share the conviction that the library benefits all students at Auburn University at Montgomery as well as members of the community AUM calls home."
Haigh and McNeilly share four AUM degrees between them. Haigh earned a Master of Business Administration in 2005 and a Master of Public Administration in 2009; McNeilly graduated with a Bachelor of Arts in History in 2004 and a Master of Liberal Arts in 2009.
Haigh also completed the Continuing Education Department's Teaching English to Speakers of Other Languages (TESOL) certificate program in 2012, and McNeilly is the Teaching and Outreach Librarian/Archives and Special Collections Librarian at Auburn University at Montgomery.
Haigh and McNeilly have been generous donors and long-time supporters of AUM. This endowment will be the fifth named endowment they have established at the university.
AUM Public Services manages interlibrary loans, archives and special collections, library instruction and other valuable services the AUM Library provides to the surrounding community.
Imagine. Invest. Inspire. A Campaign for Auburn University at Montgomery has raised $19,620,000 for the university, far exceeding the $15.3 million goal. This includes more than $5.9 million in scholarship endowments and professorships, more than $2.6 million in endowed funds for excellence, and more than $10 million in various university program support.
(Editor's note: The Warhawk Spotlight features news about people, projects and programs at AUM that illustrate our Core Values. Need a refresher on our Core Values?)