Warhawk Spotlight: Griffin eyes career in anthropology and museum studies
Warhawk Spotlight: Griffin eyes career in anthropology and museum studies
Griffin gained valuable career experience through an intensive eight-week program offered for students from groups traditionally underrepresented in humanities and social sciences who are interested in art education, collections management, conservation and other facets of museum studies. She served as an assistant curator for the Kluge-Ruhe Aboriginal Art Collection.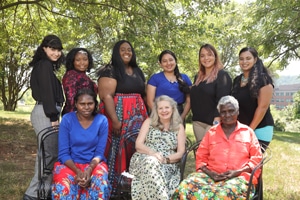 "I always wanted to help people tell their stories. This program gave me an opportunity to tell the stories of aboriginal Australian women through their artwork and its importance in their lives," said Griffin, who is majoring in sociology with a concentration in anthropology and a certification in museum studies.
She is one of the first AUM students selected for the summer program, a Mellon Foundation initiative that provides hands-on workshop experience and museum studies field trips for six undergraduate students. The Kluge-Ruhe art collection is the only one in the U.S. representing indigenous Australian art.
Griffin took time to share her internship experience as well as her future plans after graduation.
What's your day-to-day like as an assistant curator for the Kluge-Ruhe Aboriginal Art Collection at the University of Virginia?
"It was pretty hectic. We received 14 Australian aboriginal art pieces and spent five to six hours every day reading, researching, and learning about the products we have, how the rooms are going to look and so on. It was a pretty long process. We spent three weeks with aboriginal women learning about their works and what it means to them, and knowing about their lives. These aboriginal women came from Australia with the anthropology department of the University of Virginia. I would say the exhibition didn't come easy; it took a lot of work and research."
How did you hear about the program and what were the requirements of selection?
"While taking one of the museum theory courses, my professor, Dr. Naomi Slipp, told all of her students about the different internship opportunities and programs. She told me that I will be a good fit for the Mellon Summer Curatorial Research program since I already had experience interning with the Alabama Department of Archives and History this past spring. The internship had normal requirements for selection, as in, 3.0 GPA, two personal statements, and recommendation letters. I would say the internship emphasized more on a student's need for the internship than anything else."
What are the different clubs and organizations you are a part of?
"Sociology and Anthropology club, Information Systems club, and The National Association for the Advancement of Colored People (NAACP)."
What are your plans after graduation?
"I am definitely going to look for more internships and scholarships before I go to grad school. I contacted the lady who worked at the Kluge-Ruhe Museum and she told me to contact her after I graduate for more internship opportunities. I am interested in anthropology and museum studies, so I will most probably have my master's in those fields."
What are your reasons for studying at Auburn University at Montgomery?
"I chose AUM because they had the majors that I wanted. I entered college undeclared, but then I chose anthropology and sociology along with museum studies and this was available at AUM. It is also closer to home. I live in Shorter, Ala. So, proximity was one of the major reasons. Their small classroom size was another reason. I like how students can have one on one interaction with their professors. AUM is also very diverse, in terms of both culture and academic programs. There is a program related to every field."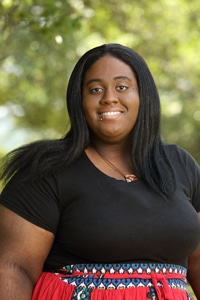 What advice would you give to other students who wish to apply for the same program?
"No matter how much you think you won't get it, just try and apply and don't give up. Don't be afraid to let people know that even though you may not have the highest GPA or you may not feel the smartest, you are worth it and you can offer something to the organization. Believe in yourself, value yourself, be passionate, and put your best foot forward. If you show people you have fire inside of you and you are willing to work and be a team player, then you will make it.
My teachers helped me and supported me immensely and that's why I love my department."
Simran Kumari is a student intern in Auburn University at Montgomery's Office of Communications.