Warhawk Spotlight: AUM Study Abroad gains interest from Alabama community colleges
News Releases
Check out the latest news listed below. To be added to AUM's press release distribution list, contact Marla Vickers.
Warhawk Spotlight: AUM Study Abroad gains interest from Alabama community colleges
by Neil Probst | May 09, 2016
Collaboration: AUM's Study Abroad program may be the link between community college students and a global classroom. AUM Study Abroad representatives recently shared "Creative Funding Mechanisms for Study Abroad at AUM" at the Alabama Association of International Educators Conference, and community college members who attended expressed interest in partnering with AUM.
"They wanted to know how we started this journey," Rockwell said.
Rockwell, who was born in Sri Lanka, explained how AUM's Study Abroad concept incorporates the university's strategic plan, mission, vision, and core values and described how schools can creatively pay for trips through fundraisers, scholarships from travel agencies, and on-campus partnerships with academic departments.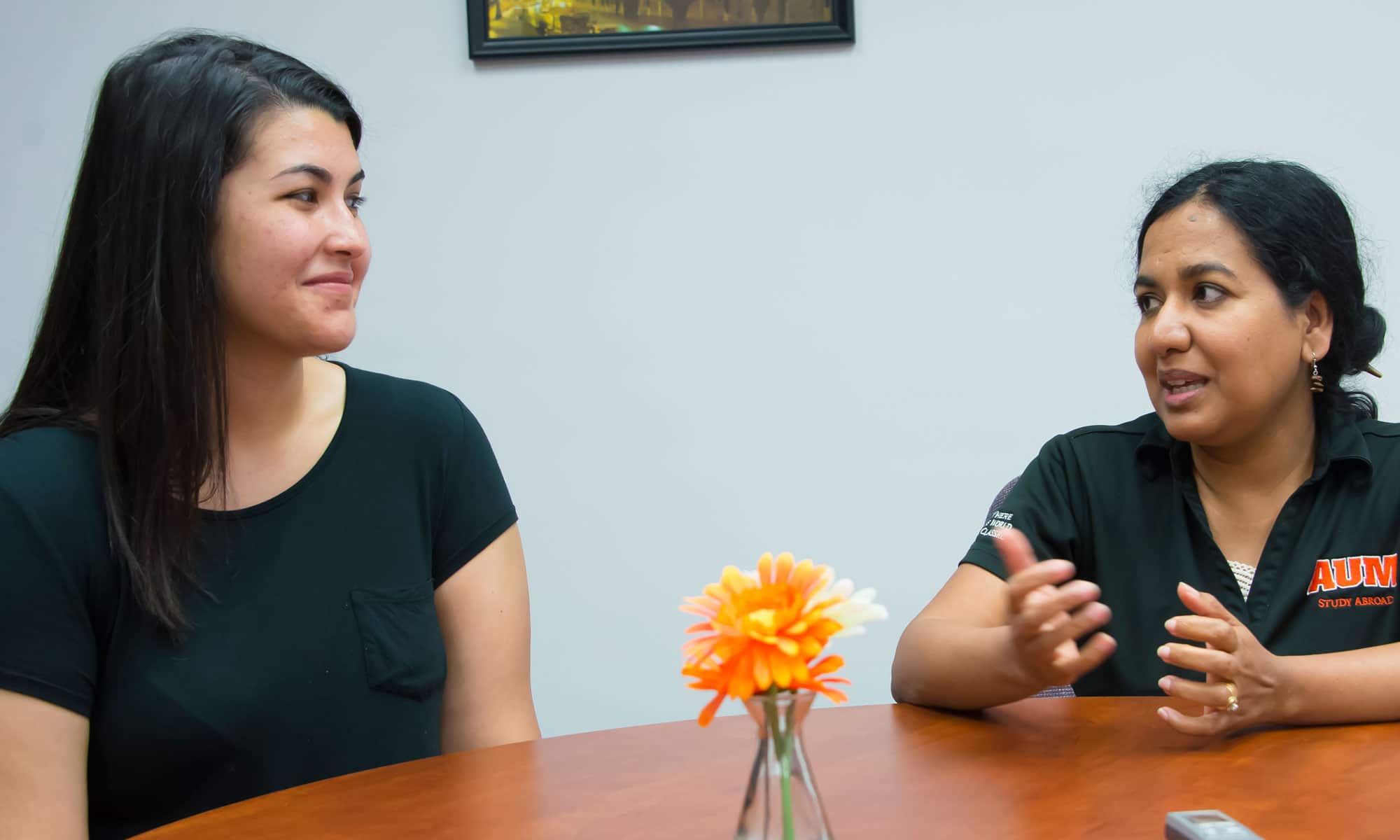 Dr. Achala Rockwell, Senior Study Abroad Program Manager, and student worker Darya Farsinejad both spoke to educators, Rockwell describing specifics about funding of Study Abroad programs and Farsinejad sharing a student's perspective
Farsinejad, a junior whose father is from Iran and mother is from Puerto Rico, shared benefits of Study Abroad with conference attendees — how travel encourages acceptance of others, develops personal independence, and provides students with learning outside the classroom — as well as ways that students can promote Study Abroad on campuses through innovative advertising, like sidewalk chalk, and events that showcase other cultures.
Farsinejad also highlighted events that AUM holds to encourage Study Abroad, such as "Valentine's Day — Fall in Love with Study Abroad," "World Peace Tree," "Obento — Japanese Lunch Box," as well as fairs, conferences, and welcome back parties for returnees.
"You have to make things fun," Farsinejad said. "It's adding little touches that make things more happy and cheerful and fun because I know as a college student, I don't just want to go listen to another lecture, because I'm in that all day."
The community colleges liked what they heard.
Several schools — Gadsden State, Jefferson State, Lurleen B. Wallace, and Faulkner State community colleges, as well as Alabama State University in Montgomery — now want to partner with AUM and send their students abroad along with AUM students, potential partnerships that would bring additional revenue to a program that brought $116,000 to AUM in 2015, Rockwell said.
Traveling the world
Currently, AUM sends exchange students abroad to China, Ecuador, Mexico, Japan, South Korea, the United Kingdom, and South Africa, and AUM offers faculty-led Study Abroad trips to Belize, Costa Rica, Italy, Japan, South Korea, Oxford–England, and Trinidad and Tobago.
Rockwell and Farsinejad, who has worked in Study Abroad since fall, actually met on Farsinejad's first AUM trip.
While there, Rockwell noticed leadership ability in Farsinejad and was particularly impressed with how the student provided direction to others in a manner that was helpful but not overbearing.
"She gets the message to students in a very effective way," Rockwell said.
Helping AUM students
Often, students have misconceptions about Study Abroad, such as believing the travel is unaffordable, so Rockwell and Farsinejad provide students with guidance on scholarships, grants, and jobs that are available.
To further increase awareness, AUM also recently hosted a Study Abroad Conference, where three faculty members talked about how they designed their faculty-led programs. These faculty members and students who have studied abroad answered questions from the more than 100 attendees who were interested in traveling overseas.
Farsinejad said students will never forget their travels to other countries, and they will never travel so affordably as they can through AUM Study Abroad.
"If you talk to any students who return from a study abroad, they have no way to explain it because it was so meaningful. It's just the most amazing thing," Farsinejad said.
(Editor's note: The Warhawk Spotlight features news about people, projects and programs at AUM that illustrate our Core Values. Need a refresher on our Core Values?)