University to celebrate more than 400 graduates
University to celebrate more than 400 graduates
Auburn University at Montgomery will celebrate the achievements of more than 400 students – 359 fall graduates and 72 summer semester graduates – during commencement ceremonies on Saturday.
The ceremonies will take place at the AUM Athletics Complex. Commencement for graduates of the Colleges of Education, Nursing and Health Sciences, and Sciences, will begin at 10 a.m. The graduation ceremony for Colleges of Business and Liberal Arts and Social Sciences will begin at 2 p.m.
The Fall 2019 commencement speaker will be groundbreaking entrepreneur Larry Thornton, the owner and president of Thornton Enterprises, Inc., a McDonald's franchisee. Thornton was recently recognized as the Birmingham Business-Journal's 2019 CEO of the Year for companies with 100-159 employees.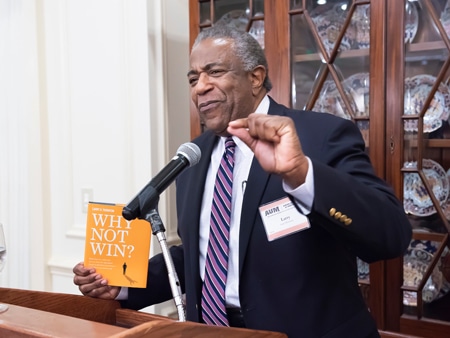 Throughout his life, Thornton has been a groundbreaker. He was the first African-American to serve on the board of directors for Coca-Cola Bottling Company United and was the first to own a McDonald's franchise in Birmingham. After graduating from Alabama State University, he taught at Vestavia Hills High School before joining Birmingham Coca-Cola, where he rose to the ranks of advertising director and director of business development after beginning with a $5-an-hour job painting signs.
He has earned the Moss A. Hendrix Award, a national honor presented by Coca-Cola USA for outstanding community relations. Thornton also has served in leadership roles for the Kiwanis Club and United Negro College Fund. In April 2019, he published his first book, "Why Not Win?," a reflection on his 50-year journey from the Jim Crow South to corporate boardrooms.
Learn more about live streaming, overflow seating, accessibility, photos and more at: https://www.aum.edu/current-students/graduation/.