Auburn University at Montgomery English professor receives 2020 Eugene Current-Garcia Award
Auburn University at Montgomery English professor receives 2020 Eugene Current-Garcia Award
Auburn University at Montgomery English Professor Robert C. Evans has been named the recipient of the 2020 Eugene Current-Garcia Award for his prolific literary scholarship and dedication to mentoring student writers.
The honor is awarded annually by the Monroeville Literary Festival and the Association of College English Teachers of Alabama (ACETA) Steering Committee to outstanding Southern literary scholars. ACETA recognized Evans for his esteemed reputation among literary scholars and his mentorship of rising English scholars.
The association also noted Evans' commitment to students as a mentor to more than 100 graduate students and student writers. At AUM, he has earned numerous awards, including the Faculty Excellence Award, Distinguished Research Professor, Distinguished Teaching Professor, Who's Who among College Professors nomination, and Professor of the Year by the South Atlantic Association of Departments of English.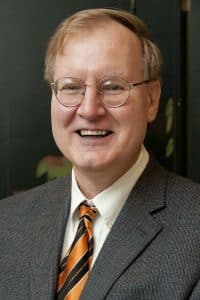 Additionally, Evans is the author of eight books and hundreds of articles, which have helped to advance the field of Renaissance Studies. Over the years, he has earned numerous research fellowships and has served as an editor for several journals and more than 40 books. His research has focused on Ben Johnson and the Renaissance. In 1993, while conducting research at the Yale library, Evans recovered the lost Renaissance author Martha Moulsworth, a discovery that garnered the attention of the Alabama Humanities Foundation and the inclusion of her poem in two of Norton's anthologies of literature. Evans' scholarly research has since expanded to include the works of Kate Chopin, Flannery O'Connor, Harper Lee, and, most recently, Ralph Ellison.
Evans will be receive the Eugene Current-Garcia Award March 6, 2020, at the Monroeville Literary Festival.