September Newsletter 2021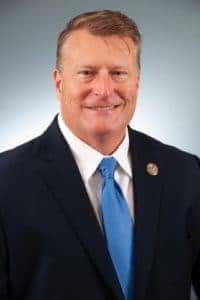 Message from the AUM Alumni Board
Greetings fellow alumni,
It has been wonderful to see the energy on campus as students returned for fall semester classes and many facilities reopened to alumni and the community. The AUM Alumni Board of Directors has been busy planning for the coming year, and we hope to connect with you sometime soon. In the meantime, I am pleased to share a few exciting updates from campus:
For the fourth consecutive year, Montgomery Advertiser readers selected Auburn University at Montgomery as the top university in Alabama's River Region. AUM emerged with top honors in the awards program's "Education" category based on online voting for Montgomery, Autauga and Elmore counties.
Auburn University at Montgomery's softball team recently celebrated its 2021 Gulf South Conference regular season and tournament titles with a ring ceremony. Members of the 2021 team received their championship rings last week, highlighting AUM's first conference championship as a full-fledged member of NCAA Division II.
Warhawk Health Services will host a COVID-19 Pfizer vaccination clinic for AUM students and employees, as well as members of the general public, on Tuesday, Oct. 12, from noon-4 p.m. at the Wellness Center. No appointments are necessary. Attendees are asked to bring their identification and, if receiving a COVID-19 booster shot, a copy of their vaccination card
It has been a pleasure to serve AUM's more than 38,000 alumni over the past two years as President of the Alumni Board of Directors. Although my term will come to an end later this year, I look forward to staying engaged with the Alumni Association and hope to see you at upcoming events. Thank you for your continued support of your alma mater. As always, please feel free to contact the AUM Alumni Association at 334-244-3369 or [email protected] with any questions or feedback.
Kind regards,
Joey Taff '89
President, AUM Alumni Association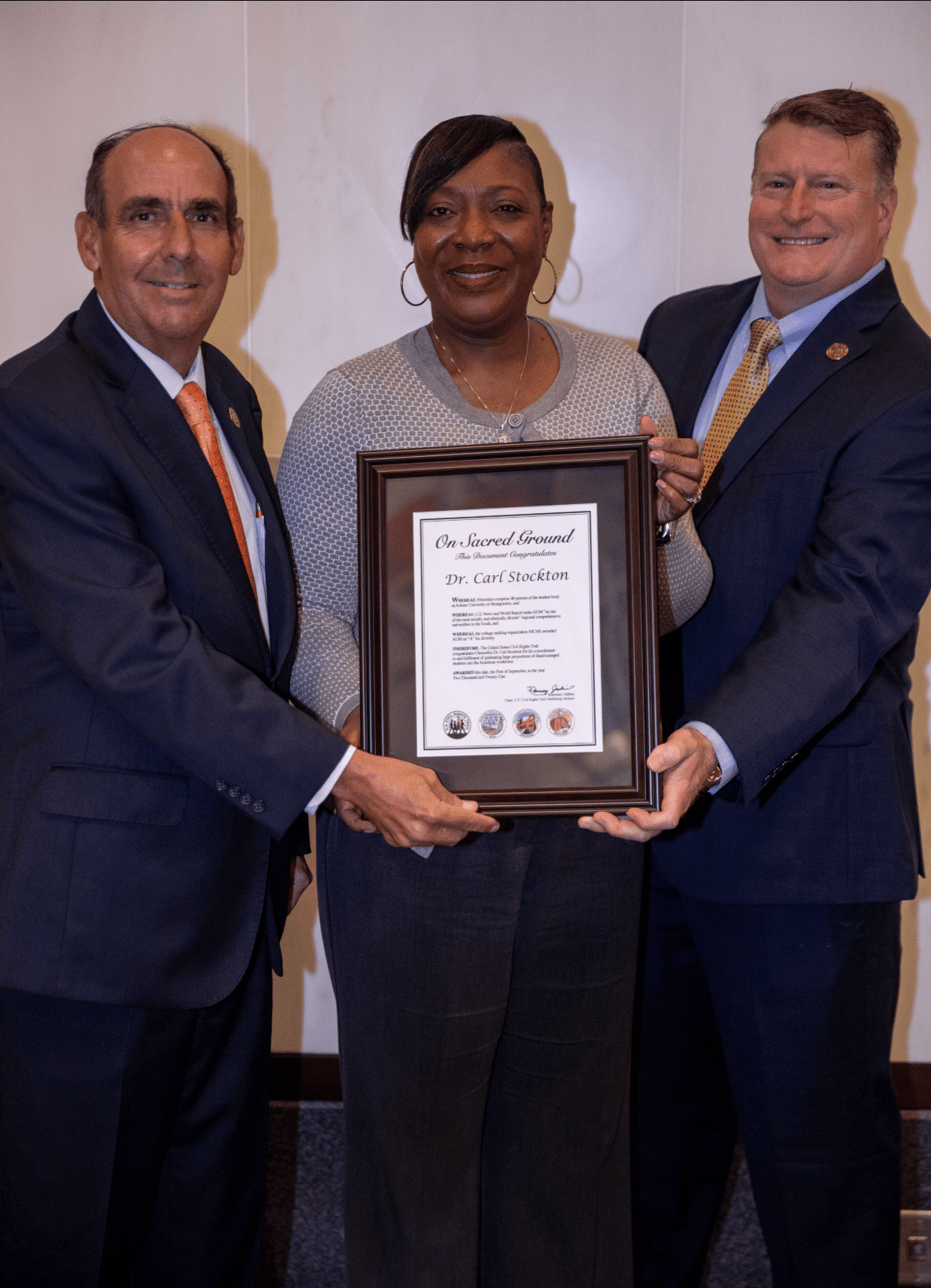 AUM and Chancellor Stockton honored for Diversity Status
The U.S. Civil Rights Trail presented a certificate to Dr. Carl A. Stockton, Chancellor of Auburn University at Montgomery, for AUM's status as one of the most racially and ethnically diverse universities in the South. The certificate noted that minorities comprise 48 percent of the student body and that U.S. News and World Report magazine recognized AUM for its significant diversity. In addition, the organization NICHE awarded AUM and "A" for diversity.
Dr. Stockton was recognized for his commitment to and fulfillment of "graduating large proportions of disadvantaged students" into the nation's workforce. AUM Alumni Board of Directors President Joseph E. Taff nominated Dr. Stockton for the recognition, which was presented by Rosemary Judkins of Montgomery, chair of the U.S. Civil Rights Trail marketing alliance.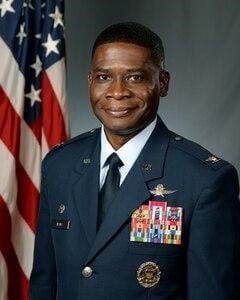 ASU Detachment 019 Alum Nominated for Brigadier General
Colonel Terrence A. Adams, an alumnus of Alabama State University's Air Force Reserve Officer Training Corps Detachment 019, has been nominated by the president for promotion to the grade of brigadier general, United States Air Force.
He is the first Detachment 019 alumnus to be nominated to the rank of brigadier general.
"I'm humbled by the confirmation. As you know, success is never achieved alone," said Adams. "This is a huge win for my faith, my mom, family, friends, Alpha Phi Alpha Fraternity, Air Force Cadet Officer Mentor Action Program, Army ROCKS, the city of Tuskegee, Auburn University at Montgomery, Alabama State University ROTC, my mentors, teammates and supervisors. I can't wait to use this achievement to help more people."
Adams received his Air Force Commission from Alabama State University Detachment and his undergraduate degree from Auburn University at Montgomery in 1994, a period in which he served as the Student Government President at AUM during the same year that Dr. Quinton T. Ross Jr. served as Student Government President at ASU.
Adams remarked that the leap from Colonel within the Army, Marine Corps and Air Force to Brigadier General, or from Captain to Admiral in the Navy, is by far the most competitive of all promotions.
"When Colonels or Captains take off eagles and put on stars, their lives change. They assume immensely more authority and are held to higher standards of responsibility," Adams said.
Adams is now the Chief of Strategic Assessments Headquarters Air Force, Pentagon, Virginia. Before this position, he was the Commander of the 628th Air Base Wing and Joint Base Charleston, South Carolina.
Growing up in Tuskegee, Alabama, where his mom, Aretha Adams, served as the source of his tenacious energy and spirit, Adams' goals and objectives were made possible through strong mentorship and his faith.
"I have been mentored by the best," Adams said. "They poured love, wisdom and knowledge into me. I feel compelled to pour that into others. I learned leadership skills as the SGA President at AUM, President of my fraternity's chapter, my AFROTC experience and from being an enlisted member in the Army."
Adams's military career started right after high school when he enlisted in the Army as a Private E-1 Food Service Specialist to take advantage of the education and financial benefits.
"I­­­ entered the military because I didn't want mom working two to three jobs trying to pay for school for me, and I wanted to serve my country," Adams said.
After serving on active duty in the U.S. Army from 1987 to 1989, Adams returned to his hometown and joined an Army Reserve unit as a cook/dietitian.
"This gave me the opportunity to focus on school, until I received activation orders in support of Desert Shield/Desert Storm. When I came off activation orders, I went back to school at Auburn University at Montgomery and joined the AFROTC at Alabama State University. I was commissioned two years later."
When asked about his leadership philosophy he said it is simple — Listen. Lift. Love!
"Every person's thoughts have some relevance. I believe in taking care of people, mentoring and paying it forward, having a strong work ethic, and continuing self-improvement. I also believe in encouraging mutual respect, and one way I like to do that is sharing Airmen's stories with all levels in the unit, and for leaders to in turn to share their stories with Airmen. This will reduce the standoffish gap between senior leaders and younger enlisted."
Adams has received numerous awards and decorations including the Legion of Merit with one oak leaf cluster, Bronze Star Medal, Defense Meritorious Service Medal, Meritorious Service Medal with four oak leaf clusters and Air Force Commendation Medal.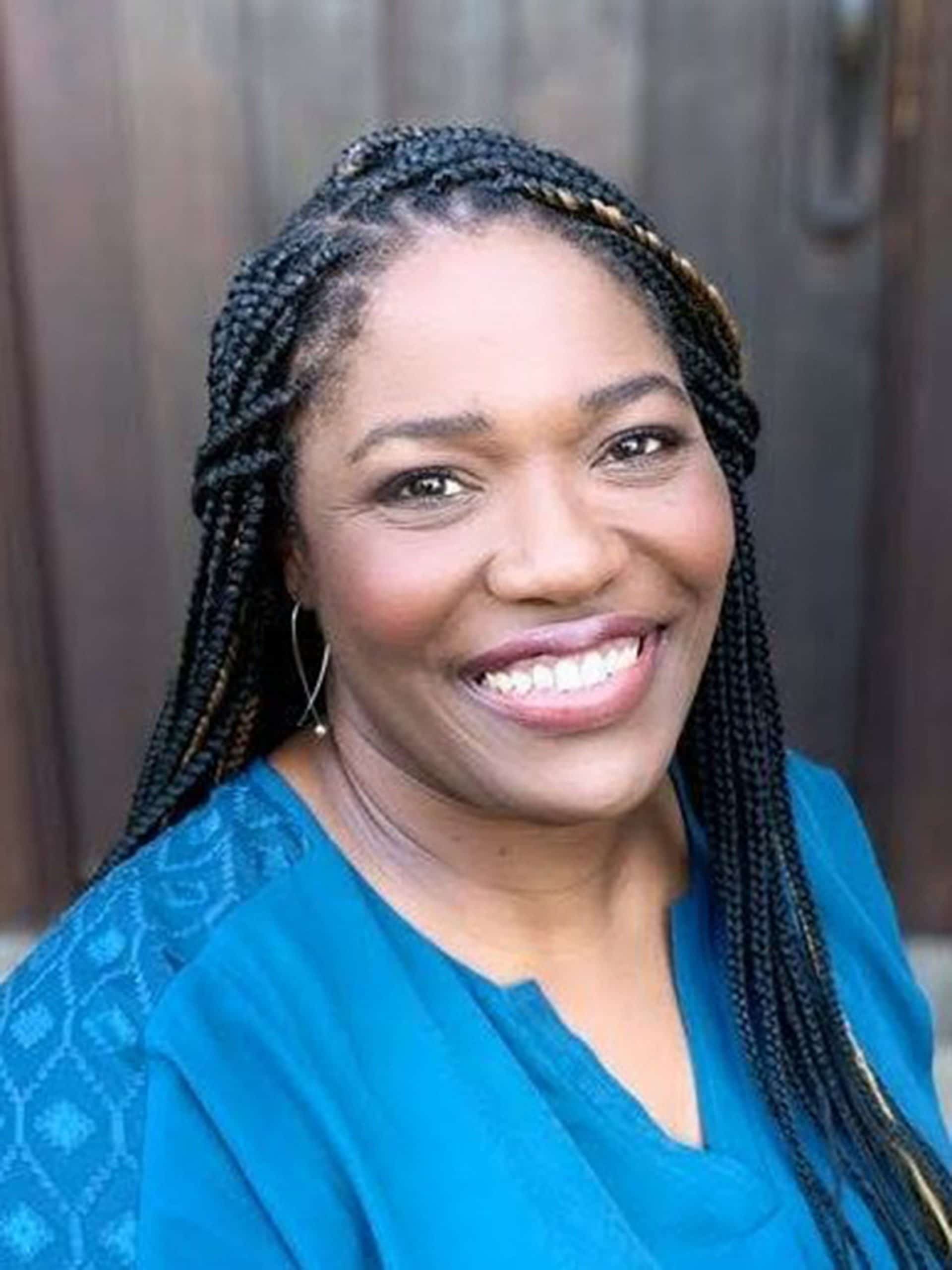 Tara Fenn rises from Cloverdale Playhouse volunteer to new managing director
When the Cloverdale Playhouse began its first season 10 years ago, no one could have guessed they were grooming a future leader. "I started volunteering during their inaugural year," said Tara Fenn, a Wetumpka native and Millbrook resident who was announced recently as the community theater's new managing director.
"We are very enthusiastic about (Fenn) joining the staff," said Cloverdale Playhouse President Al Head. He said that Fenn's "professional background, energy and love of theatre bring a unique set of qualifications to our current team of small, but outstanding staff."
"It feels really good to go somewhere that already feels like home," Fenn said. She has been an active force behind the past decade's playhouse performances, and said she's preparing to go into "building mode."
"I actually am super excited about switching from volunteer to being staff, because now I feel like I have more of an influence over the things that happen in the future," Fenn said. "Instead of a backseat view, I'll have a driver's seat view."
It's a view that's been fairly shuttered since 2020, due to the COVID-19 pandemic. Now that restrictions are lifting, she's ready to help guide Cloverdale Playhouse back into live indoor productions.
"I feel like the patronage at Cloverdale Playhouse has always been very strong," Fenn said. "I can't think of any productions that I've been to that haven't had lots of people in attendance. I'm hoping that we'll be able to create things that will invite people to come back, and help everyone feel comfortable to be there."
Part of that is reaching out into parts of the community that may not have been active theater goers before. "I still feel like there's people around there that don't really know or understand what is happening right there at the corner of Cloverdale and Fairview," Fenn said.
Fenn received her BA in Communication and Theatre from Auburn University at Montgomery, where she was involved in Theatre AUM productions. She's also a founding member of the AUM's all-female acappella group, AUMcappella.
Fenn's local community theater work isn't limited to Cloverdale Playhouse. She's also worked with Prattville's Way Off Broadway Theatre, where she was on the board, and the Wetumpka Depot.
"I feel like I've been welcomed into this big family, and it feels really good," Fenn said. Among Fenn's many roles, she's been a director, actor, singer, teacher, costume stitcher, board member, production team member, front of house manager, props master, fundraiser and more.
Though she's just getting started, Fenn realizes it's a job she can't hold onto forever. That's where another aspect of Fenn's life comes into play as an educator and a mother. She wants to grow future creatives and community theater leaders from the area's youth.
"I've always loved young people," said Fenn, who for the last three years served as a high school Spanish teacher in Prattville. "I have five children of my own." Her precious five have helped her out with productions over the years. "Even the ones who aren't interested in theater came and helped me build sets, paint or move chairs," Fenn said. "They're very much theater kids."
One of her children, 20-year old Luke, has been following in his mom's footsteps as a theater student at AUM. "He was just in Theatre AUM's production of 'A Midsummer Night's Dream,'" Fenn said. "I know that he still wants to continue doing things in theater."
Original article: Montgomery Advertiser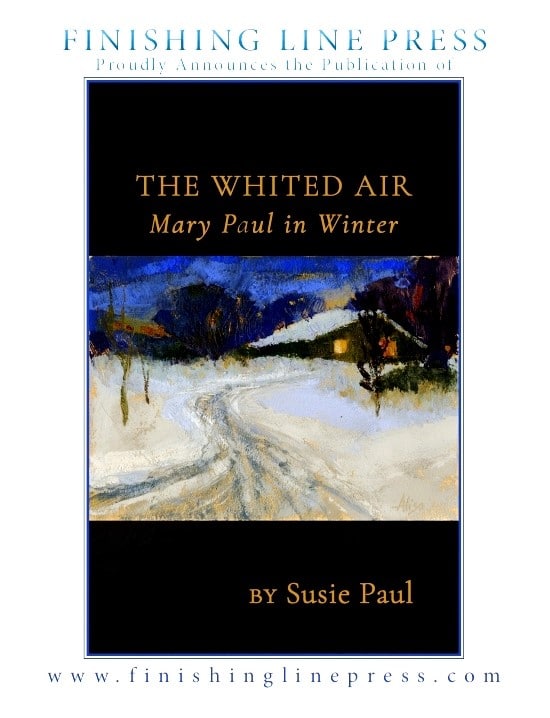 Former AUM Professor, Dr. Susie Paul releases book of poems
Dr. Susie Paul, Professor Emerita, taught at Auburn University at Montgomery for over 20 years. She recently published a book featuring collection of poems, spoken through the voice of a 19th-century textile mill worker in Lowell, MA.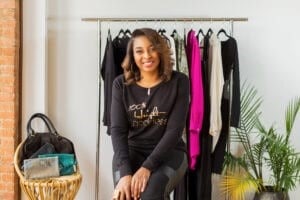 She Represents - Lameka Weeks
Central Dallas is home to a Goddess. One that you will not miss in a crowd. The moment you see her, you instantly understand.
For the beautifully statuesque Lameka Weeks is the founder and CEO of Height Goddess, a fashion clothing line designed for tall women like herself, who stands 6-feet-1-inch sans heels with no inclination to hunch over. Lameka is part of that refreshingly confident generation of tall women who were encouraged from youth to love their height and embrace their uniqueness. Fittingly, what makes Weeks unique is in how She Represents her desire to encourage confidence in others via the Height Goddess Community, a space where women can engage and connect about everything from relationships and careers to fashion and health.
But just how did this lanky dreamer growing up in Alabama transform herself into a cosmopolitan fashionista for those who can reach top shelves? Well, for one, it all started with a lack of choices.
"Yes I know I'm Tall" From the Tall Girl Thoughts Tee Shirt Collection (Courtesy of Height Goddess)
As many of us with, let's say, non-standard anatomy can attest, there was a time not too long ago when clothes shopping could be a chore. (Author's note: I am not a tall woman, but even I remember how hard it used to be to find a pair of jeans that fit both my rear and waistline.) Imagine the level of frustration the stylish-at-heart Lameka must have felt having height added to that mix? Either the apparel was too short, ill-fitting or completely unflattering. And, as Lameka likes to say, that was on a good day. On a bad day? She was buying men's clothes!
Lameka intuitively knew she wasn't the only tall woman feeling this way, so in 2007, after a brief stint in the corporate world (where her frustration increased over the difficulty of building a suitable corporate wardrobe), Lameka set out to create a clothing line that was stylish, contemporary and specifically designed for a longer frame. She was neither a seamstress nor a designer, but she was an Auburn University at Montgomery graduate with a degree in Communications and corporate sales experience, and so, Weeks put her skills to work.
"Sorry, not everyone can be Tall" From the Tall Girl Thoughts Tee Shirt Collection (Courtesy of Height Goddess)
With the success of her line, Lameka's vision grew. She didn't just want to clothe tall women, Lameka wanted other Height Goddesses to connect and share their stories and unique perspectives. Thus, the "From One Height Goddess to Another" podcast was born. It has now blossomed into a community platform for Height Goddesses of all ages and from all walks of life to listen and feel supported and inspired.
Fourteen years later, Lameka Weeks can take pride in the fact that She Represents far more than a fashion line. She is an inspiration to all the Goddesses who see a need and decide to do something about it. And so we close with Lameka's own description of the impact of her business: More than what you put on your body, it's about celebrating who you are, inside and out. It's about your interests, your aspirations, your opinions. Height Goddess is about you…every beautiful inch of you.
Original article: Dallas Weekly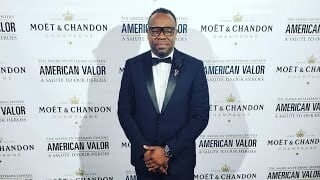 NFM Lending Salutes Arthur Coleman III
NFM Lending is pleased to honor Staff Sergeant Arthur Coleman III, USA, Retired, as the NFM Salute for June 2021.
Coleman grew up in Montgomery, AL. In 1994, Coleman joined the U.S. Army. His father fought in Vietnam, and Coleman cited him as an influence to begin a military career.
Ten years after he joined, Coleman had risen to the rank of Sergeant and was already on his fourth deployment. He was stationed in Iraq with the 1st Battalion, 77th Armored Regiment. On April 11, 2004, Coleman was riding in a convoy truck back to base camp when he heard and felt the impact of an enemy attack. The seconds leading up to the accident were mundane but ones Coleman could not easily forget. "The moments before the explosion, I asked what time it was," he said. "Once that happened, I saw the shock wave, I felt heat, and I had a burning sensation on the right side of my body."
The truck had detonated an improvised explosive device (IED), and Coleman and his comrade were ambushed by bullets. Coleman was shot in his right arm, his hand was embedded with shrapnel, and a piece of the truck impaled his foot. As Coleman tried to exit the vehicle, he was shot from behind. The bullet was dangerously close to puncturing his liver. However, a checkbook in his back pocket miraculously buffered the shell and prevented it from reaching the vital organ. Coleman thought he would not make it back to his family alive. Fortunately, he and the driver were rescued and transported to a field hospital. For his bravery in combat, Coleman received a Purple Heart.
In 2008 after 14 years of service, Coleman retired from the Army as a Staff Sergeant. As a civilian, Coleman sought new challenges that would allow him to grow professionally and personally. In 2009, he started a political consulting firm where he was the CEO. In 2012, Coleman earned his bachelor's degree in political science from Auburn University at Montgomery but wanted to do more.
Coleman knew he wanted to use his experience in the Army to support other Veterans; he decided the best way to do that was to study law. In 2016 he earned his Juris Doctor and later a Master of Laws (LLM) in 2020. Today, Coleman uses his legal knowledge and community connections to help Veterans in need. "I'm not a caseworker, but I do know a lot of caseworkers in the area, and I know some of the transitional homes in the area. So I make calls, set Veterans up [that are] homeless into a transitional home where they can be vetted and seek permanent housing," he says. "If it's a Veteran seeking compensation and pension, I advocate for the Veteran to receive benefits from the V.A. If it's a Veteran that has an other-than-honorable discharge, I help them get those discharges upgraded to a better discharge." Despite no longer being in the military, Coleman has never stopped serving his country or supporting fellow Veterans. "My mission is to serve, and I love serving other Veterans. Whether it's on Capitol Hill or in a courtroom or dealing with the V.A., this is the best thing I've ever done in my life."
Coleman lives in Washington, DC, with his wife and children. He runs a Maryland chapter of the Military Order of the Purple Heart, where he enjoys spending time with his brothers and sisters in arms.
The NFM Salute is an initiative in which one military member or Veteran is selected each month to be honored as the "Salute of the Month." Salutes are chosen from nominations on the NFM Salute website, www.nfmsalute.com. The "Salute of the Month" is featured on the website with a biography and information about his or her service. NFM Lending will donate to a non-profit in the Salute's name. NFM Lending is proud to donate $2,500 to the Salute Military Golf Association (SMGA) on behalf of Coleman. NFM looks forward to the opportunity to continue to honor military service members and Veterans through the NFM Salute initiative.
Original article: Finance.yahoo.com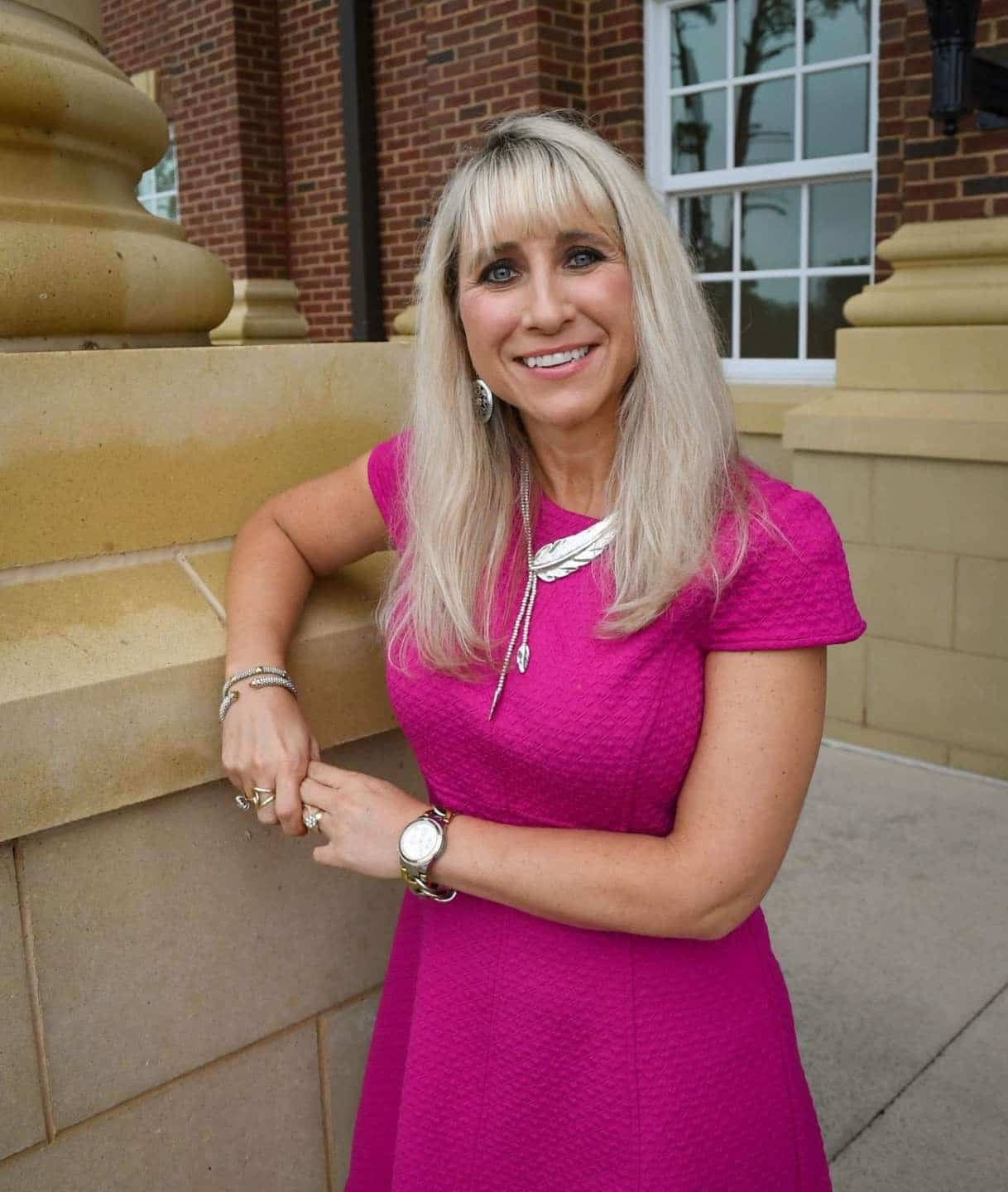 Gadsden State's VP excited about new role
Dr. Tera Simmons has always had a great admiration and respect for community colleges for its accessibility and affordability for students. "I enjoyed the benefits of a community college as a student and, now, it's an absolute joy to work for a community college as an administrator," she said.
On July 8, Dr. Kathy Murphy, president of Gadsden State Community College, announced that Simmons has been selected as the executive vice president. She assumed the role on July 19.
"Dr. Simmons brings over two decades of experience as an educator and an administrator to Gadsden State," said Murphy. "I am so pleased that she is a part of the Gadsden State family."
Simmons started working in high school as a customer service representative in Alabama Power Co.'s on-the-job training program. She continued working in that position following graduation and enrolled at Lurleen B. Wallace Community College, where she earned a scholarship.
"I was a first-generation student so, while my parents were so supportive of me, they weren't sure about the process of enrolling in and attending college classes," she said. "The scholarship and the assistance I received at LBW really paved the way for me to become a college graduate without a lot of debt."
As a student at LBW, Simmons earned a transfer scholarship to Auburn University at Montgomery, where she earned a Bachelor of Education in Mild Learning and Behavioral Disabilities in 1998.
"I thought about getting an MBA because I really enjoyed working at Alabama Power but then I got a teaching job and realized that my calling is to be in education," said the Greenville native.
Simmons landed her first teaching job in special education at Greenville Middle School.
Simmons worked in special education for seven years, and she earned a Master of Education in Collaborative Education for grades 6-12 from AUM in 2000. Four years later, she earned a Certificate of Advanced Graduate Studies and a Doctorate of Education followed in 2006. Both credentials are in K-12 School Leadership and were awarded by Regent University.
In 2005, she was hired as the assistant principal at Greenville Elementary School before moving to Greenville High School in the same position the following year. In 2008, she was promoted to principal.
"I eventually moved to the central office of the Butler County Board of Education, where I served as the curriculum director for four years and director of student learning for almost two years," she said. "I worked a lot with academics, school improvement, curriculum and instruction."
She said she transitioned from being a teacher to an administrator in an effort to further influence the school district. "As a teacher, I made a difference in my classroom and I truly loved it," she said. "But, I knew I could make a greater impact on the entire district as an administrator. It is a move that I have never regretted."
In June 2016, Simmons was tapped as the new assistant superintendent of administration at Hoover City Schools, where Murphy served as the superintendent. Murphy resigned from her position to move to Gadsden State in January and Simmons took on the interim superintendent role until she was named executive vice president at the College.
"I have served on dissertation committees for several years largely to stay involved in higher education," she said. "Working at a college has always been my ultimate goal."
Simmons said it was the positive impact LBW had on her life and career that sparked her interest in serving at a community college.
"LBW set the trajectory of my life," she said. "I believe that I am where I am today because of the influence LBW faculty and staff had on my life."
As the executive vice president, Simmons assists Murphy with the overall leadership and development of the College as well as assists the deans in developing and meeting division, departmental and programmatic goals.
"My main focus will always be what's best for our students," she said. "We want to make students feel welcome at Gadsden State. I want them to realize that whatever credential they receive from our College will impact their life as well as the lives of generations to come. Gadsden State truly strengthens families and communities through education and workforce development."
When Simmons isn't working, she enjoys traveling, hiking, exercising and serving the community. She especially loves spending time with her family – her father, two brothers, a sister-in-law and twin nephews.
"I have certainly learned to seize the day," she said. "During the pandemic, my mother was diagnosed with cancer and passed away in June. Losing her taught me a lot…. I've learned to enjoy every single day and not to ever take loved ones for granted. Life is so precious."
Now a resident of Rainbow City, Simmons said she's excited about her new role serving communities in Calhoun, Cherokee, Cleburne and Etowah counties.
"I'm very excited about what is taking place at Gadsden State, and I'm even more excited about the potential of great things to come," she said. "I look forward to working with the faculty and staff collaboratively for all of our adult learners and traditional students. I will work 110 percent to help others. I just want to always make a difference."
Original article: weisradio.com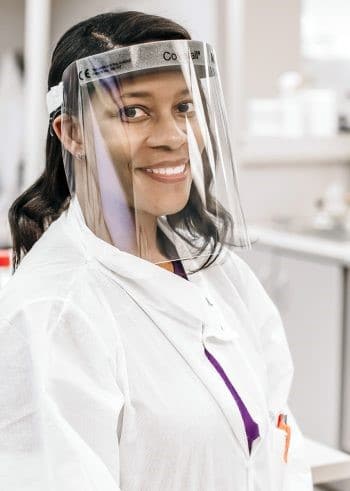 Deafened by rare disease at 12, today a VA scientist
Born and raised in Montgomery, Alabama, Nicole LaMont comes from a legacy of VA family members and Veterans. She was like any other child growing up: outgoing, adventurous and free-spirited with dreams of one day becoming a scientist at VA.
"My childhood was filled with imagination of adventure and curiosity and I was plain carefree as a child should be," she said.
"One of my goals is to contribute to the Veteran community treated at the Birmingham VA."
At the age of 12, tragedy struck when she was diagnosed with Neurosarcoidosis, a rare, life-threatening disease. It's caused by inflammation and abnormal cell deposits in any part of the nervous system that typically occurs in adults.
The disease robbed LaMont of her hearing in both ears overnight. She was deemed the world's youngest and only living person with the disease at the time of diagnosis by the Children's Hospital in Birmingham, Alabama.
"My world was turned upside down," she said. "I went from being a talkative, joyous child to being quiet, introverted and depressed." As LaMont battled to survive, doctors informed her family to enroll in the "Make-A-Wish" foundation and prepare for the worst.
LaMont had other plans for her life
"Through the power of prayer, the doctor's guidance, medical procedures and chemotherapeutic drugs, God spared my life," she said.
After the traumatic life events, LaMont's family involved her in intensive therapies and introduced her to American Sign Language (ASL) when it was determined her hearing would not return.
A year later, LaMont received a cochlear implant. The surgically implanted hearing device brought back some light into her life as she learned to navigate her new normal.
It wasn't until she attended Gallaudet University in Washington D.C., a school for the deaf and hard of hearing, that she fully immersed herself into ASL and the deaf community and culture.
"Becoming fluent in ASL and having total communication allowed me to feel a sense of belonging and acceptance again," she said. "I found my confidence and 'Visual Voice' in the performing arts when I was a part of the Gallaudet Dance Company and another professional dance company called the National Deaf Dance Theater."
Helped make movie theatre captioning possible
It was then that LaMont started her first petition as a deaf advocate to initiate captioning for movie theaters in Alabama. After much struggle, her efforts proved successful and today nearly all movie theaters in Montgomery and Birmingham are captioned for deaf and hard of hearing accessibility.
That was just the beginning of LaMont's advocacy for the deaf community. "I lost my hearing but I gained an entire new world."
LaMont graduated from Gallaudet University with a bachelor's in biology and minors in chemistry and dance. She continued to use her newfound "Visual Voice" through participating in several pageants. She became Miss Black Deaf DC, Miss Black Deaf Student Union and Miss Deaf Alabama.
"My platform for Miss Deaf Alabama was deaf education for hearing families," she added. "It's very important to educate, encourage and support hearing families that struggle with making the best decisions for their deaf child and how to raise them."
Educate families about cochlear implant devices
LaMont then became an awareness support coordinator with Cochlear Americas to educate families about the option of cochlear implant devices.
After her time with Cochlear Americas, she decided to continue her original career path in science. She attended Auburn University at Montgomery. There, she became the first black deaf student to graduate in the Medical Laboratory Science Program in 2016.
LaMont decided to compete in another pageant and became the first black deaf person to win Miss Elite Earth Alabama 2016.
"That was my first 'all hearing contestants' pageant," she recalled. "I went on to compete for Miss Elite Earth in Washington D.C. While I did not walk away with the title, it was one of my most inspiring experiences. I had a chance to further advocate for the deaf community and spread awareness."
From there, she attended the University of Alabama at Birmingham. She graduated with her master of science in clinical pathologist assistant. She is currently the first and only black deaf recipient with a degree of this kind from UAB.
Analyzes all specimens, including COVID-19
Through adversity and persistence, LaMont's childhood dream of becoming a scientist came true at the Birmingham VA Health Care System where she now works as a medical laboratory scientist who analyzes all specimens, including COVID-19.
"My employment here was intentional," she said. "I knew without a doubt that I would someday work for VA to serve Veterans alongside my family members. I am so grateful for this opportunity to work at VA and to work in science. One of my goals now is to gain support and find a mechanism whereby I can use my current degree to continue to contribute to the Veteran community treatment at Birmingham VA."
"Every negative can be turned into a positive."
Even while working as a scientist, LaMont continues her deaf advocacy work to bring together the hearing and deaf communities. She proves there are no challenges that can stop her from achieving her goals.
"No matter the 'limitations' as some may see it, you can still do anything you want," she said. "Just a little bit differently. You are in control of how you perceive life experiences. With God's guidance, every negative can be turned into a positive if you allow it. I lost my natural hearing overnight as a child but I also gained an entire new world, the deaf world. I have an entire new outlook on life, an entire experience and a form of wisdom that comes from that experience."
Original article: blogs.va.gov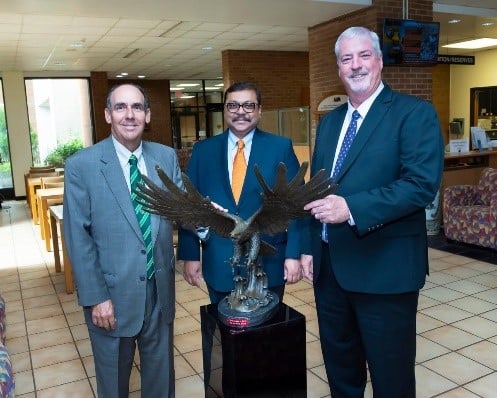 Retired professor gifts Warhawk statue to AUM
Retired Auburn University at Montgomery English Professor Bob Evans and his wife, Ruth, recently donated a Warhawk statue to the university. The statue, which symbolizes the university's mascot, is on display in the AUM Library.
"I had been thinking for a long, long time that when I retired, I would like to donate something memorable to the university, which had treated me so well and supported me so much," Evans said.
Evans, who taught at AUM for 39 years, discussed the significance of the gift in a Q & A with AUM Library Dean Phill Johnson:
Q: Why did you decide to donate the Warhawk to AUM?
A: For years, I thought it would be great to donate some kind of big fountain, but then it occurred to me that that might be hard to maintain and might eventually need to be shut down. I happened to be paging through ebay, saw the Warhawk (falsely advertised as an eagle!) and said to myself, "Self, that would be great." All the Warhawk needs to do is sit there — no moving parts.
Q: Why did you ask that the Warhawk be placed in the Library?
A: The Library is the core of the university. Without our fine Library, AUM would not be as fine a university as it is. During my nearly 40 years at AUM, I relied on the Library continuously and was always helped enormously by the librarians. I am forever grateful to them. Despite all my interlibrary loan requests, my failures to return books on time, my tendency to run up enormous fines, and so on, they always treated me with great kindness and indulgence. So the library seemed the best home for the bird. I'm especially pleased that it has been placed so close to the "faculty (and student) publications" display.
Q: How did the bird get placed in that particular spot?
A: I contacted (Library Dean) Phill Johnson, (Associate Provost for Undergraduate Studies) Joy Clark, and (Associate Provost for Graduate Studies and Faculty) Matthew Ragland and asked if such a gift and such a placement would be acceptable, and all three readily and enthusiastically agreed. This, I should say, is typical of almost all the interactions I have had over many years with administrators at AUM. They have almost always been not only supportive, but enthusiastically supportive. I love AUM and will miss all my students and colleagues.
Class Notes
Allen Brooks '89
Brooks was recently appointed to the Missouri Coordinating Board for Higher Education. Mr. Brooks is currently the Fleet Operations Manager for McLane Livestock Transport, Inc., and he has been with the company since 1997. Previously, he served as a Traffic Engineer II for the City of Montgomery, Alabama. Mr. Brooks is a member of the National Association of Small Trucking Companies and previously served as Chairman of the Three Rivers Endowment Trust for 3 years. Mr. Brooks earned a Bachelor of Arts in urban studies and political science from Auburn University at Montgomery in 1989.
Matthew Burnett '97
Burnett was recently named the CFO of Builders Insurance Group. He joined Builders in June 2020 as Director of Accounting and Finance/Controller. In his new role, Matthew will lead the financial operations of the company, including financial reporting, financial planning and analysis, treasury management, actuarial, and premium accounting functions. Burnett earned two Bachelor of Science degrees in Business Administration from Auburn University at Montgomery; Accountancy in 1997 and Information Systems in 2000.
Anne Esquivel '87
Esquivel is one of thirteen members reappointed by Governor Greg Abbott to the Pediatric Acute-Onset Neuropsychiatric Syndrome Advisory Council. The council advises the commission and the legislature on research, diagnosis, treatment, and education related to pediatric acute-onset neuropsychiatric syndrome. Dr. Esquivel is a clinical psychologist and owner of Mind Works. She received a bachelor's degree in International Studies from Auburn University at Montgomery in 1987.
Joseph Miller '11
Miller was recently named the VP of Enrollment Management and Marketing for Winthrop University in South Carolina. Miller brings to Winthrop more than 18 years of knowledge in strategic enrollment management, admissions, recruitment and marketing, and financial aid awarding and leveraging strategies in regional higher education. He has led enrollment and marketing plans that have grown undergraduate enrollment by over 15 percent at LaGrange College with growth in graduate programs exceeding 80 percent. Miller earned a Master of Liberal Arts from Auburn University at Montgomery in 2011.
David Pantovic '10
Pantovic was recently named the new Tennis and Pickleball Complex Coordinator in city of Daphne, Alabama. Pantovic grew up in Cacak, Serbia where he began playing tennis at the age of six. It there that Pantovic began his professional tennis career, playing in hundreds of tournaments including the Orange Bowl International Tennis Championship, Eddie Herr International Championship, and winning the European Team Championship. He was also a member of the Auburn University at Montgomery men's tennis team winning two national titles during his time there.