Reno's book offers first-of-its-kind exploration of 'intellectual love'
Reno's book offers first-of-its-kind exploration of 'intellectual love'
Seth Reno, associate professor in the Department of English and Philosophy, has recently published a book on "intellectual love" with Liverpool University Press. The book, "Amorous Aesthetics: Intellectual Love in Romantic Poetry and Poetics, 1788-1853," is the first book-length study on intellectual love in the Romantic era.
Reno's book traces the evolution of intellectual love from its initial expression by Jewish-Dutch philosopher Baruch Spinoza through adoption and adaptation in 18th Century philosophy, as well as its emergence in the works of six major Romantic poets. So what is this concept of "intellectual love?" Reno explains it for the uninitiated in this Q&A.
You've focused very specifically on Baruch Spinoza, who helped lay the groundwork for the Enlightenment, and his articulation of "intellectual love." How do you explain the concept to those who may be unfamiliar with it? And does the concept exist largely unadulterated in the works of the other poets you explored?
"Intellectual love is a kind of love that connects the individual to the entire world — to the universe — rather than one particular person or object. In order to achieve that love-state, an individual has to do a lot of thinking and practice — it's not something that happens spontaneously or organically, like "love at first sight." It's like a form of sustained meditation. Spinoza developed a complicated philosophical system to demonstrate the steps one needs to go through to achieve intellectual love, and then various Romantic-era poets adapted that system for their own particular brand of intellectual love."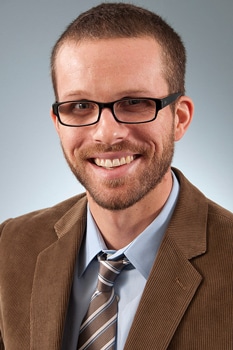 Identifying a unique line of inquiry seems to represent a Holy Grail of sorts for scholars and researchers. Your book, "Amorous Aesthetics," represents the first of its kind – an exploration of "intellectual love" in the Romantic era. What inspired you to explore this particular topic?
"This book is based on my 2011 dissertation. Initially, the intellectual love bit was only one small part of the dissertation, but my wonderful faculty mentor [at Ohio State University], Marlene Longenecker, pointed out that no one had ever written about intellectual love, so I rewrote the dissertation as focused on love — it paid off! Marlene was instrumental in helping me write and research the dissertation, which then became the book eight years later. I hope I can become as good a teacher and mentor as she was."
Beyond the Romantics, your scholarly interests include literature that seems to connect to the environment. Will your next project be in this vein?
"My next book is called "Early Anthropocene Literature in Britain, 1750–1884" (Palgrave Macmillan, 2020). The Anthropocene is the proposed name for our current geological epoch, which began around the time of the Industrial Revolution, when human activities began to have a noticeable impact on Earth's ecosystem. Most studies on this topic focus on recent literature and history — the late 20th and 21st centuries, when global warming has really ramped up — but I trace a history of this new epoch in earlier literature and art from the 18th and 19th centuries. Much of this is industrial and scientific poetry, including some really weird and unknown stuff, which was fun to discover and learn about."