More than 800 students earn Dean's List recognition for Spring 2021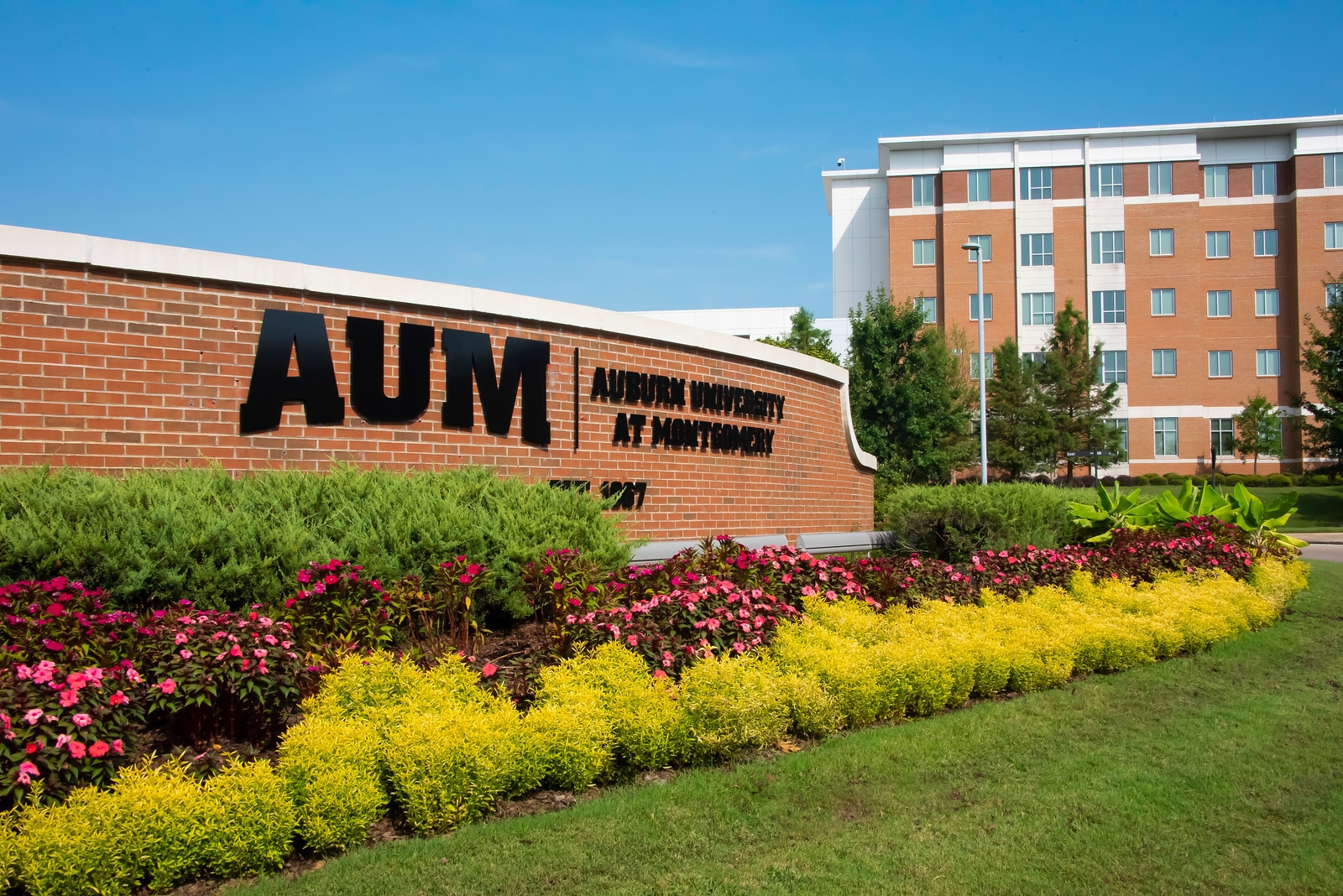 Auburn University at Montgomery is pleased to recognize the 868 students who earned Dean's List recognition for the Spring 2021 semester.
The Dean's List includes full-time undergraduate students who have maintained a grade point average of 3.5 or higher on a 4.0 scale for the entire semester.
The full list is segmented by college and programmatic area.
College of Business
Accounting
William Wesley Atkinson
Wyatt Ray Barnett
Alyssa Chevy Beam
Muhammad Shahzain Bhatti
Alexa Bigger
JaiLeigh Nicole Burch
Melissa Bush Ott
Alexis Renae Butler
Re'Yanna D. Butler
Skylar Caspari
Courtney Kathleen Collier
Lauren Elizabeth Corbett
Jasmine Downs
Hayden T. Ford
Tyler James Golden
Sadie M. Graham
Jessica Hadaway
Ally N. Harmon
Christopher Justin Higbe
Kennethia Machell Hines
Rebecca Lee Johnson
Rachel Ashleigh Jordan
Alexis R. Keller
Kelsey Lauren Kelley
Samira Yasmin Khan
Michael Lee Kozak
Sandra Hanna Lubale
Madison Nicole Maddox
Tracy Cardenal Manley
Dakota McClung
Aaliyah E. Muhammad
Hannah Kim Nale
Tafadzwa Samantha Njanike
Samantha Brooke Owens
Jada Ariel Page
Lorena Shelby
Abigail Virginia Williams
Julius J. Wright
Business Administration
Evan Mott
Samuel Luca Steigert
Entrepreneurship
Charles Paxton Brothers
Erice M. Furr
Patrick Dain Guffey
Chandler T. Haynes
Holden Robertson McGowin
Alexis Nicole Sponsler
Jalen Reece Taylor
Bryce Kenly Varner
Finance
Olumide Abodunrin Babatunde
Max A. Champion
Sydney W. Collins
Cavondria L. Cooks
David DiCarlo
Rafael Theodore Gunawan
David Gunnar Hartzog
Miranda Kimiko Johnson
Joy Kalu
Brianna Nicole Leagans
Kamyah Shanae Lucy
Dylan Cale McCann
Andrea Davida Morgan
Breanna Faith Nobles
Corbin Dana Phillips
Alec Remington
Frida Naomi Santos
Vikas Pradeepkumar Sharma
Prakhar Singh
General Business

Jennifer Farah Beharie
Matthew Brooks
Michael C. Celka
Renan Mathias Diniz
Chukwudalu Alvaro Eze Echesi
Kourtney Marie Hamm
Evan Cade Hamric
Alexandria Caitlyn Belle Ingram
Parker David Jones
Anna McCroan
Matthew Tyler Pineda
Lauren H. Rhodes
James Dillon Surles
Human Resource Management
Cecilia A. Bates
Hollon P. Baxley
Stephon Demarcus Boone
Jaalyn Hunt
Arianna James
Jeremey L. Segars
Information Systems
Owen Parker Adams
Alesia Benet Brewer
Joseph D. Brown
Danny Van Do
Hunter Luther Feaster
Zachary Alston Feaster
Kaitln Leshone Hawkins
Stephen T. Hopkins
Tomaus Jamarcus King
Paul Joseph Mitchell
Talesha Lashae Orum
Jacob A. Rackliffe
Quinntaria Josianna Scott
Coleman Steven Tindal
Minh Duc Tran
International Business
Tonja Foessmeier
Quyen N. Huynh
Dmitriy Kruk
Kim Jasmin Lechner
Diego E. Llovera
Trinh Thai Phong Nguyen
Larissa Shumaker
Emily Marie Strzelecki
Hoang Nguyen Thai
Management
Jackson Mcleod Ceman
Kathryn Rose Fallen
Brandon Cole Farrior
Jordan Gipson
Zoe Malynn Hurst
Justin Lamb
Jashanti B. Lewis
Christopher McCoy
Jacob Alexander McDougald
Hannah Elizabeth Lynn McInvale
Benjamin Edward Morrow
Michael H. Murphy
Annjuly Yutzil Ortega
Latrice Adriel Patton
Kiara Na'Shay Pope
Julia Purcino Simoes
Thi Quynh Nhu Truong
Minh A. Vu
Daniel Tyler Watson
Jeffrey Lee Wiggins
Management Information Systems
 Austin Richard Vinson
Marketing
Ryan A. Batyski
Lauren Grace Beyer
Anna Marie Carlsson
Caleb Joseph Cobb
William Ellis Collins
Alba De la Torre Sanchez
Kieu Le Thuy Doan
Strahinja Ivic
Grant M. Lieberman
Cameron-Dayne Torbert
Hang Bich Tran
Grace Catherine Walz
Joshua T. Williams
Thomas Patrick Wolfe
College of Education
Counseling Education
Destiny Seals
Tatum Elizabeth Willis
Elementary Education
Carlyn Battle
Alyssa Nicole Beacom
Venijah Shyan Bellamy
Jessica Morgan Bone
Mary Kathryn Megan Bowron
Jordan Brewster
Brittany L. Brinkley
Rachel Lee Brooks
Britney S. Brown
Kasey Brown
Taylor Courtney Brown
Peyton Burleson
Emma C. Burnham
Mia Alexis Caldwell
Allison Caroline Capps
Brittany Carpenter
Madison C. Carter
Molly Elizabeth Cobb
Delores Coe
Jaquenya Cole
Grace Colley
Madison Lynnae Conley
Madison Claire Cunningham
Catilin M. Cutright
Alicia Madison Deavers
Natasha Dowdell
Madison Grace Duncan
Kristin Savannah Durham
Shyla Paige Eiland
Bethany Pate Faust
Taylor Ellis Fondren
Dora Lynn Freeman
Hadassah B. Gaddis
Brianna Danielle Garner
Noah Bradlee Godfrey
Karmen Michelle Guy
Madison Danielle Hill
Savannah Paige Howe
Cody Cheyenne Johnson
Leanne Johnston
Ashley Brooke Langley
Jacob William Luckie
Corey McCurry
Breanna McGhee
Ashleigh Simone Merritt
Samantha Cunningham Mooney
Kira Rylee Morgan
Calandra Nakia Morrow
Megan Paez
Aleyah W. Person
Amber Caroline Petty
Ricterica Phillips
Sarah Michelle Phillips
Lisa Caroline Pratt
Loryn M. Praytor
Diamond Pritchard
Kayla Rainey
Simone B. Riggs
Alexandra J. Segrest
Brittney Singleton
Brooke Nicole Slayton
Erin Michelle Smith
Elizabeth Stillwell
Megan Stoddart
Stephanie Key Sullivan
Destiny N. Torbert
Kendall Jordan Tucker
Tanner Van Gilder
Kimberly Vermilyer
Gabriella Walker
Alexis Elise Walls
Jamya Watson
Mariah D. Webster
Jordan M. Williams
Adrienne Isabella Wise
Heather A. Witherington
Kinesiology
Jose Omar Alejo
Rybreka Nykeonna Anderson
Sebastian Jamal Antone
Rachel K. Arnold
Brandon Allen Baynes
Renee Denise Bingham
Catherine Michelle Boswell
Alison Kate Brewer
Madison K. Brown
Allen Cade Bryant
Thomas Carlile
Catlin Nicole Carter
Christopher Floyd Cartwright
Brannon Woodrow Cockerham
Hayes Christopher Colvin
Dariona J. Dash
Matthew DeRose
Amana A. Diab
Jasmine Renae Duff
Aonjhne Alana Duplessis
Charlie Richard Elliott
Timaya G. Franklin
Mario Galloway
Tydaiza Lacute Gamble
Kamaya L. Gordon
Isabella Gyori
Loren Grace Harris
Mary Bradley Herbert
Kayli Rae Hornsby
Monika N. Johnson
Keyonce' Ja'Shan King
Jeremiah Vashaud Lewis
Nicholas Drake Lovell
Matthew Paul Marfice
Jillian M. Martin
Jessika DeVonne Milton
Andrew Hawk Mingus
Margaret Lynne Morgan
Derrick Derrell Motley
DeAnthony M. Moultrie
Justin Christopher Nickel
McKenzie Ivy Nowin
Anslee E. Osborne
Alec J. Palanjian
Jefferson Drake Patton
Jennifer Brooke Phillips
Isabella Fernanda Pinto
Julia M. Porter
Christopher Joseph Roberts
Ashley N. Robertson
Marcus Alexander Robinson
Tyler James Shaw
Sydney N. Shellhouse
William Clayton Shepherd
Jacob M. Smith
Joshua I. Smith
Hunter Lee Viets
Trellis Whaley
Nyah Michelle Whittlesey
Cameron Raye Wilson
Brianna Nicole Yurkovich

Secondary Education
Diona Shanice Austin
Carley Paige Bell
Ryan Paul Bowman
Morgan Paige Duschell
Chris Pornelious Ezell
Haley R. Fox
Isaac Xavier Garrison
Asia Arnelia Harris
Riley Mackenzie Hawkins
Alissa D. Haynes
Trenton Thomas Heidelberg
Savannah L. Humphries
John Christian Manning
Alisha J. Miller
James Adam Montgomery
Alexander Mark Mosley
Kipling Smith
Micah A. Smith
Caleb Wallace Stewart
Tiana Tolbert
Bryan S. Trammell
Special Education
Debra Edwards
Mikayla Breann Halley
Kyle Michael Hemmer
Emily C. Hulstrand
Kayla E. McMillian
Jorden L. Olds
Taite Pouncey
Leterana Sankey
Janasia S. Travis
Haley Lucille Warren
College of Liberal Arts & Social Sciences
Art
Jessie Alexandra Adams
Jordan Thomas Bates
Sophia Grace Bear
Jalen Patrice Brown
Jake D. Brownell
Andy Chen
Shawnna Coley
Tiasia C. Davis
Harrison Chapple DeMarco
Jahari D. Foster
Kimberly A. Goff
Samia Alana Goodwyn
Yinpeng He
Ibrahim Ali Holmes
Joshua Allen Jackson
Kayla R'chelle Jenkins
Jonathan Walter Marks
Ryan James Medley
Alyssa M. Newton
Jessica Leigh Pippin
Rhianna Ruth Ragan
Noah Scott Rasmussen
Riley N. Robinson
Gloria Jayne Schiffer
Camden Alexander Thornton
Olivia Grace Tippett
Communication
Jayla Brown
Aveline Burson
Nicole Clark
Cameron Ronald Grant
Regan Hagans
Angelina Renee LeClair
Hannah N. Long
Isadora Lima Nicolai
Savanna Renea Pruitt
Hayley LeAnne Richards
Victoria Alexis Salters
Jacquelyn Elaine Vaughn
Karian Victorian Warrington
William C. Wilson
Criminal Justice
Christopher Matthew Adams
Nicolas Jordan Adams
Riley Blake Belden
Andrew Michael Blevins
Zeldria A. Bowman
Caitlin Taylor Cox
Madison Driskell
Andranice M. DuBose
Hayden Grace Fabel
Nicole M. Gerlach
Rebecca Marie Jamieson
Connor Caldwell Johnston
Jazmine Simone Jones
Jessica Ann Jones
Alyssa Kathryn Lamb
Brittany Larlee
Anila Mantello
LaTisha Baldwin McCord
Mirtha Mendoza Cardenas
Carl Joseph Nichols
Conner Andrew Nunn
Levi Samuel Ord
Heather Nicole Rainey
Noah Everett Reeves
Cassie Elisabeth Sapp
Kyeontre Naveon Scott
Blake E. Shefer
Afrika K. Simon
Margaret E. Spencer
Ty'Asia J. Turpin
Madeline Mae Vigue
Shelby Jo Vinson
Megan Walker
Destiny . Washington
Lyndsey Whaley
Iyanla D. Williams
Economics
Lucas Isso Batistela
Kayla Tatyia Holmes
John Pierce Lemire
Nicole Caitlin Luther
Sharon Hussaini Musa
James Thomas Paterson
English
Emma Nicole Butler
Angela Caver
Karima Y. Elhammar
Sydni L. Fuqua
Anna Grace Graham
Graylyn Harris
Andrew Peyton Hill
Mikia Shanteria Holloway
Elizabeth Mary McGlynn
Bethany A. Messer
McKenna Elise Odom
Tyson Blake Wilson
Fine Arts
Chelsea Luan Byrd
Leigh Ann Clark
Annie Springer Cobb
Temia D. Heard
Michelle Mitchell
Brianna N. Myers
History
Brennan R. DePace
Graeme W. DePace
Todesia Flavors
Jennifer Julia Go
David Wesley Rains
Lee Anna Rebecca Rives
Interdisciplinary Studies
Molly G. Anderson
Landon Archer
Jasmine Shamise Bell
Dianna Ellison Callahan
Skylar Rose Coppinger
Sarah Anne Creanor
Stanneka Lasha Malone-Kyser
Alexis Briona McDowell
Tytiyonna McQueen
Eric Samuel Peoples
Kaila O. Robinson
Adrienne Michelle Scott
Logann Mikayla Shorter
Colbey Ray Annelise Thornton
Monet Michiko Treadway
Carol Lee Tyson
William Abraham Venable
Shari Wallace
Crystal Wren
Master of Liberal Arts
Kimberlee K. Fernandez
Suzanne Strength
Political Science
 Megan Elizabeth Andrews
Kasey Jewel Badger
Caroline Hopkins Barnett
Robert Tucker Beckett
Ethan Foster Enfinger
Nathan Mitchell Jordan
Caden Gill Lockett
ZaBria Nicole Neely
Karlee Marie Stoup
JNae Rachel Thompson
Austin D. Vigue
Sociology
Jenna Leigh Abbott
Abigail Nicole Agee
Aminta Nohemi Alvarezan
NyJalia Archie
DaNidrah Ophelia Carson
Adera Brianna Dash
Madeline Edwards
Rickey Luvon Embry
Jordan Y. Galloway
Aniah Minyaa Samone Gray
Arianna Breshay Howard
Amber Nicole Johnson
Tionna T. Presley
Lakarrenten Kaliyah Nalaney Riley
Jasmine Monique Shealey
Katharine Lee Smith
Hayden Leigh Terrell
World Languages & Cultures
Ebony Sierra Ross
College of Nursing & Health Sciences
 Communication Disorders
Kaitlyn Elizabeth Beverly
Esther Causland
Olivia Joanna Ellis
Victoria M. Hall
Madelyn Sarah Hunt
Amelia Caitlin Hyman
Amber Faith Jenkins
Tiffany Mason
Aislinn Yamil Moore
Kassidy Lynn Poore
Ashley Nicole Shannon
Rachel Desiree Wales
Madalyn Jean Wismer
EARN Nursing
Kyla Dallas
Ashton Thomas
Candace Wright
Master of Science-Nursing
Joseph Dietz
Tiffany Lynn Overton
Medical Laboratory Science
Ayah Abdelaziz
Josie Alexandra Blanks
Megan Butler
Ann Teresa Chambers
Emma Nicole Cotney
Becky Goodwin
Matthew Connor Griffin
Rachel Ray Ivey
Christopher Scott Lazenby
Ngoc Bao Ngan Le
Karen A. Paz
Brooke L. Seamon
Sarah Kate Whitten
Maria Zafar
Nursing
Timothy Lawrence Babb
Gabriela Briana Balestrieri
Karoline Elise Beasley
Katherine E. Beasley
Nicole Kristen Calhoun
Christina Grace Carlin
Sydney Reed Chandler
Carli McCord Chavez
Kassidy R. Clinton
Grace Davina Colburn
Kayla Collar
Cynthia Molly Ann Compton
Kendall Marie Couey
Krystal Kaylan Courtney
Savannah Leigh Dail
Christen Tori Davis
Andrew Palmer Dodd
Stephanie Elizabeth Eckstein
Sarah Eubanks
Isabella Marie Fagan
Breanna Pauline Felts
Jordynn Rose Frakes
Emily Grace Fuller
Tiffany Marsha Gill
Adalyn Claire Glover
Zariyah Diamonique Greathouse
Kennedy Ashton Grier
Grace Christian Hamrick
Gabriel Brena Hardy
TaMia Janae Henry
NaShayla Alexis Hervey
Cassidy L. Howard
Margaret Pless Hutto
Isabella N. Jenkins
Mariam Jobe
Avery Dawn Johnson
Christiana S. Johnson
Gracen Shyanne Johnston
Jasmine A. Jones
Sunmi Kang
Lauren Lawrence
Cam Linh Le
Hannah Diane Leachman
Mary Elizabeth Lormand
Chelsea Morgan Maiwald
Dawanna L. Manley
Ashton Elizabeth Mann
Katherine Michelle Mann
Ke'Onia Y. Marshall
Robyn McClam
Allison R. McCrimon
Kaitlyn Nicole McDonald
Jeannie Marie McLaughlin
Debrika T. Miles
Steven Scot Millican
Joshua Milliman
Jordan Vaughan Mills
Graceln Mo'Na Mitchell
Kamryn M. Morris
Beatrice Wanjiru Muiruri
Ansley Meredith Nall
Yukta Hemant Patel
Sloane Elizabeth Patterson
Jenna Danielle Paulson
Madison K. Powell
Mary Frances Raiborn
Rachel Sadie Reed
Austin Claire Reynolds
Raven S. Rivers
Klaudia Dominique Rose
Chieanthleigh Fhreyanna Sanoy
Jathiya Shaheed
Vanessa DeAlencar Silva
Chasity H. Smith
Kameron Smith
Tyra Beronica Smith
Alice Noelle Squires
Brittany Jeannette Stallworth
Trinity Stallworth
Darian R. Thompson
Hannah Nicole Thompson
Riley Jacob Tormey
Christina Torres
Thi Thanh Hoa Tran
Kierra T. Turner
Price Caleb Walker
Katherine Autumn Ware
Brylie Noelle White
Andrew B. Wilson
Matthew T. Woodall
Taylor Worden
Allison Renee Wyble
Daisha Young
Seol Yun
Pre-Communication Disorders
Morgan Kathryn Cord
Erica Renee Drake
Chelsea Jordan
Pre-Nursing
Chidinma Jessica Ahamefule
Amber Austin
Jade Tynia Bishop
Franceska D. Blanding
Briana D. Bradshaw
Codey Laurence Brockman
Eden Sophia Burson
Katie Elaine Cartee
MacKenzie Faith Caver
Cassidy Selena Lynn Cooper
Cassidy Jaid Cox
India D. Dowell
Mekiya B. Durr
Nora Tamunodienye Emmanuel-Wilcox
Kyndall Grace Foley
Alanna Lynne Goble
Riley M. Gola
Shelby Lasha Renee Gonzalez
Rhylee T. Greer
Aaliyah Ashanti Harris
Hanna Heaton
Karoline A. Holloway
Diamonazia Taneice Hubbard-Lewis
Jadelynn Jekerra Johnson
Kelsey Morgan Kirk
Kelsey H. LeMaster
Kristin B. LeMaster
Nilah Lewis
Camryn Renee Lindsey
Alexis Martinez
Brianna Marshae Morrow
Celine Paul Okon
Thelma Chukwuyem Okorie
Heidi D. Pickering
Madelynn D. Swanson
Christa Taylor Tatum
Madison N. Thweatt
Dylan M. Trammell
Kyra Trinity Washington
College of Sciences
Biology
Leah Marie Agard
Reyana Nicole Andrews
Stella Bice
Hyacinth Ghislaine Mutula Bisimwa
Austin S. Boehm
Seth Patrick Buchanan
Ashley B. Burrow
Maria Casas Blas
Anna Kathryn Coker
Jordan L. Colacicco
Kennedy Lynne Coleman
Tia Tamera Cottrell
Savannah M. Cowart
Alacious Crayton
Micah Dufrene
Searra Kiersten Eaddy
Brent H. Estes
Emily Catherine Floate
Kandace Mykal M. Garmon
Mary Ellen Grant
Louise Francisca Gunawan
Howlette Harris
Jesse Ryan Harris
Savannah Hayes
Haley Brianna Hobbs
Destiny E. Isham
Alexandra R. Jackson
Glory Kalu
Kimberly Kertulis
Noelle Kim
Shalom Kim
Sera Lee
Sunkyoung Lee
Linda Lewis
Sarah McCay
Samantha L Mejia
Julia Marie Pack
Love Javal Patel
Nivea R. Patel
Rosse Suresh Patel
Shubham Rajesh Pathak
Daveenyah Aleece Primm
Juan Nicolas Rodriguez
Ariana Ryce
JoAnna Neal Sheffield
Milton Shinn
Kennedy Ashlyn Smith
Collin Tate Stoddard
Preacious Lashay Taylor
Helena Paige Torres
Katrina Vance
Jasmine N. Walker
Shannon Lynn Warlick
Wiktoria Karolina Warpechowska
Ashley Renae Young
Chemistry
Hannah Austin Dailey
Carolina De Bovi Pontes
Jessica E. Fierro
Seoeui Lisa Hong
Christopher Austin Kirk
Mary Kate Lackey
Thao Kieu Phuong Luu
Alexondra MacGuire
Channing Joi Palmer
Kelvin D. Pettus
Katherine Grace Poe
Ian Edward Singer
Thinh Quoc Truong
Computer Information Systems & Cyber Security
Roderick Jermaine Clayton
Computer Science
Diego Ernesto Acuna
Abdulqudus Omodolapo Adigun
Jose Darian Alfaro
Adam Ajin Avra
Jonathan Kristopher Beans
Giovanni Vicente Bellio Rincon
Guilherme Fernandes Bittencourt
Micah Scott Brown
Javoris Brown
Hunter Floyd Collins
Declan Tyler Cornett
Jared S. Cribb
Tharalillah Olasubomi Dauda
Isaac Jamaal Davis
Jeffrey Deetman
Charles Ralph Fowler
Raja Mozam Habib
Lorene Hardy
Tyranie Henderson
Dyanni S. Hidalgo
Jaquincey Howard
Rifatul Islam
Kaleb O'Neal Jack
Jordan Johnson
Benjermain Hyun Kim
Subeen Kim
William Samuel Kirksey
Derius Jarrod Knight
Megan M. Lang
Di H. Le
William Wyatt LeMaster
Logan Lett
Madison Diana Loehr
Laurel R. Manning
Juan Carlos Malera Barahona
Courtney Yakira Mixson
Dixon Sadler Moore
James Wyatt Morin
Andrew Aaron Motes
Michael Joseph Navarro
Ben The Nguyen
Md Imteaz Alam Nisat
Matthew Alan Owings
Akash R. Patel
Om Jasminbhai Patel
Riya Ketankumar Patel
Thao Phuc Minh Pham
Legarien Shuman Philon
Danyah Alyssa Primm
Mime Rahman
Tyania Riley
Scott Robert Roush
Sammuel Ruiz
Brittany Saylor
Caleb B. Shaddix
Haoqi Shi
David Song
Terrence B. Staples
Joanna Sumner
Jacobe Reshawn Taylor
Riley Hunter Taylor
Julian Robert Thomas
Joshua Todd
Daniel D. Tran
Quyen Hoang Tran
Thi Hong Ngoc Tran
Bowen Wei
Franklin Devon Wiggins
Diondus T. Williams
Torry Devin Wilson
Chengkai Wu
Xinhua Zhou
Environmental Science
Clayton Taylor Ashberry
Marissa Lee Craig
Kaitlin Marie Emerson
Emma Leigh Ferrall
Tovah R. Hickman
Grace R. Leslie
Jack Harrison Merkl
Jacob Wayne Miller
David Moreno
Thomas R. Pollard
Amanda Maria Ramrattan
Morgan K. Riley
Sabrina Ann Rovnyak
Mathematics
 Gerson G. Castro
Graham H. Duke
Jacob G. Garrett
Vivine Giramata
Jesvin Joseph
Jibin Joseph
Catherine Elizabeth Luiso
Hieu Quang Mai
Akhil Paul
Robert T. Rivera
Kyler J. Roller
Leon Montez Silmon
Malachi Towle
Ethan Ryan Treff
Taylor N. Waugh
Lauren R. Williams
Psychology
Erykah Sansurae Austin
Lexius Chantell Bass
Kenneth Beers
Kayla Alexis Bell
Jordan L. Cargile
Elizabeth Brooke Carr
Margaret Brelaz Dean
Kirsten R. Elsky
Julia Enderink
Christopher Alexander Ennis
Alicia Marie Estes
Victoria Nicole Fife
JeQuarius Levek Franklin
Brianna S. Frazier
Avelia K. Grandalski
Tajah Nicole Gunn
Katelyn Marie Halcome
Tayler A. Hall
Mary Katheryne Harris
Madison Faith Haynes
Ayana S. Jakes
Alexia Tityana Jones
Grace M. Keel
Julius J. Kurth
Patrick Hammons Lackey
Shannon Langdon
Chloe Watts LeMaster
Taylor Lindsey
Emily K. Mann
Gia J. Martin
McKenna Hope Miller
Khaalilah Ameera Rabhia Muhammad
Sofia Navarro Bonete
Briana Delores Newberry
Tina Ai Nguyen
Angelina Phaophongsavath
Katie A. Rhyne
Logan Quinn Riley
Claudasia Russaw
Alexandra Shepard
Heather Stock
Emily Gail Swims
Sydnie Tew
Mary Anna Tindal
Brooklyn Elaina Turner
Lauren J. Turner
Tyson Walters
Jordyn Alexis Wilson
Naomi Samantha Wrench
Student Success & Retention
Noor S. Fariss
Jessica Lynn Georgulis
Cameren Elaine Golden
Kassidy Ysabel Gray
Hannah Lauren Grier
Antonia Shenise Johnson
Benjamin L. Miers
Roidarrius James Williams
Undeclared Major
Hannah C. Calhoun