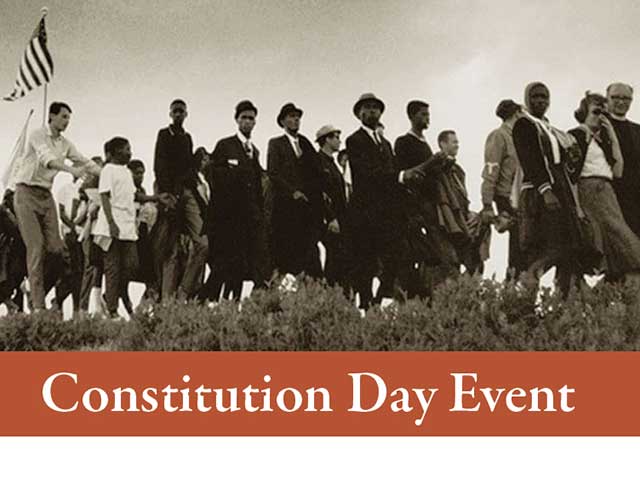 Constitution Day Event
Panel Discussion: "Voting Rights in Alabama & Beyond"
Open to the public
Panelists
Dr. David Hughes, Associate Professor of Political Science at AUM. He's also our constitutional law and Southern Politics Scholar.
Prof.

Bryan Fair

, University of AL Law School. His expertise is in constitutional law, especially as it concerns race.
Jess Unger, J.D., Southern Poverty Law Center (SPLC), The SPLC is a co-plaintiff in several recent and pending

voting rights court cases

including Allen v. Milligan (2023). Jess Unger is the senior staff attorney for voting rights at SPLC.

 

He received his JD from Georgetown University Law Center.
Jess Unger is a senior staff attorney at the Southern Poverty Law Center. His work supports the SPLC's efforts to protect voting rights across the South.

From 2020 to 2023, Jess worked on voting rights issues with the Power & Democracy program at Advancement Project. Prior to AP, Jess served as counsel to the Subcommittee on Civil Rights and Civil Liberties of the Committee on Oversight and Reform in the United States House of Representatives. He has also litigated as a trial attorney for the U.S. Equal Employment Opportunity Commission and researched state anti-corruption frameworks for the Coalition for Integrity. He launched his legal career with the Lawyers' Committee for Civil Rights Under Law, where he worked on voting rights and hate crime issues.

Jess is a graduate of Sarah Lawrence College, where he studied politics, computer science, and theater. Jess earned his J.D. from Georgetown University Law Center, where he participated in the Federal Legislation Clinic and the Public Interest Fellows program. He is a member of the Virginia bar, and serves on the board of the Virginia Civic Engagement Table as well as in an advisory role to Common Cause Virginia.
Presented by Political Science and Public Administration