Clayton helps MLK Legacy Breakfast attendees `feel the spirit'
Clayton helps MLK Legacy Breakfast attendees `feel the spirit'
Clayton helps MLK Legacy Breakfast attendees `feel the spirit'
Xernona Clayton didn't have much use for a stage. Slightly taller than the podium and possessed of energy that belies her age, Clayton couldn't properly tell her story rooted behind a lectern and a microphone she had to stretch to reach. To share the story she had to tell, the 88-year-old civil rights activist, former Turner Broadcasting executive and one-time confidante of Dr. Martin Luther King, Jr. had to descend from the stage, weave between the tables and walk among her audience of more than 300 at Auburn University at Montgomery's Taylor Center.
"I'm going to get close to you so you can feel the spirit, as I do, of the man we're celebrating," Clayton said.
Her story, as the keynote speaker for AUM's annual Martin Luther King Jr. Legacy Breakfast, is inextricably linked with his story. King arrived in Montgomery in 1954 as a 25-year-old preacher at Dexter Avenue Baptist Church. He began to rise to national prominence a year later after Montgomery police offers arrested Rosa Parks for refusing to give up her bus seat to a white man.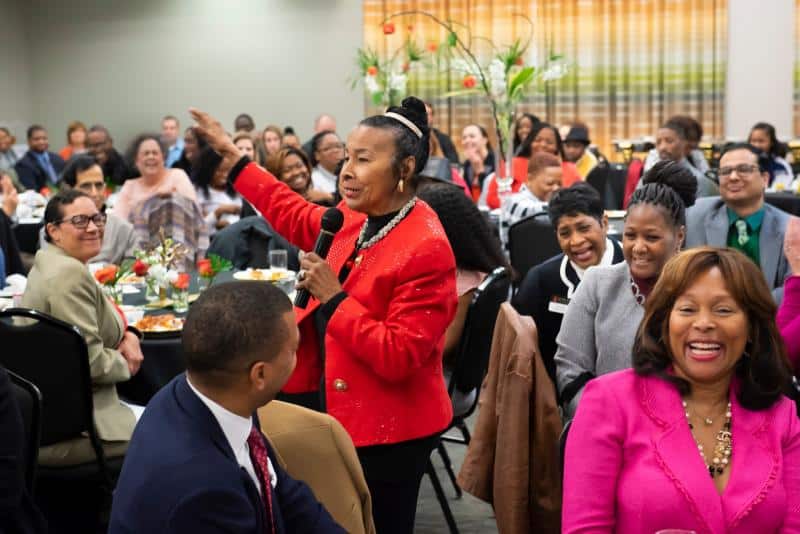 Author David J. Garrow described King as a "reluctant leader who was drafted, without any knowledge on his part" by colleagues to serve as president of the newly created Montgomery Improvement Association. In that capacity, the young, charismatic preacher pursued the Montgomery Bus Boycott in the wake of Parks' arrest in December 1955.
Clayton had been on the front line of the civil rights movement before meeting King. Similar to King, the choice to participate was made for her. "My country decided I wasn't good enough, that black people didn't belong," she said. "You heard that you don't belong here. I belong here; I was born here. I was fighting for my rights as an African-American long before I met Dr. King. I felt I had to. I joined a movement with a man who was here to change the world."
Much like King, Clayton blazed her own trail. She worked closely with Dr. King and Mrs. Coretta Scott King after accepting a position with the Southern Christian Leadership Conference in 1965 and quickly became a trusted family friend. In 1966, she coordinated activities of Atlanta's black doctors for a project that resulted in the desegregation of the city's hospital facilities. The National Medical Association honored the project, which served as a model for other states to follow.
In 1967, Clayton became the first African-American in the Southeast to have her own television program – "The Xernona Clayton Show on Atlanta CBS affiliate WAGA-TV. She eventually made the move to Turner Broadcasting, where she worked for nearly 30 years as an executive. She is also the founder, president and CEO of the Trumpet Awards Foundation and creator of the Trumpet Awards, which highlight the contributions and achievements of African-American citizens. Since its introduction in 1993, the Trumpet Awards ceremony has been televised annually and distributed internationally in more than 185 countries.
While Clayton carved out her own professional path, her time with King had an indelible impact on her. "Dr. King was many things – my friend, my boss at times," she said. "I got a chance to know the man who practiced what he preached. I got a chance to know him, how he thought, how he planned. Dr. King wanted a better life for everybody."
Clayton has applied so many of the principles King stood for in so many of her interactions, most notably with Calvin Craig, a Ku Klux Klan Grand Dragon and vocal advocate of segregation during the 1960s. Clayton and Craig met while both were involved in the Model Cities program in 1967 and formed an unlikely friendship through their frequent debates on race and societal issues. In 1968, Craig resigned from the KKK, denounced the organization and credited Clayton for his change of perspective.
"We can't always change the world, but you can do what you can to change one person's attitude," Clayton said. "Dr. King said, to change a person's attitude, first you have to change his heart. Then you can change his behavior."
With him until the end
Fifty years later, Clayton vividly remembers of the details of the March day when she helped King prepare for what would ultimately be his final acts as a civil rights leader. A day before he departed for Memphis, to support city sanitation workers in their fight for higher wages and better treatment, his home had been filled with song and laughter as he enjoyed the company of his parents, wife, children and close friends. Clayton remembers the game King played with his young children, how they would ascend a stool, climb on top of the kitchen refrigerator and jump into his arms for kisses. The night before picking up King to drive him to the Atlanta airport for the flight to Memphis, Clayton received a call from his mother, Alberta.
"I'd like more days like that," Alberta told Clayton. "Can you ask him to adjust his schedule so we can do more things like that as a family?"
When Clayton arrived the next day to drive King to the airport, the King children were uncharacteristically clingy as their father prepared for departure. His young sons, Martin III and Dexter, grabbed his briefcase and tried to block the door.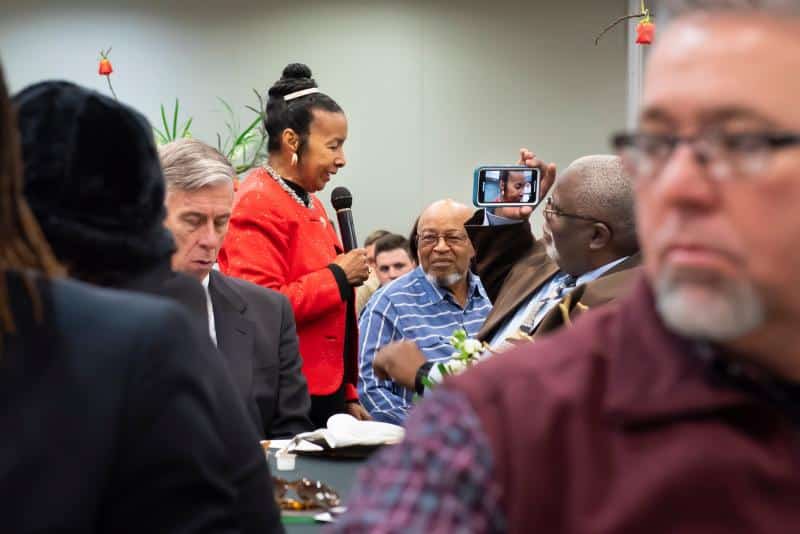 "This continued all the way out the door," Clayton recalled. "We got to the steps and the other boy blocked the steps. [Dr. King] said, `Why are you like this? I'm just going to Memphis. I'll be right back.' This continued until he got to the car. They blocked the door where he couldn't get in the passenger side. He finally managed to open the side door and get in the door. They jumped on the hood of my car. We finally got out of the driveway. I still see them, `Daddy, please don't go.' It disturbed Dr. King tremendously. He said, `I think they're telling me something, that I'm not spending enough time with them. When we get back, we're going to alter my schedule.'"
He never made it home. His flight to Memphis was late leaving due to a bomb threat. After arriving in Memphis and checking in at the Lorraine Motel, he told Clayton in a phone call that his room number – 306 — "rings clearly" to him. The number happened to be the same as Clayton's home address. On April 3, King delivered his "I've Been to the Mountaintop" address at Mason Temple. So many of those who were close to him later interpreted parts of the speech as a premonition of what was in store.
"Well, I don't know what will happen now," King said. "We've got some difficult days ahead. But it doesn't matter with me now. Because I've been to the mountaintop. And I don't mind. Like anybody, I would like to live a long life. Longevity has its place. But I'm not concerned about that now. I just want to do God's will. And He's allowed me to go up to the mountain. And I've looked over. And I've seen the promised land. I may not get there with you. But I want you to know tonight that we, as a people, will get to the promised land. So I'm happy tonight. I'm not worried about anything. I'm not fearing any man. Mine eyes have seen the glory of the coming of the Lord."
The next day, at 6:01 p.m., King was fatally shot by James Earl Ray as he stood on the second floor balcony of the Lorraine Motel. He was pronounced dead at 7:05 p.m. This year marked what would have been King's 90th birthday.
"Isn't it interesting that last year we celebrated 50 years of his death?," Clayton said. "Death. And if you didn't know him, you'd have to ask what kind of a man is this when people remember his death 50 years later? You can imagine what kind of life he must have led."