Warhawk Weekly 1–29: Homecoming winners; $15 student ASF tickets
Auburn University at Montgomery's 2019 homecoming festivities culminated with the crowning of Laura Floyd and Deiondre Kinard as queen and king, respectively. Ma'Kya Brooks, Savannah Karl and Michael Campbell rounded out the homecoming court. The Student Veterans Association earned top honors in the Chancellor's Cup competition, which included such events as a "Day of Service," flat building and the "AUMazing Race."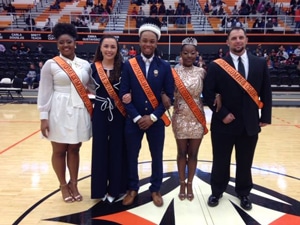 $15 Student Rush tickets for Alabama Shakespeare Festival's Four Little Girls will be available beginning one hour prior to the start of the performance.
In order to qualify, students must visit the ASF Box Office and purchase tickets in person within one hour prior to show time. A current valid student ID (or proof of enrollment) is required to receive up to two $20 rush tickets per student. The $15 price is special only for the ASF production of Four Little Girls. Student Rush tickets are subject to availability and are not available in advance.
For more information on how to get Student Rush tickets, please visit asf.net/tickets/student-rush/.
If you have any questions regarding ticket availability, please email the ASF Box Office or call 1-800-841-4273 Monday through Sunday between noon and 5 p.m.
It's important to maintain our mental health and seek help when we need it.
Contact Counseling and Health Promotion Services (CHPS) if you would like to make an appointment by calling 334-244-3469 or emailing [email protected]. Visit CHPS in Taylor Center 316 Mon.–Fri. 8:00 a.m.–5 p.m. or visit www.aum.edu/counselingservices for more information.
The Continuing Merit Scholarship application is now available online! The deadline for applications is March 1.
Join us at Riverwalk Stadium on Sunday, Mar. 3 as the AUM baseball team hosts Montevalla in a 1 p.m. series finale. Tickets are available for $5 and can be purchased at www.aumathletics.com/aumriverwalk or by calling the Riverwalk Stadium Ticket Office at 334-323-2255 or AUM Assistant Athletic Director for External Relations Tim Lutz at 334-244-3832.