Auburn University at Montgomery welcomes new College of Sciences dean
Auburn University at Montgomery welcomes new College of Sciences dean
FOR IMMEDIATE RELEASE
Auburn University at Montgomery welcomes new College of Sciences dean
Robert Granger, a longtime Department of Chemistry chair at Sweet Briar (Va.) College, will become dean of Auburn University at Montgomery's College of Sciences on January 15.
"We are delighted to welcome Dr. Granger to Auburn University at Montgomery," Auburn University at Montgomery Provost and Vice Chancellor Mrinal Varma said. "Dr. Granger stood out among a fantastic pool of candidates. Beyond his impressive credentials as a scholar and researcher, we were impressed with his ability to identify creative ways to help his previous institutions better serve its students.
"We are grateful to Associate Provost Matt Ragland for serving as acting dean of the College of Sciences and for guiding our search committee."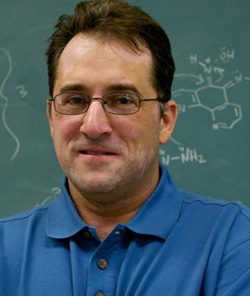 While at Sweet Briar, Granger served as dean of the college during the 2017-2018 academic year, overseeing such areas as academics, athletics, student life, library services, the honors program, faculty grants and development and the college's study abroad initiatives. Sweet Briar College earned recognition from U.S. News & World Report as one of the nation's top 25 most innovative colleges in 2018.
Granger said AUM's College of Sciences, established as part of an academic reorganization in 2017, holds vast potential. The college includes departments of Chemistry, Psychology, Mathematics and Computer Science, and Environmental Sciences and Geographic Information Systems (GIS),
"It's a relatively new college, and there's an opportunity to do some creative work there," said Granger, who served as dean of the college, STEM Division chair and faculty senate chair during his tenure at Sweet Briar College. "One of the things that also stood out in my mind is the high percentage of first-generation students AUM serves. I find that very exciting."
Granger earned a bachelor's degree in chemistry from Illinois State University and a doctorate in analytical and inorganic chemistry from Purdue University. He began his career as an assistant professor at Virginia Military Institute in 1993, earning promotion and tenure before joining the Sweet Briar College faculty in 1999. Granger has published numerous articles in refereed journals and has written a best-selling textbook, "Instrumental Analysis," published through Oxford University Press. He has also earned grant funding through the NASA Graduate Research Fellowship, National Science Foundation, Jeffress Memorial Trust, Virginia Commonwealth Health Research Board, and among others.