Auburn University at Montgomery pays tribute to military veterans
Auburn University at Montgomery pays tribute to military veterans
FOR IMMEDIATE RELEASE
Auburn University at Montgomery pays tribute to military veterans
Auburn University at Montgomery | Montgomery, Ala. (Nov. 5, 2018) — Auburn University at Montgomery will unveil parking reserved for Purple Heart award recipients as part of a week devoted to appreciation and recognition of military veterans.
AUM's Veterans Week, which will take place from Monday, Nov. 12 to Friday, Nov. 16, will include a variety of events open to active duty military, reservists and veterans, as well as AUM students, faculty and staff.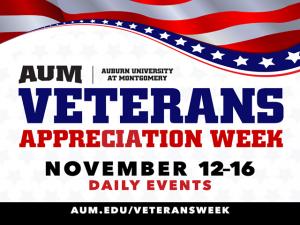 "Auburn University at Montgomery has a proud history of educating active military members, veterans, reserves, military spouses and military dependents," said Auburn University at Montgomery Chancellor Carl A. Stockton. "In addition to celebrating Veterans Day in November 11, we thought it appropriate to honor AUM faculty, staff and students who have served or who are currently serving in the military, as reserves or in the National Guard."
AUM's Veterans Week activities include the following events:
About AUM: Established in 1967, Auburn University at Montgomery is a four-year regional institution accredited by the Commission on Colleges of the Southern Association of Colleges and Schools. Offering more than 90 undergraduate and graduate degree programs and certifications, AUM is ranked among the South's top universities by U.S. News and World Report and was named one of the best colleges in the Southeast by The Princeton Review. Consistently chosen as the best university in the area, Auburn University at Montgomery provides students with detailed knowledge and hands-on, practical experience, often from professionals in the field. Classes are offered in person on our verdant campus in Alabama's vibrant state capital or online.
Learn more at aum.edu.
MEDIA CONTACT
Layne Holley
Communications Manager
Auburn University at Montgomery
[email protected]
Mobile: 334-318-1017
Desk: 334-244-3642