Auburn University at Montgomery reports highest enrollment since 2013
Auburn University at Montgomery reports highest enrollment since 2013
FOR IMMEDIATE RELEASE
Auburn University at Montgomery's fall semester enrollment has surged to its highest total in six years, according to data from the Office of the Registrar.
The university reported a total student headcount of 5,212, marking a 6.5 percent increase over the fall 2017 semester and its highest total since enrolling 5,096 students in the fall of 2013.
"Auburn University at Montgomery is clearly trending in the right direction, and we expect that growth to continue given our recent rankings recognition and our emphasis on continuous improvement," said Auburn University at Montgomery Chancellor Carl A. Stockton. "Our enrollment growth reflects our ability to provide a student-centered experience. We pride ourselves on offering a highly interactive learning environment, a diverse campus and close-knit community. At AUM, your professors will know your name."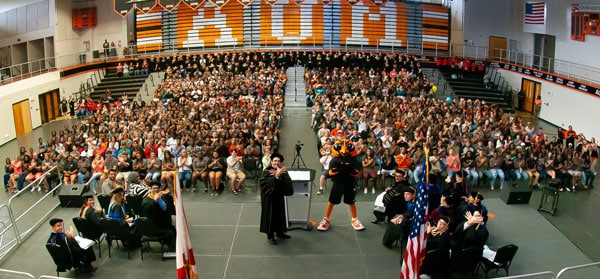 In U.S. News & World Report's most recent survey of the nation's best educational institutions, AUM emerged as one of the top regional universities in the South. AUM ranked 22nd for the quality of its undergraduate teaching program and 38th overall among regional public institutions. U.S. News & World Report's rankings take into consideration such factors as class sizes, student-to-faculty ratio and average starting salaries for graduates. Nearly 50 percent of AUM's classes include fewer than 20 students, with the university boasting a 16:1 student-to-faculty ratio.
In 2018, AUM introduced new scholarship opportunities for business, counselor education and nursing students. The university awarded more than $5.8 million in scholarships to undergraduate and graduate students in the 2017-2018 academic year and is on track to exceed that total in the current academic year. More than 1,400 students – nearly 27 percent of the student body – currently earn funding through scholarships.
"There has been so much discussion at the national level – and rightfully so – about the costs associated with higher education," Stockton said. "A college education has become increasingly important in our society, and we are committed to making education accessible to students in the River Region. We have increased the number of Freshman Opportunity Scholarships awarded for the 2018 to 2019 academic year by nearly 60 percent."
The total number of freshman scholarships awarded by AUM has increased from 575 during the 2017-2018 academic year to 806 for the 2018-2019 academic year. AUM also offers five different scholarship opportunities for community college transfer students, as well as Military and Dependent Scholarships that offer savings of 15 percent on undergraduate tuition and 35 percent on graduate school tuition for active military, reservists, National Guard and spouses and children of active duty military.
About Auburn University at Montgomery: Established in 1967, Auburn University at Montgomery is a four-year regional institution accredited by the Commission on Colleges of the Southern Association of Colleges and Schools. Offering more than 90 undergraduate and graduate degree programs and certifications, AUM is ranked among the South's top universities by U.S. News and World Report and was named one of the best colleges in the Southeast by The Princeton Review. Consistently chosen as the best university in the area, Auburn University at Montgomery provides students with detailed knowledge and hands-on, practical experience, often from professionals in the field. Classes are offered in person on our verdant campus in Alabama's vibrant state capital or online.
Learn more at aum.edu.