Auburn University at Montgomery finalizes partnership with Southern Union State Community College
Auburn University at Montgomery finalizes partnership with Southern Union State Community College
A newly finalized partnership between Auburn University at Montgomery and Southern Union State Community College will create scholarship opportunities for transfer students and enable them to complete bachelor's degrees through concurrent enrollment.
The partnership took effect Monday after Auburn University at Montgomery Chancellor Carl A. Stockton and Southern Union President Todd Shackett signed the agreement.
Auburn University at Montgomery (AUM) will offer an unlimited number of transfer scholarships for Southern Union students who complete their associate in arts or associate in science degrees and earn admittance to AUM by May 1 each year. Transfer students with a cumulative grade point average of 3.5 or higher will receive $2,500 per year, while students with a GPA between 3.0 and 3.49 will receive $1,000 per year.
AUM will also award one Presidential Scholarship each year to a Southern Union transfer student with a GPA of at least 3.5. The scholarship will cover full tuition and fees.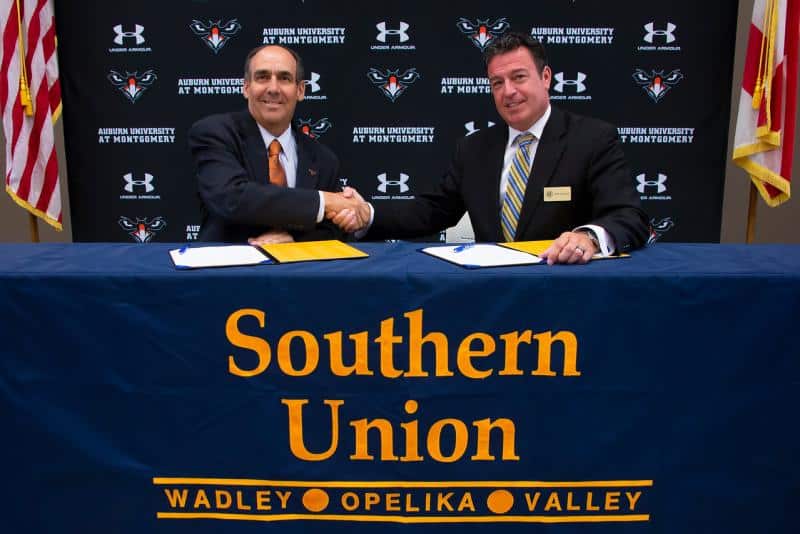 "We are delighted to partner with Southern Union State Community College, which has a proud tradition of serving students from East Alabama," Stockton said. "This agreement creates a seamless experience through concurrent admission for students transferring to Auburn University at Montgomery and offers potential cost savings through a variety of scholarship opportunities. We look forward to welcoming more Southern Union graduates as members of the Warhawk Nation."
The partnership agreement provides for a "holistic" admissions process that begins with students' enrollment at Southern Union and continues through their graduation from AUM. Academic advisors from both institutions will work collaboratively to provide ongoing academic advising for Southern Union students who intend to transfer to AUM. Visits by Auburn University at Montgomery academic advisors to Southern Union will also help incoming students familiarize themselves with resources offered by AUM, including its Career Development Center, Learning Center and Warhawk Academic Success Center (WASC).
"This partnership creates a tremendous opportunity for our students to be successful in their higher education," Shackett said.  "Our partnership with AUM is very important to Southern Union. This serves as an excellent example of the two institutions working together, keeping student success as a top priority."
AUM will guarantee admission to Southern Union students in good standing who have completed up to 64 credit hours, earned a minimum cumulative grade point average of 2.0 and the same minimum GPA in core curriculum, and earned "C" or higher in English Composition I and Composition II courses. Students transferring to AUM with 24 or more college credits and a GPA of 2.2 or less will be required to take AUM's "UNIV 1000: Strategies for Success" course. The agreement also provides for "reverse transfer," providing a pathway for students who transferred to AUM before completing associate's degrees to complete the process.
The new partnership also provides reciprocal library privileges for students, faculty and staff, as well as admission to AUM athletic events and AUM Wellness Center access for Southern Union students.
Established in 1967, Auburn University at Montgomery a four-year regional institution accredited by the Commission on Colleges of the Southern Association of Colleges and Schools. Located in Alabama's vibrant state capital, AUM offers more than 90 undergraduate and graduate-level degree programs and certifications. Learn more AUM Transfer Scholarships at transfer.
Southern Union State Community College is public, open admission two-year college and member of the Alabama Community College System. The college serves more than 5,000 students each semester through its campuses in Wadley, Opelika and Valley. Learn more at suscc.edu.