AUM earns full NCAA Division II membership
AUM earns full NCAA Division II membership
By Matt Pellegrin
The National Collegiate Athletic Association notified Auburn University at Montgomery Friday that it has advanced to full NCAA Division II membership, beginning with the 2019-20 academic year.
AUM met all of the necessary benchmarks set by the NCAA Membership Committee during the three-year membership process. The NCAA notified AUM Chancellor Carl A. Stockton and Director of Athletics Jessie Rosa of the committee ruling during a Friday morning conference call.
"Auburn University at Montgomery has a proud tradition in athletics, but we're certainly excited by the possibilities that exist for us as full-fledged members of NCAA Division II and the Gulf South Conference," Stockton said. "We look forward to competing for championships, just as we did at the NAIA level. I would like to thank Director of Athletics Jessie Rosa and her staff for their diligence throughout this three-year process. Today's milestone would not be possible without the dedication and support of our coaches, student-athletes, faculty, staff and alumni."
As a result of the decision, AUM's 11 varsity athletic programs will be eligible for conference and NCAA postseason competition beginning in the fall. AUM student-athletes, coaches and teams will also become eligible for NCAA regional and national awards based on athletic and/or academic performance.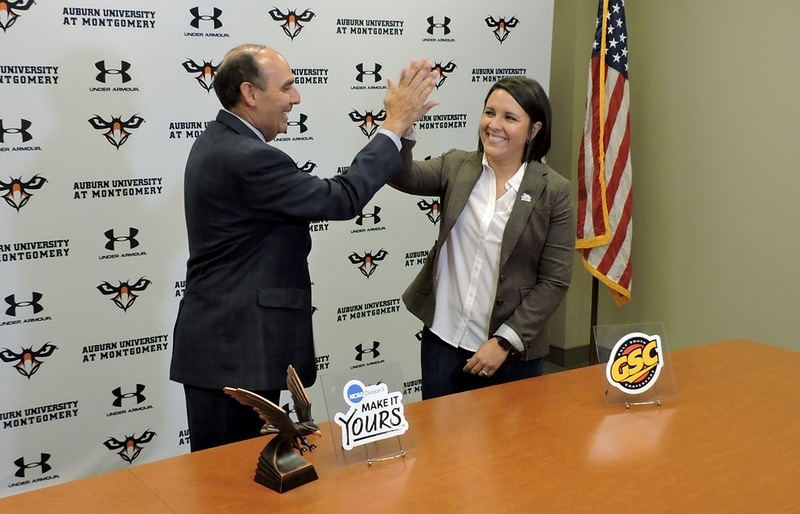 Auburn University at Montgomery Chancellor Carl A. Stockton high-fives Director of Athletics Jessie Rosa after the NCAA Membership Committee conferred full Division II membership status for the Warhawks.
"This is a day to celebrate not only for our athletics department but for the institution as a whole," Rosa said. "This has truly been a campus-wide effort, including key collaboration from the Office of Financial Aid, Registrar's Office, and Admissions, among other units. The support from everyone from our student-body, administration, donors, alumni, faculty and staff has been tremendous and we look to build upon that as active members of the NCAA."
Having been a provisional member of the Gulf South Conference since the 2017-18 academic year, the Warhawks will now be active members of the GSC. Beginning this fall AUM teams will become eligible to compete in conference championship events with access to automatic qualifiers for NCAA postseason championships.
"What a day for AUM," said Gulf South Conference Commissioner Matt Wilson. "Dr. Stockton, Jessie Rosa and the entire AUM community have worked very hard to reach this day, and the Gulf South Conference is excited to welcome the Warhawks to active status."
Student-athletes, coaches and administrators are also now eligible for conference honors and awards.
"This is a cause for celebration for Warhawk Nation because it has been a collective effort involving so many units and individuals within our campus community," added Stockton. "Earning NCAA Division II membership reflects our commitment to promoting a student-centered experience and excellence as our standard."
The transition to NCAA Division II is a minimum three-year process which began in the 2016-17 academic year. AUM's status was reviewed at the completion of each academic year, with approval from the NCAA required to advance to the next phase of the process.
"I want to extend appreciation to my team of coaches, administrators and support staff," Rosa added. "This has been an arduous process and their patience and commitment reaffirms that we have the right people leading our student-athletes. I especially want to thank our Assistant Director of Athletics Andree' Houston for her involvement in this process. She has been a critical piece to a successful transition. Lastly, to the young men & women who we come to work for every day — thank you for your commitment to the university through this process — let's go get some hardware!"
Before being accepted into the NCAA membership process, AUM won 25 national championships as a member of the National Association of Intercollegiate Athletics (NAIA).
About NCAA Division II
NCAA Division II is one of the three membership divisions at the National Collegiate Athletic Association, an organization comprising more than 1,200 institutions, conferences and affiliated organizations. Division II is a group of more than 300 colleges and universities that serve almost 90,000 student-athletes nationwide. Division II provides student-athletes the opportunity to compete at a high level of scholarship athletics while excelling in the classroom and fully engaging in the broader campus experience. This balance, in which student-athletes are recognized for their academic success, athletics contributions and campus/community involvement, is at the heart of the Division II philosophy.
About Auburn University at Montgomery
Established in 1967, Auburn University at Montgomery is a four-year regional institution accredited by the Commission on Colleges of the Southern Association of Colleges and Schools. Offering more than 90 undergraduate and graduate degree programs and certifications, AUM is ranked among the South's top universities by U.S. News and World Report and was named one of the best colleges in the Southeast by The Princeton Review. Consistently chosen as the best university in the River Region, Auburn University at Montgomery provides students with detailed knowledge and hands-on, practical experience, often from professionals in the field. For more information, visit www.aum.edu.
About the Gulf South Conference
The GSC is one of the oldest and most respected leagues in NCAA II, having amassed 51 National Team Championships in 13 sports, one individual championship and more than 150 regional titles over 49 years. The GSC sponsors 17 sports, including 16 championship events. Official sponsored sports include baseball, men's and women's basketball, men's and women's cross country, football, men's and women's golf, men's and women's soccer, softball, men's and women's tennis, men's and women's track and field, and volleyball.
For the latest on AUM athletics, find us on Facebook, Twitter and Instagram.
Special thanks to Dr. Kurt Patberg, Senior Vice President for Athletics Staffing and Consultants, who acted as a consultant during this process.
ASC provides colleges and universities a wide range of search opportunities from 1) identifying a list of recommended candidates to conducting the entire search, and 2) from identifying prospective employees to assisting with negotiating contracts. ASC specializes in finding conferences, colleges and universities the proper staff fit and bringing a diverse group of candidates to the search process. ASC consulting services consist of feasibility studies, strategic plans, compliance reviews, NCAA/NAIA reclassification studies/transitions, conference membership options, Title IX reviews, and fundraising strategies.  Visit https://www.ascwinners.com/asc/ for more information.