Alumna works to bring different faiths and religions together in the River Region
When Aya Zaied ('09) established the Muslim Student Association at Auburn University at Montgomery (AUM), she found her calling as an advocate for citizens facing racial and religious bias in the South.
As Montgomery's representative of the Council on American Islamic Relations (CAIR), Zaied conducts outreach and coordinates events to bring people of different faiths and religions together in Alabama's River Region.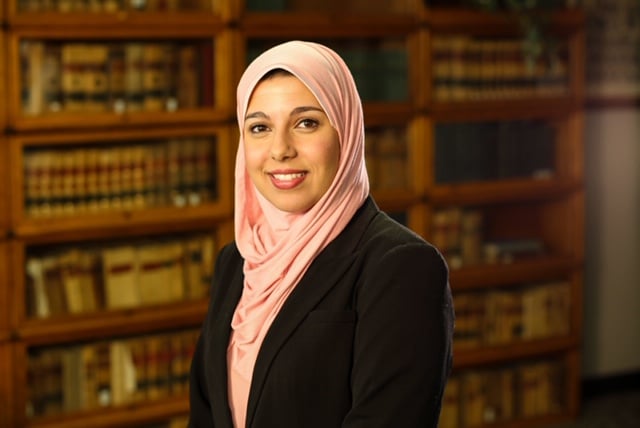 "In so many ways, being involved on AUM's campus prepped me for my work today," she said. "It taught me to be proactive, reach out, and also to be strategic in my approach. More than anything, AUM taught me about community, and CAIR is all about building relationships and bridges of understanding."
Since earning a bachelor's degree in biology from AUM in 2009 followed by a juris doctorate degree from Faulkner University's Thomas Goode Jones Law School in 2018, Zaied has established herself as a well-known and respected public figure in Montgomery and beyond. Her work often means speaking out on controversial issues in the community.
In 2017, Zaied and her father, Dr. Mahmood Zaied, successfully represented Montgomery Muslims applying for a building permit with the city to construct a new mosque in east Montgomery.
"Aya was basically the spokesperson and did such an impressive job amidst all the animosity and prejudice local citizens expressed at the hearings," said Assistant Professor of Political Science Pia Knigge, whose research areas include studying American Muslims.
Knigge, who came to know Zaied while she was an Honors student at AUM, said Zaied is a powerful and engaging public speaker on social justice issues. When she served as a guest speaker at an interfaith memorial service for the local Jewish community following a 2018 terrorist attack on a Pittsburgh synagogue, her message pierced the audience, Knigge said.
"Aya represented the Muslim community and, of all the speakers, she stood out," Knigge said. "A lot of people I spoke to afterwards commended her. She is known in the community for promoting a positive image of the Muslim community and supporting interfaith initiatives."
Born in Jordan into a Palestinian family, Zaied moved to the United States at age 2 and spent her early childhood growing up in Syracuse, New York. At age 10, her family moved to Montgomery, where she excelled as a student at Montgomery's Loveless Academic Magnet Program (LAMP) High School.
After graduating from high school in 2006, Zaied said she felt too young to live alone and away from her family so she decided to attend at AUM. The university's close-knit student environment and highly respected Honors Program attracted her, she said.
"I loved AUM. Originally, I planned to attend for a year and then transfer out, but I fell in love with the campus, my professors, and the University Honors Program," she said, adding that the Honors Program and active number of student organizations enriched her student experience.
Her experiences as a Muslim student also helped her to find purpose and her calling — educating Montgomery and the AUM community about the struggles Muslims face, correcting widespread stereotypes, and providing platforms for students and citizens to ask questions about the Islamic faith and practices.
"I was approached by two young Muslim men who felt it was necessary we create a student organization for Muslims on campus," Zaied said. "They wanted me on board because I had worked with so many other student organizations on campus. I loved the idea!"
As an AUM alum, Zaied continues to support the university. Her leadership and work with the Muslim Student Association made her a natural fit to moderate AUM's "Being Muslim in Alabama" campus forum, a public event hosted by the AUM-Southern Poverty Law Center (SPLC) on Campus Club and Muslim Student Association. This year marked the third year Zaied has led the forum, which focuses on dispelling the misconceptions about Muslims and Islam through engaging and open discussions. In honor of her activism at AUM and in Montgomery communities, the University Honors Program established the Aya Zaied Leadership and Service Award to recognize students who demonstrate an exceptional degree of commitment to serving others.
"At one point at AUM, I knew what it felt like to be targeted for my faith and beliefs," Zaied said. "It was not a good feeling. My interest in law was born as an AUM student because I wanted to help others find their voice and get the help they needed."
"I've lived with the consequences of these misconceptions. I know the fear that drives rash actions and I know that both non-Muslims and Muslims are living with it, though for different reasons. I saw it firsthand when we attempted to build the mosque in Montgomery."
For these reasons, Zaied said her work with CAIR is so important today.
"I do my best to bring people together to address the problems in our communities, from healthcare disparities and criminal justice reform to education, immigration, and sexual violence," she said. "My hope is to one day create a group that is invested in Montgomery and the future of Montgomery to work together to make it a better place for all the people that live here."