Warhawk Weekly 7–17: NCAA Division II membership process; Internship for Fermentation minors
Warhawk Weekly 7–17: NCAA Division II membership process; Internship for Fermentation minors
NEWS
AUM Advances to year three of NCAA Division II membership process
Internship available with Common Bond Brewers for Fermentation minors
Be a part of the Unmasked Fashion Experience
Bio Boot Camp — prep for BIOL 1010/1011
Faculty: Send in Study Abroad proposals
Nominations now open for Faculty Service Award
Faculty, Staff: UNIV has open teaching positions
Enroll in Fall Payment Plans
NEWS
AUM Advances to year three of NCAA Division II membership process
Auburn University at Montgomery moved another step closer to full NCAA status on Friday when the Warhawks were approved to advance to the third and final year of the membership process by the NCAA Division II Membership Committee.
"Auburn University at Montgomery is pleased with today's news from the NCAA," said AUM Chancellor Dr. Carl A. Stockton. "The AUM Warhawks look forward to moving into our third year of NCAA DII candidacy and continuing our progress toward acceptance in the Gulf South Conference. I thank our Athletics staff for their focus on this process, and I thank our student-athletes and our faculty and staff who have contributed to our progress."
Read more about the Warhawks' advancement in the AUM Pressroom.
Internship available with Common Bond Brewers for Fermentation minors
As part of AUM's new minor in Beer, Wine, and Food Fermentation, the Departments of Biology and Environmental Science and Kinesiology are proud to announce a partnership with Common Bond Brewers in downtown Montgomery.
The partnership is part of a 20-credit hour minor that includes courses in biology, marketing and management. Students in the minor participate in an internship at a local brewery or winery. Common Bond Brewers is the first to offer an internship for this fall semester. Students will learn and assist in all areas of the commercial brewing process onsite at the brewery.
Applicants can be from any major but must be at least 21 years old to be considered for the internship portion of the Fermentation minor. Interested applicants can send a resume to either Dr. Chelsea Ward or Dr. George Schaefer. Applications will be reviewed the first week of August.
Be part of the Unmasked Fashion Experience
Sharp Love Productions is hosting a fashion show on AUM's campus and is looking for student models and volunteers to help put on the show. There is no cost to tryout or sign up to help. The show will be Sun., Sep. 23 at 6 p.m.
Anyone interested in modeling, helping with production, or working as a stagehand needs to email Kayla Nettles or call 423-362-6823 or 985-640-5862 by July 20.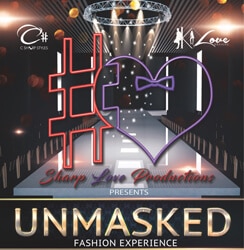 Bio Boot Camp – prep for BIOL 1010/1011
Biology and Environmental Science is hosting Bio Boot Camp for all students to get ready to take BIOL 1010/1011. The camp will be the week before fall classes begin (Aug. 13–17) from 9 a.m.–3 p.m. (lunch is provided). There is a $10 attendance fee, and students must sign up for the camp by registering for BIOL 0006 for fall term.
If you have any further questions or concerns, please email Chelsea Ward or call 334-244-3317.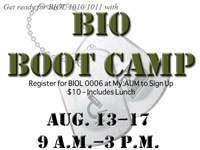 Faculty: Send in Study Abroad proposals
Do you want to turn your class into an unforgettable experience? Are you interested in creating and leading a Study Abroad course for spring or summer 2019?
Study Abroad is now accepting faculty-led program proposals for 2019! Faculty can find the 2019 Faculty-Led, Short-Term Study Abroad Handbook on AUM's Study Abroad website.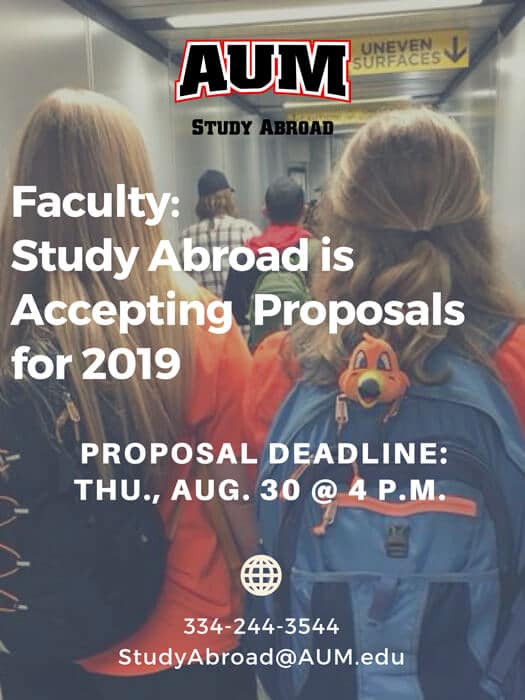 For more information, please email Yiyun (YY) Liu or call 334-244-3544.
Deadline: Thu., Aug. 30 by 4 p.m.
Nominations now open for Faculty Service Award
The AUM Alumni Association sponsors an alumni faculty service award to recognize outstanding AUM faculty. To be eligible for this honor, faculty must have five or more years of full-time service at AUM. This honor will be conferred during the fall semester convocation and the recipient will receive a $1,000 check from the Alumni Association.
Nominations by AUM faculty, staff, students, alumni and friends must be submitted or postmarked by Aug. 31. Nomination letters should be no more than two pages in length and should emphasize teaching excellence as well as a strong record of service to the university and community. A vita may be attached, if available.
Please send all nomination letters to: Awards Committee, Auburn University at Montgomery Alumni Association, P.O. Box 244023, Montgomery, AL 36124-4023, or email them to [email protected]. If you have any further questions, please email Valerie Rankin or call 334-244-3557.
Faculty, Staff: UNIV has open teaching positions
Are you interested in teaching first-year students and helping them succeed at AUM? Then, consider teaching a UNIV course in the fall!
UNIV is committed to AUM's mission to exemplify excellence through education, as well as the institution's emphasis on increasing retention, persistence and graduation rates. UNIV provides opportunities for students to successfully transition into college, both academically and personally. Specifically, it orients students to AUM's academic expectations, introduces them to services that support their academic success, guides them through professional, academic and personal goal-setting processes, and provides a peer cohort with whom they experience their first semester.
In addition to providing professional development, resources, supplies and support, the UNIV Program creates the course syllabus and builds the course in Blackboard for you.
For an application packet or more information, please email UNIV Program Manager Amy Ingram or call 334-244-3153.
Enroll in Fall Payment Plans
Four payment plans are available for the Fall 2018 semester.
For more information, visit AUM Student Accounts online or call 334-244-3286.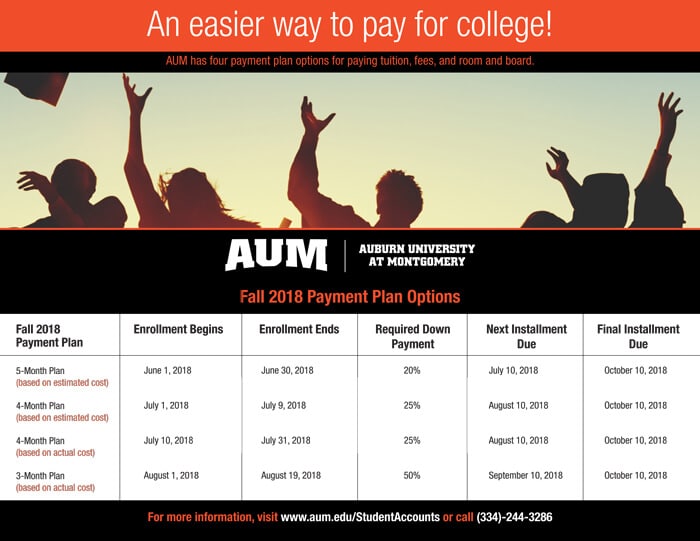 EVENTS
Cool Strokes
Summer has gotten extremely hot, but Housing and Residence Life wants to keep things cool! With exams around the corner, Housing is ready to help you relax and chill out with some frozen treats and creativity. Join Housing under the tent on the lawn next to Plum Place for painting art and some cool snacks!
Tue., Jul. 17 | 7 p.m. | The lawn next to Plum Place