Greene awarded scholarship by Harold & Muriel Berkman Charitable Foundation
Greene awarded scholarship by Harold & Muriel Berkman Charitable Foundation
Auburn University at Montgomery/Montgomery, Ala. (Feb. 22, 2018) — Chauncey Greene, a senior majoring in Accounting, was recently named a scholarship recipient by the Harold & Muriel Berkman Charitable Foundation.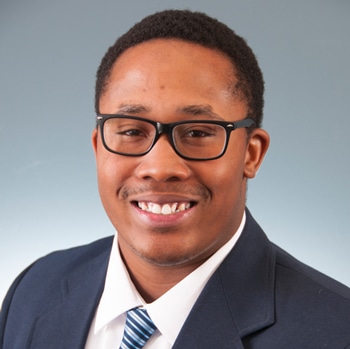 "I would first like to say that I am very thankful for the members and supporters of the Harold & Muriel Berkman Charitable Foundation for selecting me out of hundreds of applicants to receive such an honor," said Greene. "Receiving this scholarship has been a major motivator and has solidified my dedication and commitment to furthering my education, and encouraging others to do the same."
Greene, a native of Montezuma, Georgia, is currently working toward his Bachelor of Science in Accounting. "I hope to not only graduate and successfully enter the career field, but also use my experience both in the military and through my time at university to inspire and encourage others from small towns like myself to pursue more," said Greene.
The foundation received more than 800 applications and awarded scholarships based on two criteria categories. The first category awarded U.S. Veterans with a special emphasis on candidates holding a Combat Infantryman Badge, those receiving a serious would in combat, or those in branches other than the army recognized for combat action. The second category recognized candidates with an enthusiasm for advancing the discipline of marketing through pursuit of a degree in marketing or in business with an emphasis on marketing-related pursuits.
###
Auburn University at Montgomery is ranked among the South's top universities by U.S. News and World Report and is recognized one of the best colleges in the Southeast by The Princeton Review. AUM is designated as a Military Friendly School and is consistently chosen as the best university in the area. Auburn University at Montgomery provides students with detailed knowledge and hands-on, practical experience, often from professionals in the field.
Learn more about Auburn University at Montgomery at aum.edu.
The Auburn University at Montgomery College of Business prepares diverse, ethical business leaders through an engaging educational experience paired with collaborative research and service. It is the only college in the Montgomery area to receive accreditation from the Association to Advance Collegiate Schools of Business (AACSB) for both its undergraduate and graduate business program as well as the discipline-specific accreditation in accounting. This distinction puts us in the top one percent of business schools internationally. U.S. News & World Report and The Princeton Review have recognized the College of Business among the best business schools.
Contact:
Megan Hughes
Senior Marketing and Communications Manager
Auburn University at Montgomery College of Business
Office: 334-244-3778