AUM Weekly 3-15-16: AUM research shakes up common health diagnosis; Henderson interviewed on Australian radio show
AUM Weekly 3-15-16: AUM research shakes up common health diagnosis; Henderson interviewed on Australian radio show
by Caitlin Forrest | Mar 15, 2016
HEADLINES
Warhawk Spotlight: Excellence AUM research shakes up common health diagnosis
An Auburn University at Montgomery research team's study is causing a stir in medical and consumer medical communities. The study also has garnered attention from more than 140 publications and media outlets for the research team of Megan Traffanstedt and Dr. Steven LoBello.
Read the full story on the study.
Warhawk Spotlight: Diversity Henderson interviewed on Australian radio show
Dr. Timothy Henderson, distinguished research professor and chair of the Department of History and World Languages & Cultures, recently was interviewed on "Rear Vision" on the Australian Broadcasting Corporation's "Radio National." Henderson spoke on the history of Mexican immigration to the United States and the nativist trend in recent U.S. politics, a dialogue that highlighted the importance of diversity.
Read the full story on Henderson.
Tobias Mense named Chief Information Officer, will oversee new Office of Technology
Tobias Mense, chief technology officer for Advanced Technologies and an Auburn University at Montgomery alumnus, has been named Chief Information Officer and will oversee the newly formed Office of Technology at AUM.
The Office of Technology will join together Information Technology Services (ITS) and SummaSource's Advanced Technologies, which will continue to operate in their present capacities.
Mense, who will report directly to the Chancellor and will serve as a member of the university's Senior Staff, will lead the university's interactions with and seek revenue opportunities in current technology endeavors under way in the region, such as the River Region Cyber Initiative, collaborations with the newly created Air Force Cyber College, and the planned Montgomery Internet Exchange.
Provost announces Office of Online and Digital Learning
In keeping with Auburn University at Montgomery's mission "to provide quality and diverse educational opportunities to undergraduate and graduate levels through use of traditional and electronic delivery systems," Provost Dr. Joe M. King is pleased to announce the creation of the Office of Online and Digital Learning (ODL), located in Goodwyn Hall 126.
The new office will work with faculty to develop online courses and programs to expand learning opportunities for students, and Carolyn Rawl will serve as senior director of the new initiative.
Other staff members will include instructional designers Anne Douglas, Jared Peregoy and Sandra Vigilant. Sandy Hudman will provide administrative support and coordination.
Rawl, who has more than 20 years of experience in faculty development, in 1999 created the Faculty Development Institute (FDI), the longest running professional development initiative for AUM faculty.
"I look forward to our continued work with faculty and staff to support innovative teaching and learning through faculty workshops, presentations and events," Rawl said.
AUM site of county Water Festival today, Wednesday
Today and Wednesday, AUM will hold the 16th annual Montgomery County Water Festival, an outreach activity for more than 2,500 fourth-graders.
The patience of faculty and staff will be greatly appreciated during these two days, and disruptions will be kept to the minimum.
Most of the classrooms and some labs will be used in Goodwyn Hall as well as facilities in Clement Hall, Education and Taylor Center.
Conely to direct River Region Stepping Up Summit team
Linnea Conely, a consultant with SummaSource at Auburn University at Montgomery and the lead coordinator of the Healthy Minds Network, will serve as director of the River Region's Stepping Up Summit team, which will travel to Washington, D.C., in April.
Because of its groundbreaking collaborative work to establish a coordinated system of mental healthcare in the four River Region counties of Autauga, Elmore, Lowndes and Montgomery, The Healthy Minds Network has been selected to send the team of leaders to the national Stepping Up Summit from April 17–19. Only 50 counties from across the U.S. have been invited to attend.
Stepping Up is an initiative of the National Association of Counties, the American Psychiatric Association Foundation, The Justice Center of the Council of State Governments, and the Bureau of Justice Assistance of the U.S. Department of Justice.
The overarching goal of Stepping Up is to reduce the numbers of individuals with mental illnesses in jails. The initiative aims to create a long-term, national movement to raise awareness of the factors contributing to the over-representation of people with mental illnesses in jails and then use practices and strategies that work to drive those numbers down.
"We are delighted by this tremendous national recognition that affirms the community-driven partnership that is the Healthy Minds Network," said Susan Chambers, chair of the Healthy Minds Network. "Our vision for a coordinated sustainable system of mental healthcare will not only enhance the quality of life for individuals with mental illness and their families, but will greatly impact the River Region as a whole."
'The Dinner' chosen as Common Reading Book for 2016-2017
The common reading book for the 2016-2017 academic year is "The Dinner," a novel by Herman Koch.
The AUM Connected committee will soon begin planning events for next year, and, this summer, the committee will once again sponsor the "Picture Me Reading" contest.
Students, faculty, and staff are encouraged to take a picture of themselves reading the book in an interesting place or pose and email the photo to [email protected] by Oct. 1, 2016. (Photos must be appropriate for posting.)
All photos will be posted on the AUM Connected Facebook page where people can "like" their favorite photos. The photo with the most "likes" will win a prize.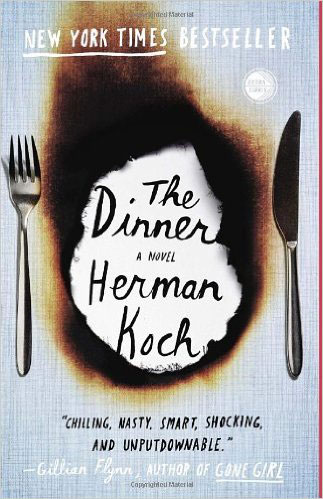 AUM SGA collection leads to donation of more than 1,200 books in Hale County
The AUM Student Government Association (SGA) and the Alabama University Student Presidents Council (USPC) collected books on AUM's campus from Nov. 2015 to Feb. 2016. The 1,221 books were then donated on March 2 to a community in Hale County, Ala.
Thank you, AUM community, for your support.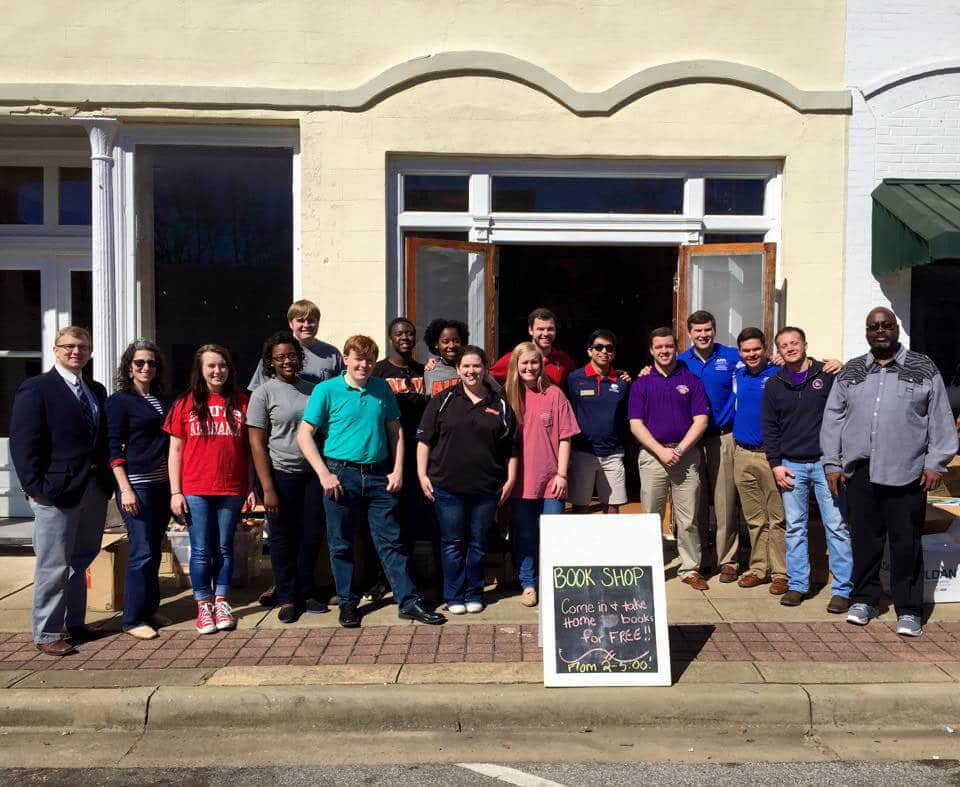 Early Learning Center hosts Read Across America event
The AUM Early Learning Center recently hosted its annual celebration of Dr. Seuss' birthday with its Read Across America event.
The teacher candidates in the AUM COE Childhood Education program hosted the event, which included guest readers, special snacks and games. The children of the ELC along with their parents and student teacher candidates had a wonderful time.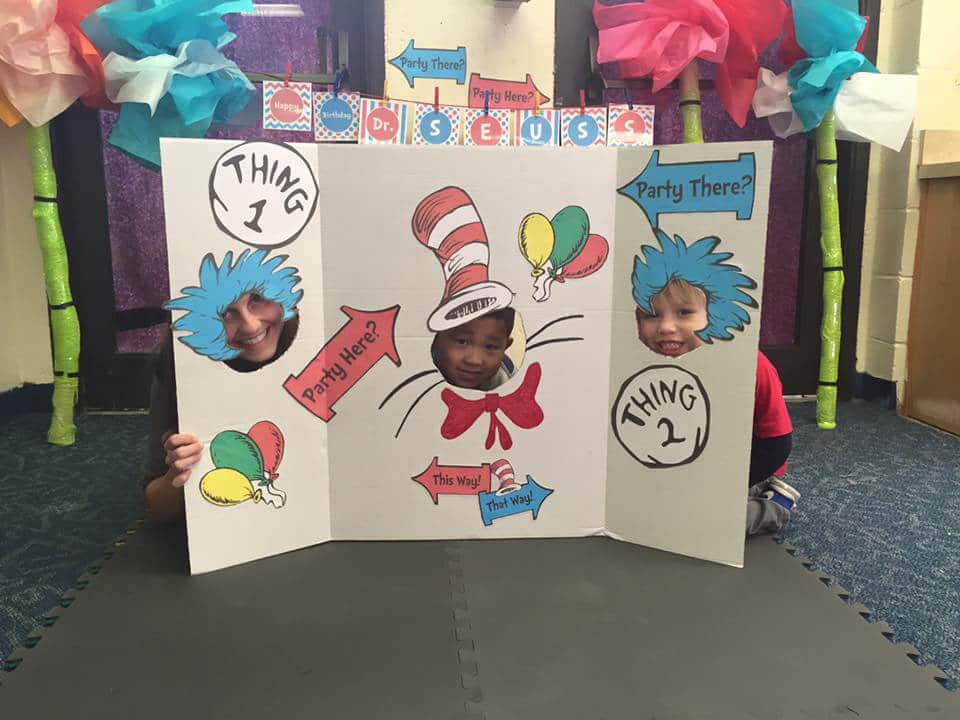 Volunteers needed for Kinesiology research study
The Department of Kinesiology is seeking participants for a research study on caffeine's ability to act as an exercise aid in overweight/obese individuals.
Participation is voluntary and will require four visits to the Human Performance Lab in the Wellness Center.
To be eligible to participate, you must be inactive (less than 90 minutes of exercise/week), a non-smoker, in good health, 18-40 years old, consume two or fewer caffeinated beverages per day, and must be overweight or obese with a body mass index of 25-35 (BMI calculator).
If interested, contact Dr. Matt Schubert at [email protected].
Warhawk Alley announces Spring Break hours, new times after Break
Spring Break
Warhawk Alley will be open during Spring Break through Friday from 11 a.m. until 4 p.m.
After Spring Break
Warhawk Alley will have new hours after Spring Break!
The Alley will be open 9 a.m.–9 p.m. Monday–Thursday; 9 a.m.–5 p.m. on Friday; and 12–6 p.m. on Saturdays.
The Alley staff hopes the extended hours provide time for all students to enjoy the Alley even more!
EVENTS
Sahinoglu to give keynote speech at Annual Research Symposium
Dr. Mehmet Sahinoglu, director of the Informatics Institute, will be the keynote speaker at the 2016 Annual Research Symposium at Alabama State University on March 16.

Sahinoglu's keynote address will be on "Hospital Healthcare Service Risk Assessment and Management with Risk-O-Meter Software Metrics – A Proposal for Hospital Credibility Score."
The symposium provides a platform for undergraduate, graduate and research scholars to share their research experience with a broader audience.
It also provides students at Alabama State University as well as other universities in Alabama with information and opportunities in the STEM fields. The symposium provides a forum for students, faculty and the community to discuss cutting edge research topics and their broader impact
Anyone from AUM Positive Sciences (STEM) and Health Sciences who are interested are invited to attend at no charge.
For more information about the symposium, visit the ASU Annual Research Symposium page.
Wednesday, March 16 | 9:35–10:05 a.m. | Alabama State University
Students: 2016 Grad Fair offers opportunity to get caps, gowns; order announcements, rings
Graduating students may pick up caps and gowns as well as order announcements and class rings at the AUM Grad Fair on March 29.
Caps and gowns will be available at the Warhawk Shop from March 29 through May 12 during business hours. There is no additional fee and they are pre-stocked.
Announcements and class rings, March 29 only.
Tuesday, March 29 | 11 a.m.–5 p.m. | Warhawk Shop, Taylor Center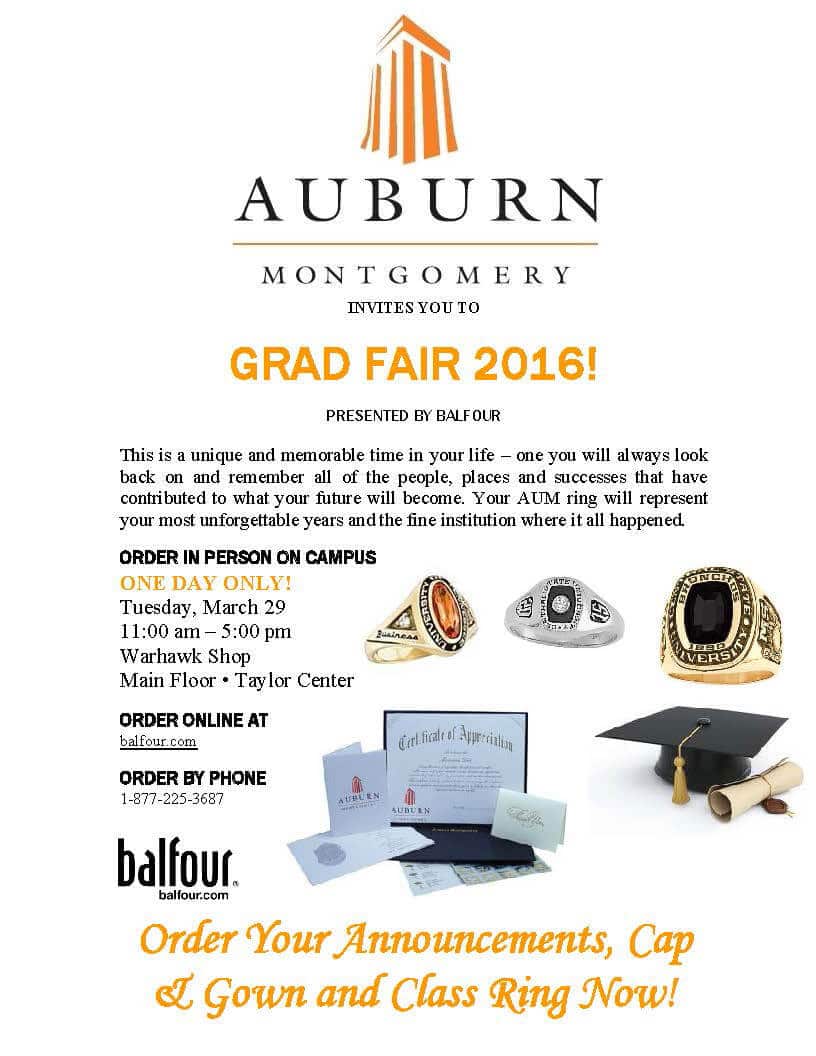 Clinical Laboratory Sciences Symposium to explore microbiology
AUM Medical & Clinical Laboratory Sciences and the Robert & Jean Adams Foundation are sponsoring the 3rd annual Clinical Laboratory Sciences Symposium for laboratory professionals, faculty, students, and the general public.
The symposium, which unites clinical students and faculty alike to understand difficulties being faced in the world of healthcare, will focus on microbiology.
Speakers will include Dr. Aaron Cobb, Department of English and Philosophy, AUM; Dr. David Suarez, United States Department of Agriculture; Dr. D. Jane Hata, Mayo Clinic, Fla.; and Dr. Sharon Massingale, Alabama Department of Public Health.
AUM is approved by the ASCLS P.A.C.E. Program as a provider of continuing education programs in the clinical laboratory sciences. Participants will have the opportunity to earn up to four P.A.C.E. hours for attending all four sessions of this event.
RSVP by March 28 to Kyle Lesinger at [email protected] or 334-244-3790.
Friday, April 1 | 8:30 a.m. | Taylor 221–223 | Light breakfast and lunch provided | Anyone interested in the sciences can attend.
Holocaust Education Program features stories of two survivors along with documentary, Q&A
The AUM Department of Psychology announces the annual Holocaust Education Program. Activities include a film documentary, personal stories from two Holocaust survivors, and a Q&A session. The Program is ADA-adapted.
Wednesday, April 6 | 9:30 a.m.–12 p.m. | Athletic Complex | Admission and parking are free and open to the public.
For information, contact Tonya Sexton at [email protected] or 334-244-3306, or contact Dr. Glen Ray at [email protected] or 334-244-3690.
REMINDERS
Hot Topic Café: Asking For It
Parties, alcohol and sex often go hand in hand, but should they really? At what point does alcohol intervene with valid consent? Join Housing and Residence Life and the Counseling Center for a candid conversation about dating, sex and consent.
Wednesday, March 23 | 6:30 p.m. | The Landing | Food will be served.
Cobb to speak on 'Hope for Humility'
Dr. Aaron Cobb, assistant professor in the Department of English and Philosophy, will present a lecture, "Hope for Humility: Regulative Epistemology and the Cultivation of Intellectual Virtue."
Thursday, March 24 | 12:30 p.m. | Library Tower, 10th floor South 
Pie in the Face for the Human Race
Admit it — you've always wanted to pie someone in the face. Well, now you have your chance! Housing and Residence Life is dedicated to making a real difference in the community, and AUM students now have a chance to pie the AUM Housing staff in the face … for charity!
All proceeds will be donated to the United Way of Montgomery. Join us on the lawn by Plum Place and take part in this unique and fun way to give back to the community.
Friday, March 25 | 3:30 p.m. | The Lawn by Plum Place
Annual undergraduate research symposium — April 1
The AUM College of Arts & Sciences will host its annual undergraduate research symposium on April 1. All undergraduates currently or previously taking part in research projects at AUM are eligible to present. Visit the Undergraduate Research webpage for more information, including presentation criteria and awards.
Friday, April 1 | 8:30 a.m. | Library Tower, 10th floor | Submit abstract by Feb. 26
Planning and budget meeting set for April 13
Financial and Administrative Services will host a planning and budget meeting along with a brown bag lunch at noon April 13. The budget meeting set for April 8 has been cancelled. 
Wednesday, April 13 | 12–1 p.m. | Taylor Center 222
Political Film Series features semester of films
The final Political Film Series screening of the spring on April 21 is dedicated to Earth Day.
Plastic Paradise (2014) will take you on a journey to Midway Atoll, one of the most remote places on Earth, to reveal the mystery of the Great Pacific Garbage Patch. Dr. Karen Stine will introduce the documentary.
This screening is co-sponsored by the College of Public Policy & Justice and the College of Arts & Sciences. The film is free, open to the public, and made possible thanks to a grant from the Ida Belle Young Special Projects Fund.
Thursday, April 21 | 7 p.m. | Library Tower, 10th floor West | For information, contact Dr. Pia Knigge at [email protected] or 334-244-3834.
AUM Mini-College connects community with Arts and Sciences faculty, scholars
AUM Mini-College, set for June 14–15, is a chance for local residents to spend two days on campus engaging with professors and scholars.
For more information, contact Dr. Peter Zachar at 334-244-3311 or [email protected].
Tuesday, June 14–Wednesday, June 15 | 11 a.m.–3 p.m. | Career Development Center, Taylor 323 | Registration: $50; Deadline to register, May 1.
Faculty, staff discounts on summer youth camps
AUM faculty and staff can receive $20 off all camps for children and grandchildren. Employees who register by April 1 also can take advantage of an Early Bird discount and receive an additional $20 off all camps.
For more information, contact Rebecca Williams at 334-244-3339 or [email protected].
Advancement Ambassador Student Recruitment is under way!
Applications for Advancement Ambassadors are now available!
As official hostesses and hosts of the AUM Office of Advancement, the Advancement Ambassadors promote pride in the University and serve with dedication and responsibility. Advancement Ambassadors represent the student body, administration, faculty and staff to persons both inside and outside the University at special events including luncheons, dinners, alumni gatherings and receptions. They receive valuable training, and have the opportunity to meet not only University leadership, but community leaders as well.
For additional information, contact the Office of Advancement at [email protected].
CELT launches new graduate teaching certification program
In January, the Center for Excellence in Learning and Teaching (CELT) launched a new program to assist AUM graduate students in developing teaching skills for current and future teaching requirements.
If interested, contact Dr. Lee Farrow, director of CELT, at [email protected].
AUM launches Student Alumni Association
The AUM Student Alumni Association aims to generate pride and advance the traditions of Auburn University at Montgomery while fostering loyalty, commitment, lifelong relationships, involvement and communication among students and alumni.
Membership is open to all students. For information, contact Valerie Rankin at 334-244-3557 or [email protected].
Students: Travel the world this summer with Study Abroad
Did you know you can study in other countries this summer and earn AUM credits at the same time — with up to $1,500 in scholarship assistance?
Choose a country below and contact Study Abroad at 244-3544 for more information.
· Manabi, Ecuador
· Mexico City, Mexico
· Shiga, Japan
· Ulsan, South Korea
· Hubei, China
· Lincoln, United Kingdom
· Kandy, Sri Lanka
· South Africa
New campus tobacco policy
AUM takes Warhawk wellness seriously. Effective June 1, 2016, AUM will join more than 1,000 other colleges and universities by becoming a smoke-free, tobacco-free campus. AUM is committed to providing a healthier and cleaner campus community for our students, employees and visitors. A smoke-free campus will further promote the health, safety, and well-being of the AUM Family by reducing exposure to secondhand smoke on campus and at university-owned and -leased properties. For specifics, read the policy online.
If you would like help stopping smoking or tobacco use, there are many resources available to AUM students, faculty and staff. To quit smoking or using tobacco is a life-changing decision and can seem daunting or even impossible, but with the help of others who care and a solid plan of action, success can be attained.
Two great tobacco cessation resources are listed below:
The Auburn University Harrison School of Pharmacy offers pharmaceutical care to individuals in our community who wish to quit smoking. The "Pack It Up" Cessation Program involves personal, face-to-face evaluations and planning sessions with pharmacists. Pharmacotherapy is also an available option for those who need it to facilitate their cessation process.
Appointments with Auburn pharmacists can be made by phone or email:
334-844-4099, [email protected]
Also, the state of Alabama offers an educational and counseling service over the phone and the Internet. Alabama QUITNOW offers FREE counseling from qualified professionals, a personalized quit plan made just for you, and FREE nicotine patches for four weeks if enrolled in the counseling program. Counseling and planning are available toll free by phone or by Internet chat, and registering is easy.
You can access the QUITNOW services:
(1-800-QUITNOW) or (1-800-784-8669)
Monday-Friday, 8 a.m.-8 p.m.; Saturday, 9:30 a.m.-5:30 p.m.
See who you know in Campus Life
AUM's Campus Life page is frequently updated to show photographs of people, events and life around campus. See who you know — or see yourself — in the Campus Life photo album and in this month's photo slideshow.
OTHER EVENTS