AUM Senior Earns National Lab Internship
News Releases
Check out the latest news listed below. To be added to AUM's press release distribution list, contact Marla Vickers.
AUM senior earns national lab internship
by Neil Probst | Feb 17, 2016
Auburn University at Montgomery/Montgomery, Ala. (February 17, 2016) — Manal Abdalla, an Auburn University at Montgomery senior, has been awarded an internship at the Lawrence Livermore National Laboratory in California, where she will learn new high-performance computer skills over the summer.
During the 10-week internship, Abdalla's work will include increasing and enhancing her skills in shell scripting, source repositories, compiling and porting at LLNL, where science and engineering are being applied to achieve breakthroughs for counterterrorism and nonproliferation, defense and intelligence, energy and environmental security.
Abdalla, of Amman, Jordan, is working toward a Bachelor of Science in Computer Science with a minor in Mathematics and plans to graduate in 2017.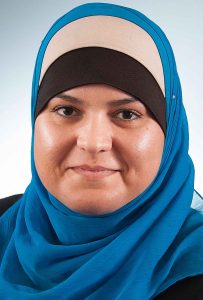 "I want to do something that matters," Abdalla said. "I don't just want to have a degree and put it on the wall and then go to a company and make them have more money because I am working there. When I leave this world, I want my kids to be like, 'Yeah, my mom helped do this.' That's what matters, what we leave for the upcoming generations."
Abdalla is excited about the internship in Livermore, Calif., where she also will study system installation, networking, security, file systems, and other high-performance computing topics.
"They're going to teach us about operating systems and parallel programming as well as how to build a cluster, or supercomputer," she said.
Abdalla credits her professors for their support and for steering her toward opportunities like the internship as well as the supercomputing conference (SC15) she attended in Austin, Texas, in 2015.
"It's been great. They are the most inspiring professors I've ever had. Like Dr. Luis (Cueva-Parra), he's always the first one to be there at class, the last one to leave. He's always there for us, and he's always encouraging us," Abdalla said.
The feeling of respect is mutual, according to Cueva-Parra.
"Manal is one of the best students we have in our Computer Science program. She is very talented, dedicated and hardworking. We are very happy for her accomplishments and her willingness to succeed," Cueva-Parra said.
"This internship is another excellent accomplishment, as Manal also was an ACM/IEEE-sponsored student participant in the High Performance Computing for Undergraduates program at SC15 and winner of the 2015 Department of Mathematics and Computer Science Undergraduate Academic Achievement Scholarship," he said.
Auburn University at Montgomery is ranked among the best colleges in the Southeast by The Princeton Review. Consistently chosen as the best university in the area, Auburn University at Montgomery provides students with detailed knowledge and hands-on, practical experience, often from professionals in the field.
###
Learn more about Auburn University at Montgomery at www.aum.edu.
Media Contact:
Layne Holley
Communications Manager
Auburn University at Montgomery
[email protected]
Office: 334-244-3642
Mobile: 334-318-1017