AUM scholarship offer assured May graduate chose 'the right path'
Kate Saylor was looking for a sign she should major in theatre at Auburn University at Montgomery (AUM).
"I had all but discarded the idea of ever pursuing my dream of acting professionally because it seemed impractical," Saylor said. "I was encouraged by my high school theatre director to audition for a scholarship that was being offered through AUM, and I thought: 'If I get this, maybe it's a sign.' I knew if I did not try, I would always regret what might have been."
Saylor hasn't looked back on her decision. She received a scholarship to study at AUM, enrolling in the University Honors Program and the award-winning Theatre AUM program.
"The excitement I felt assured me I was on the right path," she said.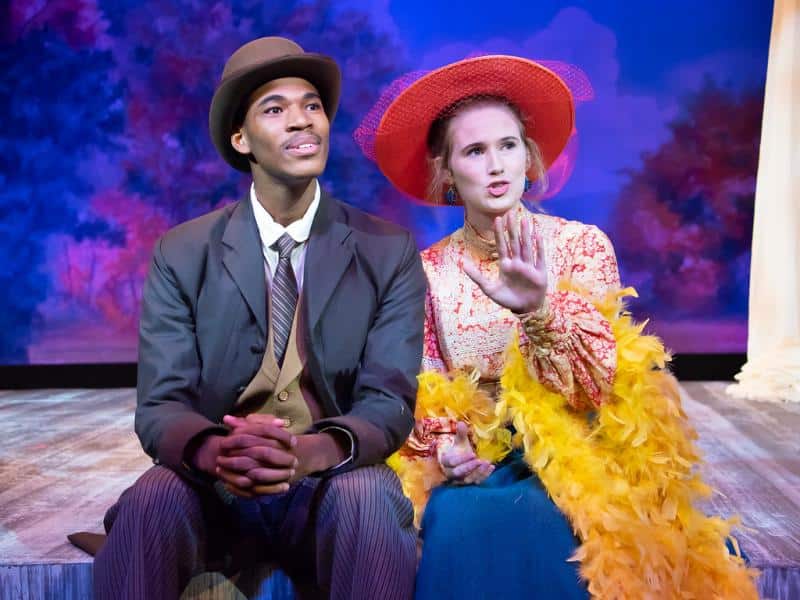 Saylor earned her degree in communication and theatre with a minor in photography from AUM with a 4.0 grade point average earlier in May as part of the spring Class of 2020. She credits AUM for helping her follow through with her dream and bring her academic career full circle.
"AUM is the place that broadened my horizons, both literally and figuratively," said Saylor, whose brother is also an AUM alum. "Through my time as a student at AUM, I was able to travel to new places, open creative doors, meet so many awesome humans and learn about myself."
Saylor's initial interest in theatre began in elementary school, carrying over into high school when she found herself on the opposite side of the curtain as a spectator, said Saylor, who grew up in Wetumpka, Alabama.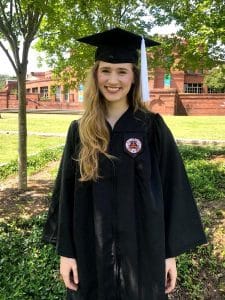 "I would go to each of [my high school] musical theatre department's shows multiple times," she said. "I went so often, in fact, that the director joked I was there more than he was. When my schedule finally had enough space, I jumped at the chance to be a part of the magic they were creating."
Through Theatre AUM, Saylor honed her craft in acting, discovered her inner creativity, and developed skills to become a versatile performer and critical thinker.
"Theatre AUM shows you that there is more than one way to approach just about everything, including assignments," she said. "Instead of getting bogged down by the idea that things have to be done a certain way, I found the ways that worked best for me and the way I operate, and which also completed the task at hand."
Theatre AUM also served as an outlet for Saylor to develop skills to deal with life in general and find her voice.
"When I first came to Theatre AUM, I did not understand the idea of leaving myself, and all that entailed, behind," she said. "Every night, I would take Kate with me, but the more I learned about acting, the more I played with it, the more truthful my storytelling became. While Kate still exists within my characters, she doesn't make them up. They exist on their own, and simply use me to tell their story."
"It's the coolest thing when you finally start to figure out how acting works, but it certainly takes time. The realization that acting is more than just changing your voice and learning your lines definitely increased my love for the art form and made me want to continue learning and improving."
Saylor's dedication to the art of acting is reflected not only in her academics, but also the awards she received as a theatre student. She earned first place for poster design and was named an Irene Ryan acting nominee at the 2020 Region IV Kennedy Center American College Theatre Festival (KCACTF) this spring. The annual competition recognizes and celebrates the finest and most diverse work produced in university and college theater programs.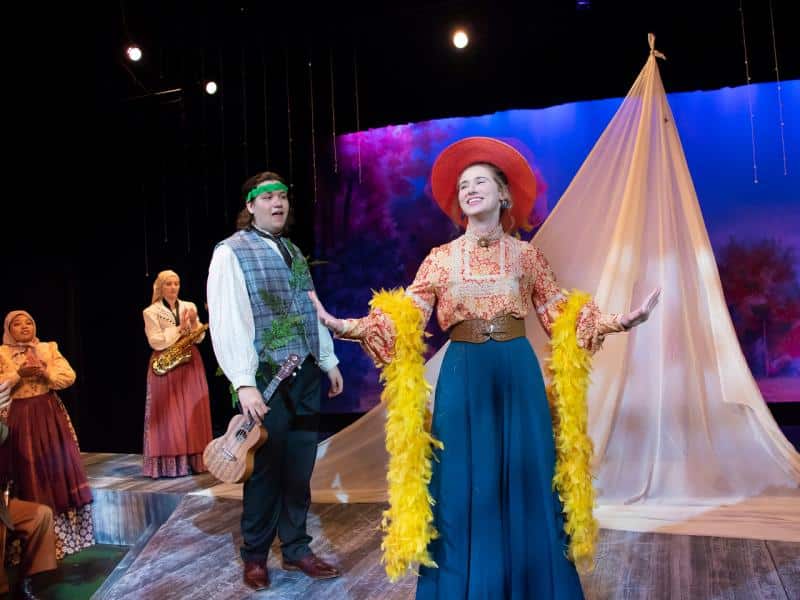 "The poster design award recognized my work designing a poster for an unrealized production of Silent Sky by Lauren Gunderson," she said. "The main reason I decided to design it was to see if I could mix photography and theatre in some way and have it be successful, as they are my two passions. It worked out well."
KCACTF 2020 marked the third year Saylor has been recognized as an Irene Ryan acting nominee. She received this year's nomination for her work in the Theatre AUM adaption of the play The Seagull.
"I have had the opportunity to participate in the auditions for the scholarship three times, and every time I was blown away by the caliber of work being presented by the other students," she said. "Getting to be in the company of such stellar talent is perhaps the most rewarding part of the nomination."
"My biggest takeaway from this year's festival was that there are so many opportunities in theatre that you don't even think about as a college student. While I fully intend to pursue acting, it is so helpful to know that there are other parts of the theatre world I enjoy, such as poster design and dramaturgy."
Following KCACTF, Saylor received further confirmation that her hard work has paid off during her time at AUM. She was named a 2020 Chancellor's Scholar for the College of Liberal Arts and Social Sciences. The award recognizes outstanding students and represents the highest level of distinction conferred to an AUM student on the basis of scholarship and service.
The path she paved to graduation, and the honors she received along the way, is a testament to her growth while at AUM and the support she received throughout her academic journey from faculty mentors such as Val Winkelman, Neil David Seibel, Mike Winkelman, and Will Fenn, Saylor said.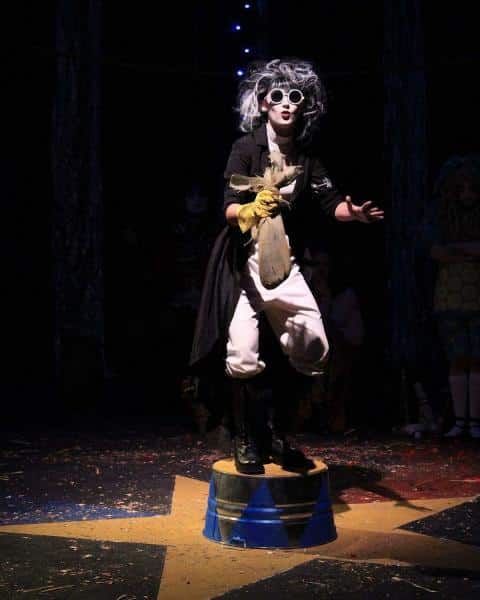 "It is impossible to pick just one faculty member who mentored me," said Saylor, who was also a member of AUM's Art Club as a student. "I learned valuable lessons from so many different mentors at AUM. If I had to tell a prospective student the number one reason they should attend Auburn University at Montgomery, it would be because of the incredible professors. They truly care about your academic progress, as well as your personal growth."
Saylor is now preparing for the road ahead post-graduation. While she received a job offer from the Ohio theatre company Tecumseh! Outdoor Drama, the coronavirus (COVID-19) pandemic has put those plans on hold.
"Unfortunately, the outdoor theatre's season was cancelled, but my plans at the moment are to continue pursuing my dream by acting, reading plays, learning new material, and doing anything I can to prepare for the return of the art world," she said. "I received a well-rounded education at AUM so I truly feel prepared to go out into the world and be successful, even if it ends up looking different than what I imagine."