AUM author's book explores mental health within law enforcement
Law enforcement officers face immense pressure on the job and are inherently exposed to on-the-job risks more often than most professions.
Recent police shootings of unarmed minorities and the psychological state of officers when responding to crime has been under debate by many Americans, including law enforcement officials and policymakers.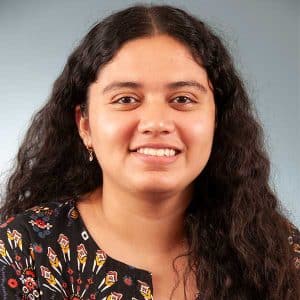 "It's better to view cops as human beings first, and to see the different sides of them," said AUM clinical psychology graduate student Shubhangi Singh, whose recent book, "Behind the Uniform: Not Just a Cop," explores the daily psychological stress and mental health of officers in India as a global issue, and from a personal perspective.
AUM's Office of the Provost will host an Author's Talk with Singh to discuss her book on Thursday, Sept. 7, at 6:30 p.m. in Taylor Center 230. The event is free and open to the public.
"I grew up in a paramilitary family. My dad was in the paramilitary, so I had to move all over India," said Singh, whose father, Rakesh Kumar Singh, is listed as a co-author on her book. "I changed like 12 schools and had to learn different languages, so this is what interested me in learning more about the people working in the paramilitary, the stress they experience, and the everyday risk of it.
"But it's not just about them. It's also about their families and how their lives are shifted."
In her book, Singh examines the inner workings of India's Central Armed Police Forces, cops' historical role in Indian society, and how the work-life balance of officers can impact their families, as well as their mental and psychological health.
"We just see one side of the men [and women] who serve as cops from media and through how movies show them, but we need to see every aspect of them," she said. "It's not fair to just show one side of them and not look at the other aspects."
Singh's new book is her second book publication. Her first book, "Khirkiyon Ke Paar Akash," is a collection of poetry on everyday life and the emotions and thoughts one can experience on their journey to mental health awareness, spirituality, and finding purpose in life.
"Since childhood, I was very interested in writing," she said. "I used to read poetry in Hindi, Urdu, and English sometime, so I started writing Hindi poetry. I wrote my first poetry in elementary school, and I got a prize for that. After that, I started writing more and more poetry in middle school and high school. As an undergraduate student, I wrote my first book of poetry that was published in Hindi."
Singh's interest in exploring people's ranges of emotions eventually led her to pursue a degree in psychology. She holds both a bachelor's degree and master's degree in psychology from Delhi University.
In Fall 2022, Singh moved from India to Montgomery to pursue a master's degree in clinical psychology at AUM. She hopes to help different populations dealing with mental health disorders using innovative approaches to engage and connect with individuals.
"I want to promote mental health in India and make it accessible to the community," she said of why she chose the field of psychology. "I want to bring it to the people."