AUM acquires Alabama State Forensic Lab
AUM acquired a two-story, 45,000 square foot building after the Alabama Department of Public Health moved the Bureau of Clinical Laboratories to Prattville in January 2021.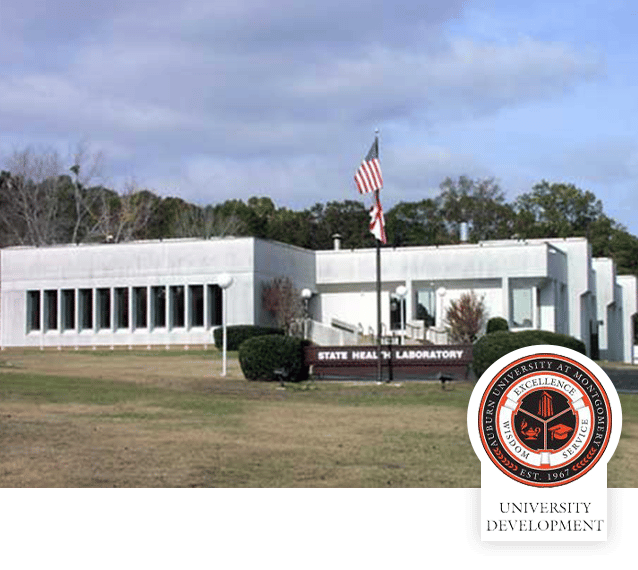 Auburn University at Montgomery
The Future AUM Science Lab
The ADPH had a long-term lease on the five acre lot since 1976. The Auburn University Board of Trustees approved ending the lease at its February 5 meeting.
The building sits on the south end of campus and is now the only building on campus visible from Iinterstate-85. It will be renovated to house a new state-of-the-art science laboratory facility for use by the College of Sciences and College of Nursing and Health Sciences' medical laboratory science program, which will have the added benefit of creating more available space in existing campus buildings. There is also hope the labs can be used in partnership with Montgomery Public Schools to offer professional development for math and science teachers. The STEM building is sure to be a jewel in the crown of AUM's campus.
On April 16, the Board of Trustees approved Williams Blackstock Architects to oversee the renovation. WBA has extensive experience in working with higher-education institutions and has won numerous awards for its work on the Auburn Mell Classroom Building, and UAB's Collat School of Business. Other university projects in the firm's portfolio are the UAB School of Nursing building, Auburn Village Student Housing, and the UAB Comprehensive Cancer Center.
Renovations are estimated to cost around $15 million, half of which has been secured through the education bond the Alabama Senate passed in May 2020. The remaining funds will come from philanthropic efforts.
If you are interested in being part of this project please contact AUM's Office of Advancement at 334-244-3560 or email Eve Rhea at [email protected]