Warhawk Weekly 9–27: UNIV students attend workshops; Staff Spotlight
Warhawk Weekly 9–27: UNIV students attend workshops; Staff Spotlight
Warhawk Spotlight: Students First:
AUM Library teaches UNIV students improved research skills in recent workshops​
UNIV courses help new students obtain the tools that will help them throughout their college career. The AUM Library provides an expansive wealth of knowledge and material for their access. The two have come together to provide hands-on experience that will be useful well beyond the classroom.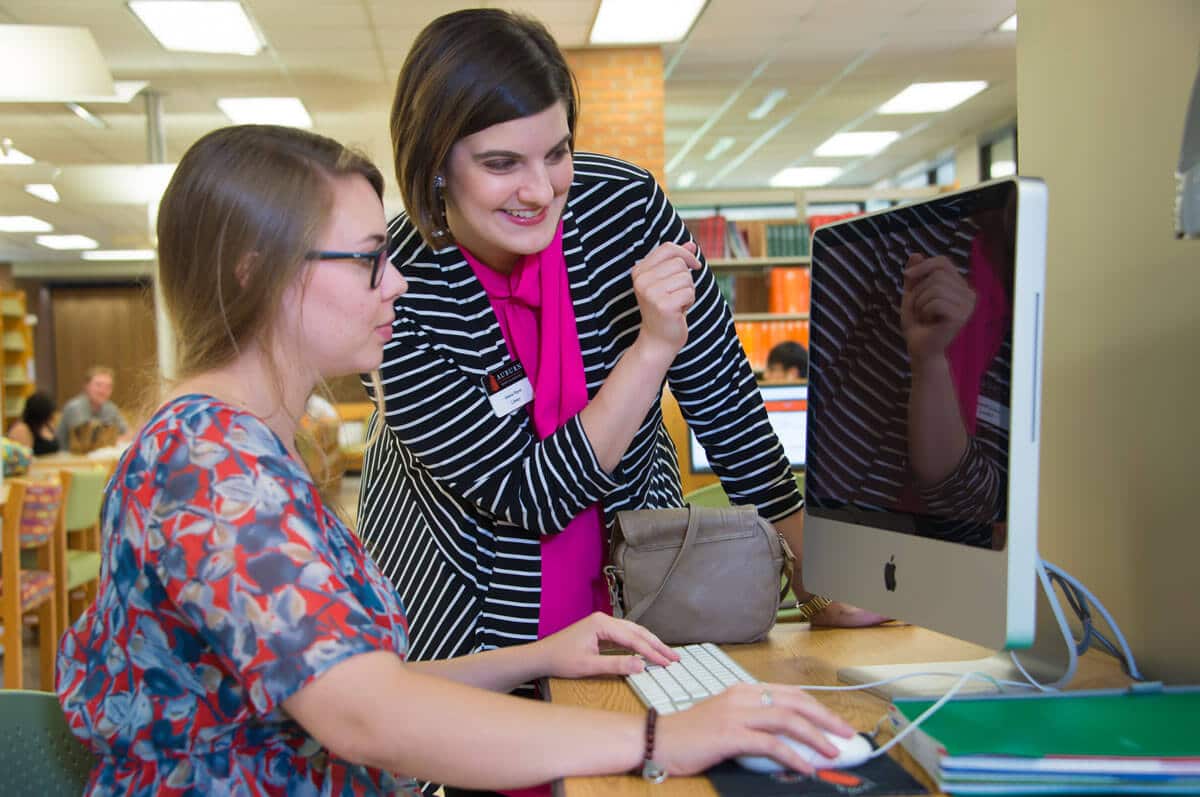 Staff Spotlight: September 2016
Jennifer Dyess, College of Education
Read about Jennifer.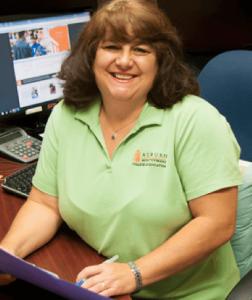 100+ students 'pig out with professor'
On September 16, AUM Connected, the common reading program, hosted Pig Out with a Professor. This event was a huge success with well over 100 students in attendance for pizza and discussion of "The Dinner."
Check out the AUM Connected Facebook page for a full list of events as well as photos from the photo contest and other activities.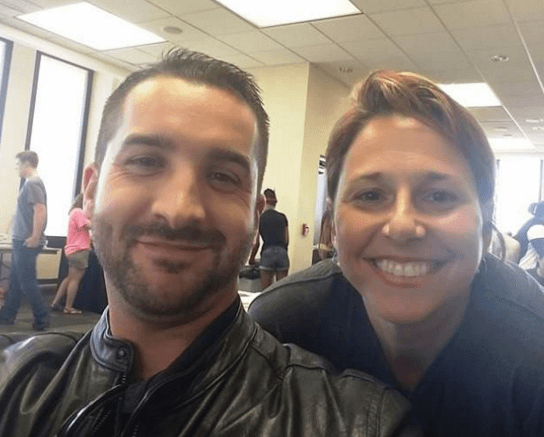 Evans authors new book
Dr. Bob Evans, a professor of English in the Department of English and Philosophy, is the author of a new book dealing with the twentieth-century English poet Philip Larkin. The book, part of Palgrave's series titled "Readers' Guides to Essential Criticism," surveys the reception of Larkin's work from the 1950s to 2015.
Stephen Regan, a Larkin expert at Durham University in the United Kingdom, has called it "the most comprehensive study to date of the critical reception of Philip Larkin's poetry. It is also an immensely valuable contribution to scholarship in its own right. Lucid and incisive, it offers an illuminating account of both the poetry and the diverse, often controversial, responses it has prompted since its first publication."
Did we Spark your interest?
We hope you enjoyed your Extended Orientation. The Office of Orientation and Transitions wants you to tell us about your experiences during #AUMSpark16.
Your feedback, which you can provide here, will assist us in planning for next year's  Spark Camp!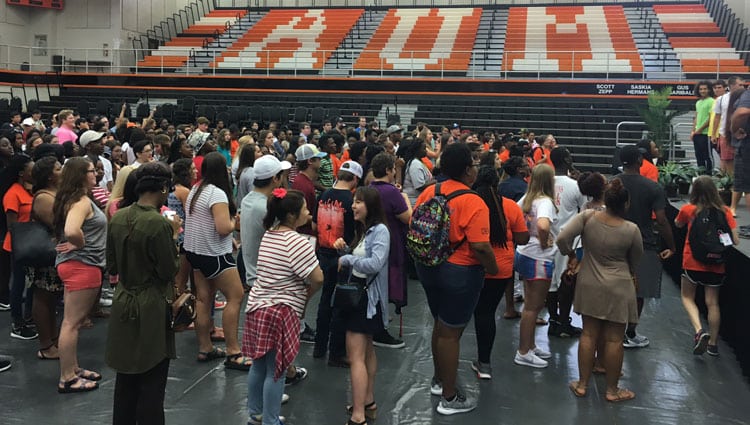 Tell us about WOW!
In an effort to better serve Warhawk Nation, the Office of Orientation and Transitions wants you to provide your feedback on Warhawk Weeks of Welcome. Your feedback will assist us in preparing for next semesters WOW!
Save the date for Spring WOW: January 9-13, 2017!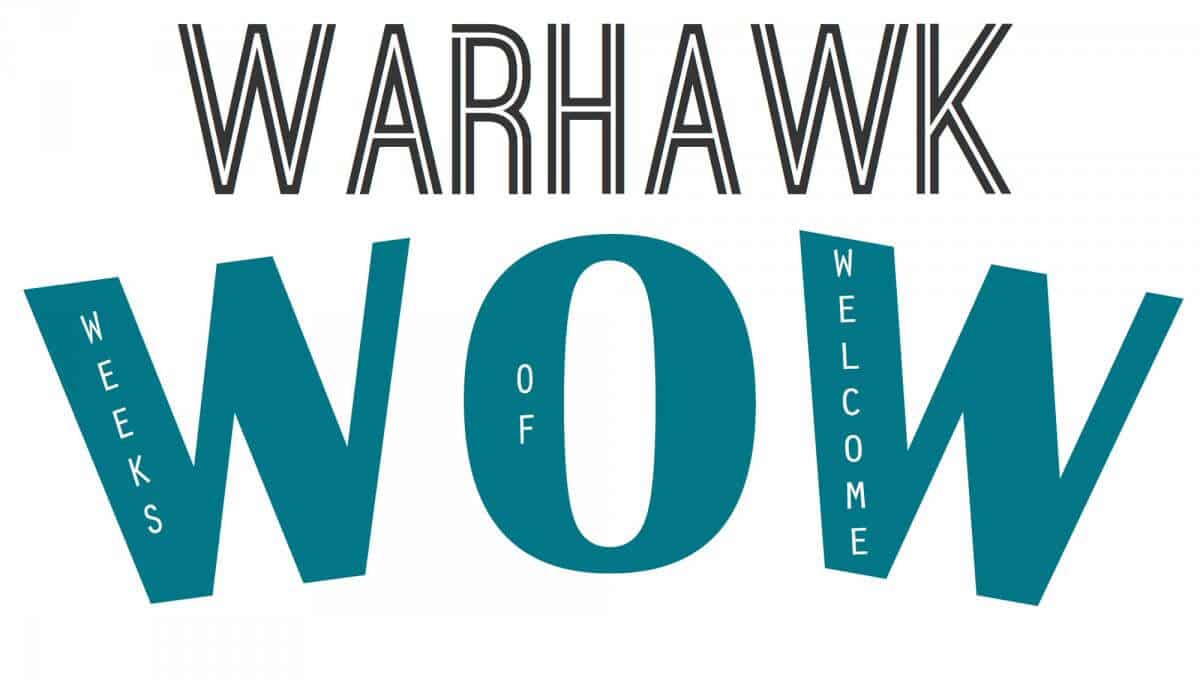 Chancellor's Convocation
Faculty and staff are encouraged to attend the Chancellor's Convocation. Breakfast will be served.
Friday, Oct. 21 | 8:30–10 a.m. | Taylor Center 221-223 | RSVP via email
to [email protected]
White Cane Day
Join us for White Cane Day in the Center for Disability Services in the Taylor Center.
Through simulation, you will have the chance to try maneuvering without sight with the use of a cane. This is an excellent opportunity to experience what it's like to be unable to see.
Today, Sept. 27 | 11:30 a.m.–1 p.m. | Taylor Center 147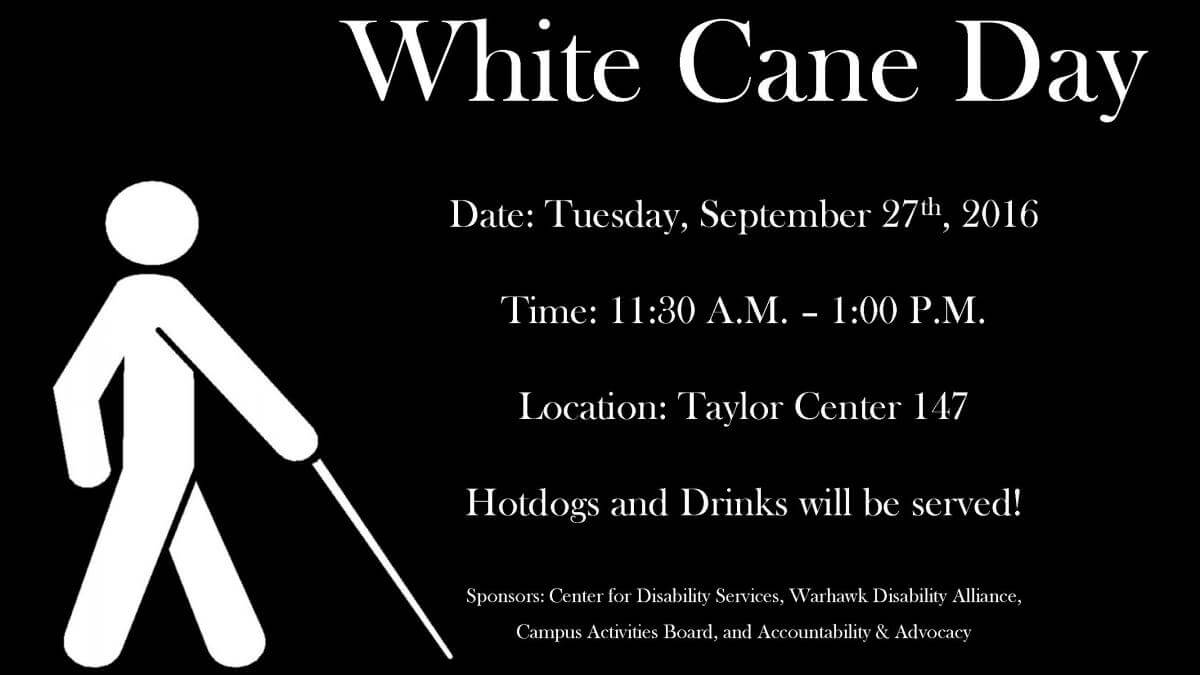 Life After College conference
AUM is hosting the Life After College conference, an undergraduate student development conference that will take place at AUM on Friday, September 30. Student attendees will learn about soft skills they will need to successfully transition from college to professional careers.
Keynote speakers will include Mr. Jimmy Baker, acting chancellor for the Alabama Two-Year College System, and Nicole Pinkham, Senior Training Consultant in AUM's Training Solutions.
During the conference, students will learn communications and networking, self-management and professionalism, critical thinking, decision-making and problem solving, and effective leadership. AUM students, as well as students from Trenholm State Community College, Wallace Community College (Selma, Dothan, and Eufaula), Southern Union State Community College, Lurleen B. Wallace Community College, Central Alabama Community College, and Enterprise State Community College, will be on campus for the learning experience.
Friday, Sept. 30 | 8 a.m.–2:30 p.m. | Taylor Center 230
Transgender needs
The event is a collaboration between Dr. Paul Hard, professor in the College of Education's Counseling Department and President of Chapter VII of the Alabama Counseling Association, and Jennifer Bradley, Director of The AUM Counseling Center and President of the Alabama Counseling Association College Counseling Division. Hard was the recipient of AUM's first annual Diversity Award.
A training event on campus will provide professional counselors and educators, as well as students, faculty and staff, in-depth information on the transgender population, especially the needs, disparities and challenges faced by people in the transgender community. Speakers will include advocates from the Southern Poverty Law Center as well as members of the education and counseling communities.
For more information, contact Jennifer Bradley at [email protected] or 334-244-3554.
Friday, Sept. 30 | 8:30 a.m.­–5 p.m. | Library Tower, 10th Floor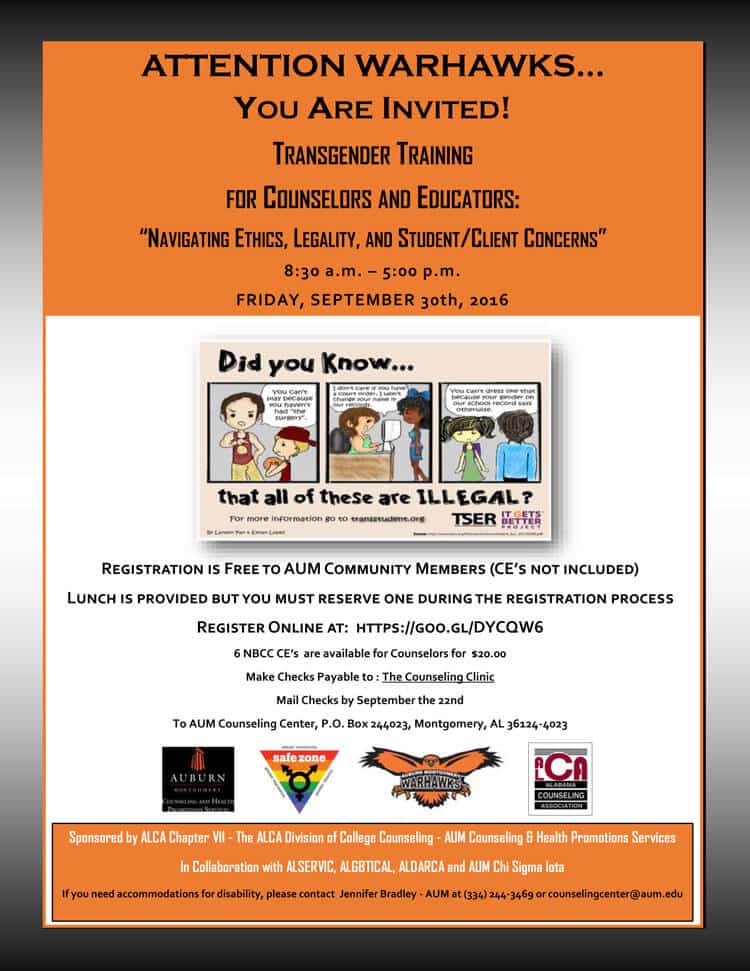 AUM Leadership Solutions presents projects
Leaders from the 2016 AUM Leadership Academy have worked diligently toward identifying solutions to enhance the AUM student's second year experience, to engage alumni in the recruitment and retention process, and identify AUM's role and benefits from engaging as a strategic partner in The Montgomery Cyber Connection.
Make plans to attend the AUM Solutions Project Presentations to hear the exciting finding and recommendations!
Friday, Sept. 30 | 9 a.m. | Goodwyn Hall 109
Theatre AUM opens 'No Holds Bard: A Shakespearean Celebration'
Theatre AUM's Production of "No Holds Bard: A Shakespearean Celebration," featuring scenes, songs and soliloquies, is the first production of the 2016-17 season and will run Sep. 29 and 30, Oct. 1 and 2. Show times are 7:30 p.m. on Thursday, Friday, and Saturday, 2:00 p.m. on the Sunday matinee. Tickets are $10 general admission, $5 senior citizen, student and military. AUM students, faculty and staff are free admission with ID.
Thursday–Sunday, Sept. 29–Oct. 2 | 7:30 p.m. | Theatre AUM
Local news reporter to present workshop
Local news reporter Rosanna Smith will present "Networking 101," a workshop for students to learn strategies for networking with individuals in recruitment and other professional situations. Verbal and non-verbal behaviors, conversational strategies and other techniques for engaging others will be presented.
Students can register for the event through Warhawk Careers at MyAUM.
Tuesday, Oct. 4 | 11:30 a.m.–1 p.m. | Taylor Center 221
An Introduction to Astrolabes
Near the end of the 14th century, Geoffrey Chaucer, the English author best known for the Canterbury Tales, penned a treatise on the use of the astrolabe for his son Lewis. In her talk, Dr. Kristine Larsen from Central Connecticut State University will introduce Chaucer's treatise and explain several computations that can be done with the astrolabe based on Chaucer's text.
The first 50 people attending the talk will receive a free astrolabe constructed to conform to the astrolabe Chaucer used in his work, calibrated to the latitude and longitude of Oxford, England.
Thursday, Oct. 6 | 7:30 p.m. | Library Tower, 10th Floor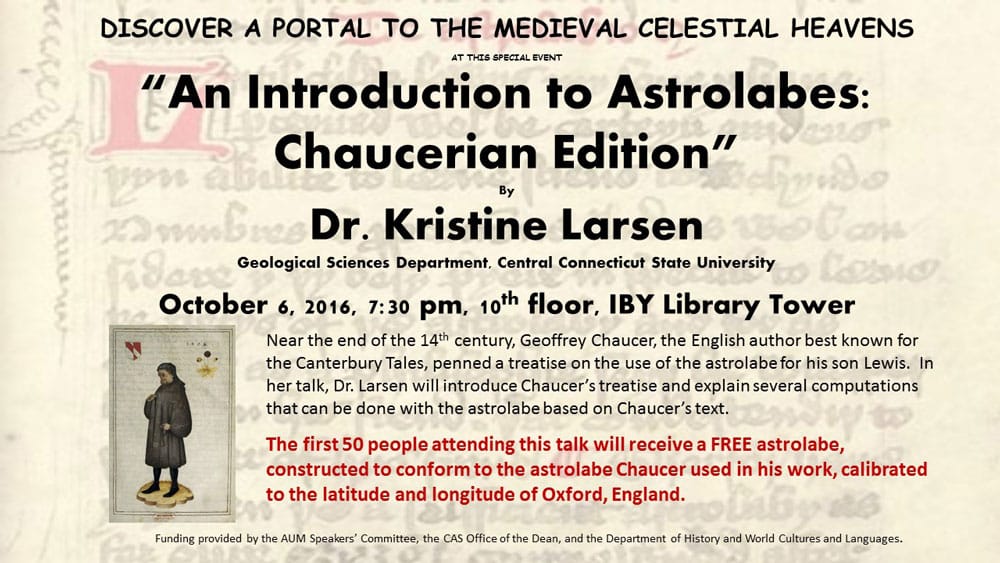 CELT sessions this week
FDI: How to Capture Your Lectures Using Camtasia Relay
Today, Sept. 27 | 9 a.m.–noon | Clement Hall 111
Writing Course Goals and Outcomes for Classes
Today, Sept. 27 | 2–3 p.m. | Taylor Center 223
Lunch and Learn: How to Use Advanced Features in Turnitin Plagiarism Detection Software
Wednesday, Sept. 28 | Noon–1 p.m. | Taylor Center 221
Warhawk Warning
Wednesday, Sept. 28 | 2:30–3:30 p.m. | Library Tower, 10th floor East
Making the Most of Office Hours
Thursday, Sept. 29 | 9:30–10:30 a.m. | Library Tower, 10th floor West
Stereotype Threat and Student Success
Thursday, Sept. 29 | 2:30–3:30 p.m. | Library Tower, 10th floor West
Battling Our Biases
* Recommended for UNIV instructors
Thursday, Sept. 29 | 5–6 p.m. | Library Tower, 10th floor West
Cast your vote for AUM Connected's 2017–18 common reading book
The AUM Connected: Common Reading Program is accepting nominations for the 2017–18 common reading book. All students, staff, and faculty are welcome to nominate a book.
The book should be a reasonable length (under 350 pages), available in paperback (and possibly electronic formats), and appeal to a multidisciplinary audience of students and faculty/staff. The book should also contain themes that can provoke thoughtful discussions and can facilitate a series of lectures, movie, or other events throughout the year.
Please keep these guidelines in mind as you make your suggestion. Cast your vote here by Sept. 30.
'Dinner' selfie contest continues
Between now and Oct. 1, 2016, email your photo as you read The Dinner to Dr. Lee Farrow at [email protected], and it will be put on Facebook. The most "liked" photos will win prizes!
AUM Connected, the common reading program, is planning a variety of great events for the 2016–17 academic year related to the book, The Dinner, so visit the AUM Connected page often.
Online course evaluations
No more paper! AUM's new online course evaluation system, Curtiss Course Critiques, will help you…
Improve your learning experience by giving feedback to instructors in your major
Complete evaluations quickly and easily on any mobile device
Ensure responses will remain confidential and evaluation results will not be available to instructors until after they've submitted final grades
Keep an eye out for an email from the Office of the Provost with information about how to access Curtiss Course Critiques and complete your evaluations.
Curtiss Course Critiques Schedule for Fall 2016:
| | | |
| --- | --- | --- |
| | Open Date | Close Date |
| 1st Half Term | 09/20/2016 | 10/04/2016 |
| 2nd Half and Full Terms | 11/15/2016 | 11/29/2016 |
Halloween decorating contest
AUM Staff Council presents our annual Halloween decorating contest. The theme for this year's decorating contest is "animation." Judging will commence on Monday, October 31, 2016 and the winners will be announced on Tuesday, November 1, 2016.
For departments wanting to participate please notify Kathryn Ashmore via email [email protected] no later than 5:00pm on Friday, October 7, 2016.
Upcoming CELT Sessions
Teaching in the Honors Program
Tuesday, Oct. 4 | 9:30–10:30 a.m. | Goodwyn Hall 109
FDI: Blackboard Assessments
* Required course for online teaching certification
Tuesday, Oct. 4 | 1­–4 p.m. | Clement Hall 110
FDI: Self-Guided Self-Review in Quality Matters
* Elective course for online teaching certification and recertification
Wednesday, Oct. 5 | 9 a.m.–noon | Clement Hall 114
Writing Course Goals and Outcomes for Classes
Wednesday, Oct. 5 | 2–3 p.m. | Goodwyn Hall 109
Webster and Degree Works for Faculty
* Elective for online teaching certification
Thursday, Oct. 6 | 11 a.m.–noon | Clement Hall 111
FDI: Blackboard Basics
* Required course for online teaching certification
Thursday, Oct. 6 | 1–4 p.m. | Clement Hall 111
AUM Connected Lecture: What Were They Thinking? Understanding Teen Brain Development and Decision Making
*Recommended for UNIV instructors
Friday, Oct. 7 | 1–2 p.m. | Goodwyn Hall 112
Worried about a Student? How to Report a Judicial Concern
Monday, Oct. 10 | 2–3 p.m. | Library Tower, 10th floor West