Warhawk Weekly 9-21: NIH grant; Student COVID-19 vaccination clinic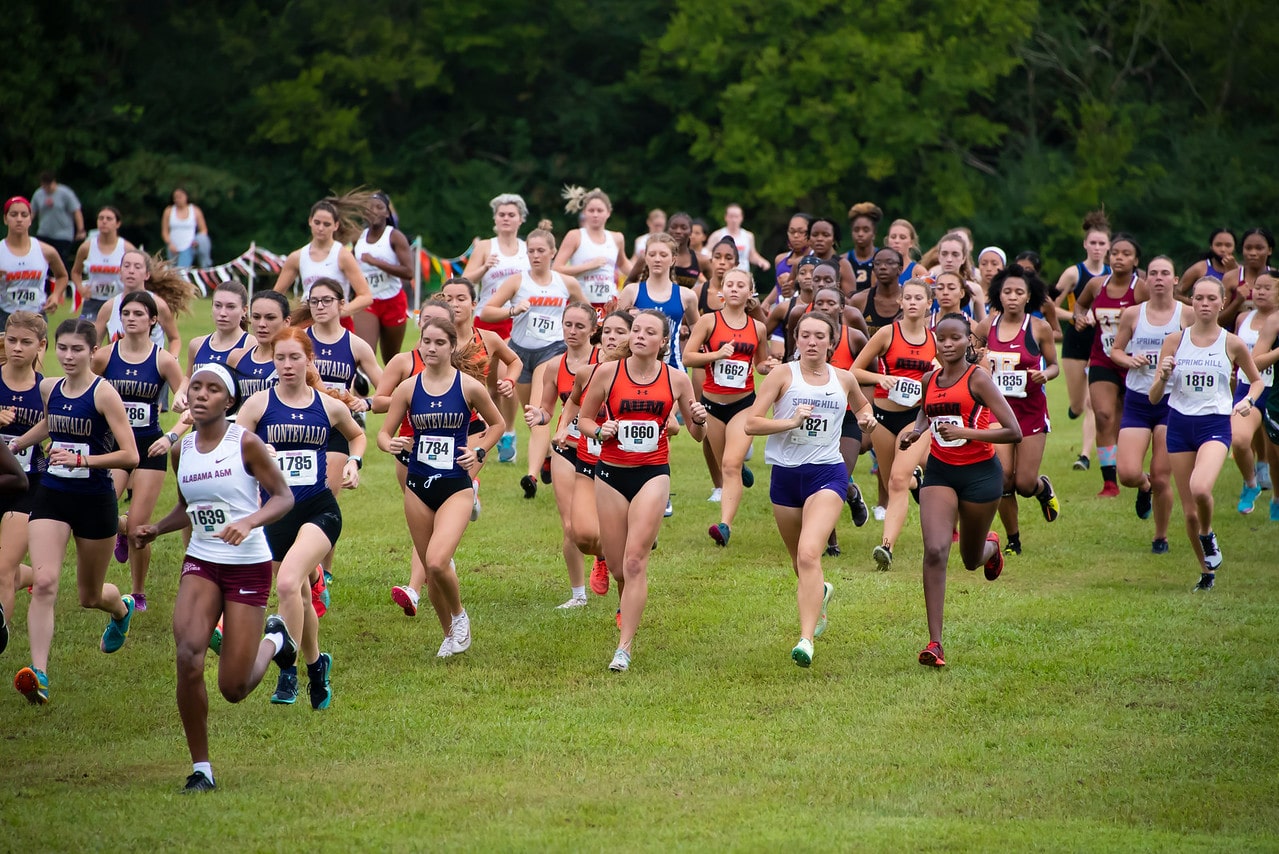 Ciesielski awarded NIH grant to study defects in mitochondrial DNA
Mitochondrial DNA is essential for the production of cellular energy, and consequently to sustain life.
Greg Ciesielski, assistant professor of chemistry, was recently awarded a $403,492 grant from the National Institutes of Health (NIH) to study how defects in mitochondrial DNA replication contribute to developing various degenerative disorders. He is the first AUM faculty member to be awarded a research grant from NIH.
"It is well established that losses of segments of the mitochondrial genome coincide with the development of many human degenerative disorders, such as Parkinson's, Alzheimer's, as well as various types of cancer, autism spectrum disorders and other diseases," Ciesielski said.
Ciesielski is collaborating with student researchers to investigate the use of mtDNA-maintenance proteins as a mechanism to protect human cells from defects in mitochondrial DNA, restoring its ability to replicate.
For the study, chemistry majors Carolina de Bovi Pontes and Briana Norris are exploring the mtDNA replication process in vitro while chemistry majors Cody Jefferys and Muhamad Bedwan are working on in-vitro proteolysis experiments, a process of cellular "quality control." Under the direction of Ciesielski's research associate Elena Ciesielska, students Hyacintha Bisimwa and Noelle Kim are evaluating whether the observations from the in vitro experiments apply to human cell cultures.
"The contribution of undergraduate students is fundamental for this project," said Ciesielski, the project's sole principal investigator. "Since I joined AUM in Fall 2018, I have trained nearly 20 undergraduate students. Their work has been important to generate preliminary data for the funded project."
Earn prizes, rewards for receiving COVID-19 vaccine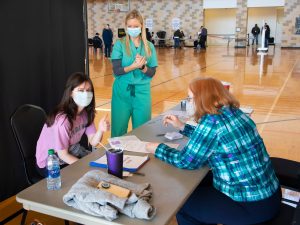 If you're interested in receiving a COVID-19 vaccine, you can earn a $200 reward and possibly much larger prizes through Auburn University at Montgomery's Vaccination Incentive Program.
Warhawk Health Services is hosting a vaccination clinic today, from 1-4 p.m., in Taylor Center 230. There will be door prizes for participants, including GrubHub lunch vouchers.
Students participating in the Vaccination Incentive Program have until October 15 to verify their vaccination status and receive $200 rewards.
Students who register for the incentive program will also be entered into random drawings for a variety of prizes, including a $2,500 scholarship The winners of the next prize drawing will be held on September 30 and announced on Facebook.
Vaccines administered by Warhawk Health Services are free, and no insurance is required. If you have questions about COVID-19 vaccines, the Centers for Disease Control and Prevention offers a "Fact vs. Myth" page. Students are also welcome to contact Warhawk Health Services or their personal healthcare provider.
Celebrate Constitution Day
The Department of Political Science and Public Administration will host an event Wednesday to celebrate Constitution Day 2021. The event will be held in Goodwyn 109 from 12:15 p.m. to 1:15 pm. For those wishing to join via Zoom, log in:
Webinar ID: 879 6274 4777
Webinar Passcode: 392693
AUM SPLC chapter hosts Haiti relief fundraiser
AUM's Southern Poverty Law Center campus chapter will hold a book sale on Thursday, from 11 a.m.-1 p.m., in the Goodwyn Hall breezeway to help raise funds for a Haiti Earthquake Disaster Relief Program.
Senior nursing major Leanne Souza will travel to Haiti on September 28 for a week to help provide medical care of the victims of the recent earthquake. Thursday's book sale will help AUM-SPLC send Leanne to Haiti with a large collection of medical supplies.
The suggested donation at the book sale is $5, but members of the AUM community are welcome to make other cash donations. AUM-SPLC will also accept medical supply donations that include:
Pre-filled saline syringes
2×2 gauze
xeroform gauze
ACE bandage wrap
kerlex bandage wrap
Mepilex border, sacrum and ankle bandage
venelex ointment
iodine wound packing
Cotton Tip Applicator 6″ 2's Sterile​
Algidex Ag Silver Alginate Packing Dressing
Medline Gauze Packing Stri P Iodoform Sterile, 1/2 Inch x 5yd
Sterile Water
transpore tape
banding tape
Sterile Dressing Change Kit
Tegaderm​​
Contact the SPLC on Campus Faculty Advisor, Dr. Pia Knigge, at [email protected] for details. The fundraiser ends on Monday.
AUM SPLC on Campus promotes diversity and inclusion on campus grounded in the belief that students can make a difference in securing equal justice and opportunity. The club is part of the nation-wide SPLC on Campus Initiative, a non-profit organization built on our nation's legacy of student activism. SPLC on Campus challenges a wide array of intolerance including racism, sexism, and homophobia on college campuses, and speaks out against sexual assault. To learn more about SPLC on Campus, contact Tiara Key (President) at [email protected].
Cross country, soccer highlight successful weekend for Warhawks
AUM Athletics had a huge weekend. The women's cross country team won the Falcon Invitational at Montevallo, placing four runners in the top 10, while the men took second place in their race.
If that wasn't enough for you, the men's soccer team won a pair of matches against Gulf South Conference opponents (1-0 over Mississippi College and 2-1 over Delta State) and volleyball team raised its record to 7-4 during its road trip.
What's next for the Warhawks? More Ws, for sure. Keep up with our teams in the Athletics Newsroom.
Theatre AUM presents "Comedy Tonight"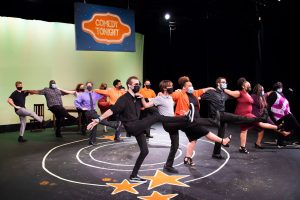 Theatre AUM will make sure there is plenty of laughter to go around with the opening of "Comedy Tonight," a free student comedy production.
During "Comedy Tonight," students will showcase comedy scenes, songs and monologues. Performances will be held in the Taylor Center Theatre:
September 23-25 at 7:30 p.m.
September 26 at 2 p.m.
Attendees must wear a mask. Doors will open 30 minutes prior to the start time.
Collaborate with the Career Development Center
AUM faculty and staff can incorporate career planning strategies within the classroom or their department with the help of the Career Development Center.
The Career Development Center collaborates with faculty and staff to provide presentations on a range of career readiness topics to students and campus departments. Topics include career exploration and planning, career readiness competencies, networking, interview preparation and finding an internship.
To request a Career Development Center presentation for your classroom or department, visit the CDC faculty and staff resources.
Call for Undergraduate Research & Creative Activity Proposals
Auburn University at Montgomery's Undergraduate Research Committee is continuing to accept and review proposals for Undergraduate Research and Creative Activity grants.
The Office of the Provost has allocated $50,000 for undergraduate research or creative activity at AUM with $37,408 awarded so far for faculty proposals. Additional funding is anticipated in the next fiscal year.
Grant funding is awarded to faculty members whose research involves undergraduate students. The most recent recipients are:
Semih Dinc, Computer Science & Computer Information Systems, for "Vision and Depth-Based Trajectory for Mobile Robots"
Heather Witcher, English & Philosophy, for "Michael Field Diaries Archive"
Nick Bourke, Curriculum, Instruction, & Technology, for "Utilizing Cooperative Group Structures in Environmental Education"
AUM's Experiential Education and Engagement Center and the University Honors Program share the mission of encouraging undergraduate research and creativity and administering funding for undergraduate research and creativity. To apply, email Lynn Stallings at [email protected] or Shelly Taliaferro at [email protected] for the guidelines.
Participate in AUM's Blood Drive
AUM has partnered with the American Red Cross to host a campus blood drive in September.
The drive will be held 10 a.m. – 3 p.m. today in the Taylor Center, room 230. As part of the drive, there will be testing for COVID-19 antibodies from each pint of blood donated.
AUM community members can help others by making an appointment to participate in the upcoming blood drive. Appointments can be made at redcrossblood.org with the code AUM or using your zip code. You may also call 1-800-RED CROSS (1-800-733-2767) to set an appointment.
Donors must bring your driver's license or other form of ID. You can save 15 minutes off the process time by completing a Red Cross Rapid Pass before you come.
COVID-19 dashboard available
In an effort to help students, faculty, staff and parents understand public health conditions relative to the campus community during the pandemic, AUM will continue to offer an online COVID-19 dashboard.
The dashboard will provide weekly updates on testing conducted by Warhawk Health Services, as well as test results from personal healthcare providers reported by students and employees to Student Affairs and Human Resources, respectively.
Learn more about the dashboard.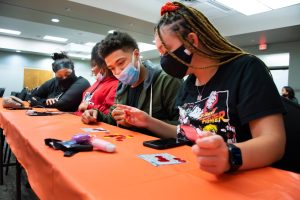 Get event updates from Curtiss
 Stay in-the-know about can't-miss campus events via text message. Enroll in AUM365 and get the 4-1-1 from Curtiss The Warhawk himself. Text curti$$ to 334-398-6025 to receive reminders about upcoming happenings.