Warhawk Weekly 9–19: AUM recognized in U.S. News & World Report; National Hazing Prevention Week
Warhawk Weekly 9–19: AUM recognized in U.S. News & World Report; National Hazing Prevention Week
HOME GAMES @ AUM
Women's Soccer vs. Erskine College | Wed., Sep. 20 | 3 p.m.
Volleyball vs. University of Montevallo | Fri., Sep. 22 | 6 p.m.
Volleyball vs. University of West Georgia | Sat., Sep. 23 | 1 p.m.
Men's Soccer vs. University of Montevallo | Sun., Sep. 24 | 3:30 p.m.
U.S. News & World Report recognizes AUM
U.S. News & World Report has recognized Auburn University at Montgomery's undergraduate and graduate programs among its 2018 regional and national rankings of top colleges and universities.
In addition to being named among the top tier of Regional Universities — South, AUM was also included (#37) among the Best Public Regional Universities — South, making it the top-ranked university in the River Region.  Read the full press release.
Suggest the next Common Reading book
The committee for the AUM common reading program, AUM Connected, has opened its annual survey for suggesting the next common reading book. The book will be used in the 2018-2019 academic year freshman college success course, UNIV 1000, and other courses, and will, hopefully engage upper-level students, faculty and staff across campus.
Please keep these guidelines in mind as you make your suggestion:
reasonable length (under 350 pages)
availability in paperback (and possibly electronic formats)
subject that appeals to a multidisciplinary audience of students and faculty/staff
themes that can provoke thoughtful discussions
potential to facilitate a series of lectures or other events (such as film showings) throughout the year
Please submit your suggestion by Sept. 30 and include an explanation of why you think this book would be a good selection. Feel free to suggest lecture topics and other events. (One book suggestion per person.)
Once we have a list of suggestions, the committee will narrow the list down and send out another survey for faculty and staff to vote.
National Hazing Prevention Week
Join the Office of Student Involvement and Fraternity & Sorority Life as we host 2017 National Hazing Prevention Week.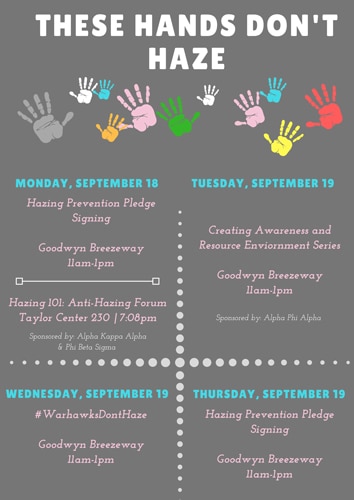 Simmons publishes chapters in Routledge Series
The Most Reverend Archbishop Michael Bland Simmons, Distinguished Research Professor in the Department of History, World Languages & Cultures recently had two chapters published in Routledge's Early Christian World, 2nd edition, Philip F. Esler, ed., Professor of New Testament Studies, University of Gloucestershire, UK.
Other chapters were contributed by an international team of scholars from Oxford, Cambridge, Harvard, Princeton, Brown, and other prestigious universities and colleges.
In his review of this important study of ancient Christianity, Professor David Eastman of Ohio Wesleyan University stated: "This new edition is a goldmine of up-to-date information for anyone interested in the development of early Christianity."
Simmons' first chapter (39), "Graeco-Roman Philosophical Opposition," analyzes the central themes addressed in the anti-Christian philosophical writings of Celsus, Sossianus Hierocles, and Porphyry of Tyre, who wrote fifteen books titled Against the Christians. His second chapter (6), "Julian the Apostate," is a study of the major themes of this Roman emperor's work Against the Galileans.
Learn how to help transfer students
Are you interested in meeting new people, developing leadership skills, and planning campus events as a member of Transfer Student Association? Learn about TSA and how to become a member at this meeting. For information, contact Orientation Coordinator Carley Scanlan at 334-244-3155 or [email protected].
Tue., Sept. 19 | Noon–1 p.m. | Taylor Center 223
Take a break at Dance Break BINGO
If you like dancing, music, BINGO, and winning some awesome prizes, Dance Break BINGO is the event for you! All students can play BINGO but those who are willing to show off their best dance moves are given additional chances to win. Join Housing and Residence Life for food, prizes, and tons of fun!
Tues., Sep. 19 | 7 p.m. | The lawn besides Plum Place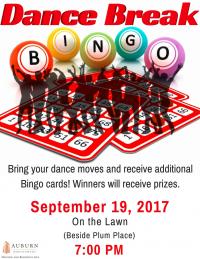 Political Film Series kicks off
The Political Film Series, sponsored by the Department of Political Science & Public Administration and the College of Public Policy & Justice, will present its first event for the 2017 Fall Semester.
Dr. Kalu N. Kalu will introduce the timely documentary The Secret State of Korea (2014).  Audience discussion will follow the screening.
During the past twelve months, North Korea has carried out multiple tests of nuclear weapons. In July, the North Korean Government announced that its nuclear capabilities allow attacks "anywhere in the world". Is this true? How belligerent are the North Koreans? Answers to these questions are hard to come by, as North Korea is one of the world's most isolated countries. Its leader since 2011, Kim Jong-Un, is the world's youngest dictator. Like his father and grandfather, he wants to maintain tight control over what North Koreans see of the world – and what the world sees of North Korea. But with unique access, a very brave PBS FRONTLINE team of journalists was able to shed some light on the secret state. Using new footage smuggled from inside and never-before-told stories from recent defectors living in South Korea, the film offers a rare glimpse of how some North Koreans are defying authority in a country where just being caught with illegal DVDs could mean immediate imprisonment. Upon viewing the documentary the secret state will be less secret to the audience.
The Political Film Series is made possible thanks to a grant from the Ida Belle Young Special Projects Fund. The event is free and open to the public. Refreshments are complimentary.
Be sure to check out the full series schedule.
Wed., Sep. 20 | 7 p.m. | 112 Goodwyn Hall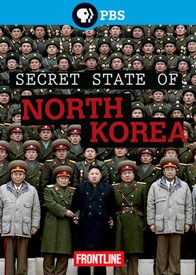 Sweet treats, fun games at AUMFest!
Come out and enjoy a sweet treat in the heat at our annual AUMFest! There will be tons of sweets for you to snack on as you try out the fun games. In the evening, make sure you join us for a movie showing!
Free for students. Student ID required.
Thurs., Sep. 21 | 12–2 p.m., 7–9 p.m. | Quad (Movie in Goodwyn Hall 111)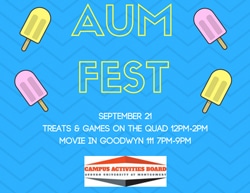 Money Talks!
The College of Business and UNIV 1000 invite you to attend Money Talks! Designed for students, the talks are 1-hour sessions on managing your financial life offered by AUM and community partners. The talks will be held on Monday, Sept. 18 through Thursday, Sept. 21 in the Library Tower, 10th floor East. Choose your sessions and stop by. Attendance is free and open to students, faculty and staff.
Tuesday, Sept. 19 | 8:00 a.m. | "Countdown to Retirement–It Starts Now"
Tuesday, Sept. 19 | 9:25 a.m. | "Credit Confidence"
Tuesday, Sept. 19 | 12:45 p.m. | "Budgeting for Success"
Wednesday, Sept. 20 | 8:00 a.m. | "Identity Theft"
Wednesday, Sept. 20 | 9:25 a.m. | "Your Credit Cards, Your Credit"
Wednesday, Sept. 20 | 12:45 p.m. | "Take Charge of Your Credit"
Thursday, Sept. 21 | 3:35 p.m. | "Take Charge of Your Credit"
Thursday, Sept. 21 | 5:00 p.m. | "What I Wish I Had Known About Money"
Sonia Kovalevsky Day for young women
The Department of Mathematics and Computer Science is proud to announce their Sonia Kovalevsky Day (SKDay) at AUM.
AUM's SKDay is a one-day event for young women enrolled in Algebra I or higher. Similar events have been presented across the country. The program opens up opportunities for young women by having them actively learn about various mathematics and other STEM topics, hear from a female STEM field professional, and learn about numerous mathematics, computer science and other STEM careers through a career panel.
For more information, updates, and announcements, visit AUM's Sonia Kovalevsky Day homepage.
Fri., Sep. 22 | 8 a.m. | Register
Immigration Forum
The University Honors Program and the Office of Diversity and Inclusion are hosting an immigration forum. There will be a panel discussion featuring a diverse group of speakers. Each panelist will answer the prompt, "What I wish everyone understood about immigration" within a 5–7 minute time frame. The members of the audience will then have the opportunity to ask questions and panelists will be able to respond and debate each other.
Thurs., Oct. 12 | 7 p.m. | Goodwyn Hall 109
M.A.N.E. community service opportunity
Are you passionate about animals and serving others? Do you need community service hours? Join Housing and Residence Life for their monthly community service effort at Montgomery Area Nontraditional Equestrians –– a charity which uses horses to assist children and adults with special needs. Transportation and lunch is provided in exchange for your service.
Fri., Sep. 29 | 9:30 a.m. | The Nest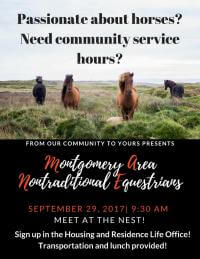 'Faith and Fantasy' at Goodwyn Gallery
The Department of Fine Arts is presenting "Faith and Fantasy: the German Expressionist Woodblock Prints of Hans Grohs (1892–1981)," on view in Goodwyn Gallery, Mon., Aug. 21 –Fri., Sep. 29. The exhibition features 26 original woodblock prints by artist Hans Grohs, drawn from the department's art collection.
Until Fri., Sep. 29 | Goodwyn Hall 101
Study Abroad Fair
The 5th Annual Study Abroad Fair will be held Oct. 5. During the fair, AUM students will be able to discover 2018 Study Abroad programs and available scholarships from Study Abroad faculty directors and ambassadors. Visitors also will have an opportunity to explore different languages and cultures.
Thu., Oct. 5 | 11 a.m.–2 p.m. | Taylor Center 230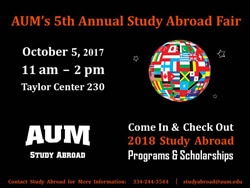 AUMazing Health and Wellness Fair
Departments across campus are joining together Oct. 17 to host the AUMazing Health and Wellness Fair, a health awareness event that will include information and screening booths represented by AUM departments and local businesses as well as a raffle of gifts.
The mission of AUMazing Health Wellness is to encourage habits of wellness; increase factors and resources contributing to well being; and inspire individuals to take responsibility for their own health.
Booths at the fair will include services such as health assessments, self-breast exam information, screenings for depression and eating disorders, blood glucose testing, body composition assessments, information on fruit and vegetable benefits, hearing tests, and information on accommodations for students with disabilities.
The fair is a collaboration of the School of Nursing, the Student Health Center, the Department of Kinesiology, The Wellness Center, Center for Disability Services, Counseling and Health Promotion Services, and the Departments of Communication Disorders and Medical and Clinical Laboratory Services.
For information, contact Hillary K. Porter, Student Health Center, at 334-244-3281 or [email protected].
Tue., Oct. 17 | 10 a.m.–2 p.m. | Taylor Center 230
'Know Dope' film with WSFA's Josh Johnson
Prescription painkiller abuse and overdose are on the rise in Alabama. In an effort to combat this growing epidemic, the United States Attorney's Office for the Middle District of Alabama will sponsor the showing of Know Dope, a documentary aimed at educating students and young adults about the dangers of addiction. The film focuses on the dangers and effects of heroin addiction on the lives of two Alabama natives.
Students, faculty, and staff are invited to view the film on Wed., Oct. 25. Special guest Josh Johnson, WSFA meteorologist, also will speak and share his personal story.
This event is a joint effort of Counseling and Health Promotion Services, the Department of Athletics, Student Involvement and Leadership, UNIV, and the Warhawk Academic Success Center to educate the AUM community about the heroin epidemic in Alabama.
Wed., Oct. 25 | Film viewing times: 9:30 a.m., 3:45 p.m., 6:30 p.m. | Taylor Center 221–223
Day of Giving set for Feb. 14
Mark your Calendar for Feb. 14, 2018. AUM Day of Giving is back! AUM's Office of Advancement is looking for projects that are compelling, unique, specific to AUM, and will appeal to potential donors. Start brainstorming ideas for a project for your department/unit/program!
The deadline for submissions is close of business on Friday, Sept. 29. Project managers will be contacted by Friday, Oct. 6 if their project is selected. If you have questions or would like to discuss ideas, call Marie Harrington at 244-3596 or email at [email protected].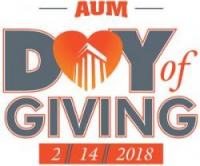 Flu shots available through Student Health Services
Student Health Services now has flu shots available for $25. There is a $0 copay for those insured by BlueCross and BlueShield.
The clinic (Moore Hall 102) will be open Monday through Friday from 9­–11 a.m. and 1–4 p.m. to provide the vaccines, available to all faculty, staff, students, and dependents 3 years of age and up.
More bang for your buck at the Roost
Meal plan options and Mighty Mondays
Each full time student taking at least 12-hours is automatically placed on one of the following meal plans:
Residential: 600 Dining Dollars = $600
Commuter: 100 Dining Dollars = $100
However, a student can add more dining dollars to their current plan with one of three options below; these are all voluntary plans that are added in addition to the current meal plan options.
165 dining dollars for $150
225 dining dollars for $200
600 dining dollars for $525
In addition, AUM Dining Services will also be offering Mighty Mondays starting Mon., Aug. 28. On Mighty Monday, there will be All You Care to Eat specials for only $9.99 per person.
For more information, visit AUM Dining Services online or call 334-244-3578.