Warhawk Weekly 8–25: Princeton Review honors; Day in the Life of Curtiss; Seibel recognized
NEWS
Princeton Review honors AUM
A day in the life of Curtiss
Seibel recognized for contributions to theatre
New mentorship program supports transfer students
Stop by Student Affairs for a free mask
University Communications team earns awards
Jazz up your Zoom meetings
Get instant updates on campus happenings
Campus jobs available for students
Get ready for virtual part-time job fair
Fall 2020 tutoring availability
MGM Impact Awards
AUM named one of top universities in Southeast
Faculty who "don't just teach for the paycheck" and "care" and a campus community that is a "melting pot" are among the reasons why AUM has been recognized by The Princeton Review as one of the top universities in the Southeast for the third consecutive year.
AUM was one of 142 colleges and universities recently honored among the "Best in the Southeast" on Princeton Review's list of "2021 Best Colleges: Region by Region." Overall, Princeton Review recognized 655 institutions in five different geographic regions nationwide – the Southeast, Northeast, Midwest, West and International. The schools earning recognition make up just 23 percent of the nation's four-year colleges.
"We chose Auburn University at Montgomery and the other outstanding institutions on this list primarily for their academics," said Robert Franek, The Princeton Review's Editor-in-Chief.
He noted that the company considered data from its survey of administrators at several hundred colleges in each region, information from staff visits to schools over the years, and the opinions of college counselors and advisors whose perspectives the company solicits. "We also consider what students enrolled at the schools reported to us on our student survey about their campus experiences," Franek added.
Learn more: http://www.aum.edu/princeton-review-recognizes-aum-among-top-universities-southeast
A day in the life of Curtiss The Warhawk
Ever wondered what Auburn University at Montgomery looks like through the eyes of Curtiss The Warhawk?
Now is your chance to find out.
Follow our favorite mascot during a day on the AUM campus.
Seibel earns 2020 Marian Gallaway Award
Associate Professor of Theatre Neil David Seibel has spent his career telling stories that make people look at the world and fellow human beings with a new understanding. His dedication to storytelling through engaging and creative theatre recently earned him the 2020 Marian Gallaway Award from the Alabama Conference of Theatre.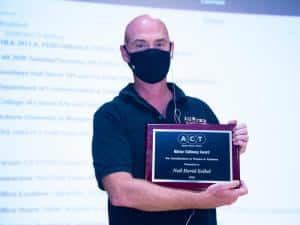 The honor — named for renowned theatre director, designer and champion of playwrights Marian Gallaway — recognizes theatre professionals for their meritorious achievement in teaching, research and service in the state of Alabama.
Seibel's work in Alabama theatre includes productions for Auburn University at Montgomery, the Alabama Shakespeare Festival, Cloverdale Playhouse, Alabama State Council on the Arts, Montgomery Ballet, Troy University, and multiple high schools throughout the state. He also most recently served on the Theatre Teachers Collaborative, a service committee formed by theatre teachers across the South to develop strategies for dealing with the COVID-19 pandemic in education.
New partnership connects transfer students with mentors
AUM and Mentor Collective have formed a new partnership that will match peer mentors with transfer students to help them stay on track for graduation.
The partnership with Mentor Collective, an organization that works with colleges and universities to develop student success programs, will help AUM increase retention and a sense of belonging among its transfer student population, said Joy Clark, AUM's associate provost for undergraduate studies.
"Our long-term strategy is to create an environment for students to be successful throughout their academic journey at AUM," Clark said. "Research indicates that if students can get connected to the university, get connected to their fellow students, their major, and their future, they can overcome many barriers to get there. We see Mentor Collective as a tool that complements the programs we have in place and enhances our ability to connect the students to their future."
During the Fall 2020 semester, all incoming and new transfer students will be invited to join AUM's Mentor Collective. The partnership provides students with the opportunity to be matched with a university peer mentor who is trained to provide guidance.
Peer mentors will also share their experiences with new students and answer their questions about studying and college life at AUM.
Stop by Student Affairs for a free mask
AUM's Office of Student Affairs is offering free face masks to members of the campus community while supplies last. Drop by Taylor Center 163. Wearing a mask represents one of the steps you can take to protect yourself and others during the pandemic:
Cover your beak (preferably with an AUM Warhawk mask).
Watch your wingspan. Observe social distancing (6-foot buffer zones) and avoid gatherings.
Wash your hands often. Make your mom proud. Warm water and soap for 20 seconds.
Use the AUM Healthcheck tool each day: http://www.aum.edu/aumhealthcheck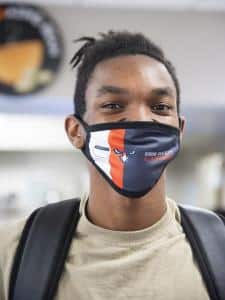 University Communications honored by PRCA
AUM's Office of University Communications earned multiple honors in the Public Relations Council of Alabama's 2020 Medallion Awards.
The awards recognize outstanding work by public relations practitioners statewide. PRCA's membership includes industry professionals representing organizational chapters in Montgomery, Birmingham, Huntsville, Mobile, Tuscaloosa and Auburn.
AUM earned a Medallion Award (the highest level honor) for Social Media Management, as well as Awards of Excellence for Media Relations practices and Short-Term Strategic Programs and Campaigns focused on internal communication.
Your University Communications team includes Executive Director Troy Johnson, Communications Specialist Adrienne Nettles, Photographer Frank Williams, Multimedia Specialist Matt Pellegrin, Niki Parrish and Sonya Jackson.
Jazz up your Zoom meetings and profile
Do you keep your camera off during Zoom meetings because you don't want people to see the clutter in your dorm room or office? We're here to help. Choose from our assortment of AUM-themed Zoom backgrounds and grab a Facebook profile filter from our digital giftbag.
Download yours: http://www.aum.edu/digitalgiftbag
Get instant updates on campus happenings
AUM students and employees can get quick updates on campus events and important news via text message.
We promise not to bombard you, but we will share information that matters to you (like where to score some free food, for example).
Opt in for text messaging here: https://slkt.io/7R1i
Find on-campus jobs through Handshake
Are you looking for work on campus? AUM's Career Development Center is ready to assist students with finding work on campus using Handshake, the university's online tool for connecting students with off-campus employers and on-campus job opportunities.
To begin your search and access Handshake, complete the following steps:
Go to MyAUM and select the Handshake link. You will be taken directly to the Handshake login page.
Register for an account in Handshake. Simply select Auburn University at Montgomery, complete a brief informational section, and you're all set!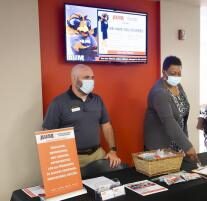 Within the job search, you can search specifically for on-campus positions. To do this, select Jobs from the top menu bar and this should take you directly to the job search page.
To find positions designated as on-campus jobs, click the on-campus filter. This will give you all of the jobs that have been specified as on-campus positions.
You will find details regarding the job responsibilities, campus location, hours, and pay range.
If you need additional assistance with creating resumes and cover letters or preparing for interviews, visit the Career Development Center in Taylor Center 323 or email [email protected] for more information.
Get your resumes ready for AUM's Virtual Part-Time Job Fair
Students interested in part-time employment can connect with opportunities at the Virtual Part-Time Job Fair on Tuesday, Sept. 15, from 11 a.m. to 2 p.m.
For more information on how to register for the event, log on to the Handshake app offered by the Career Development Center.
Register now: www.aum.edu/handshake
Fall 2020 tutoring availability
Students interested in receiving tutoring during the Fall 2020 semester can receive assistance through the Warhawk Academic Success Center, our one-stop shop for student success. The Learning Center and Instructional Support Lab each offer resources to help you master your subjects.
Fall 2020 Hours of Operation:
| | | |
| --- | --- | --- |
| Learning Center (LC) | 9 a.m. – 7 p.m. Mon – Thurs | 10 a.m. – 2 p.m. Friday |
| Instructional Support Lab (ISL) | 9 a.m. – 9 p.m. Mon – Thurs | 10 a.m. – 2 p.m. Friday |
Fall 2020 Dates of Operation:
| | |
| --- | --- |
| Hybrid (Both online and in-person) | Wednesday, August 19 – Friday, November 20 |
| Online only | Monday, November 23 – Wednesday, December 9 at Noon |
You can schedule your appointment by calling 334-244-3470 or by visiting www.aum.edu/tutoringapp.
Vote to make AUM a 2020 MGM Impact Maker
You still have time to vote to help AUM receive recognition for its community impact.
We're proud to have been nominated for the Montgomery Area Chamber of Commerce 2020 MGM Impact Makers award in the Large Business category.
For 50 years, AUM has prided itself on being a good neighbor and trusted community partner. Cast your vote today!