Warhawk Weekly 8–15: Go the Extra Mile to welcome students; Dragon Boat Race
Warhawk Weekly 8–15: Go the Extra Mile to welcome students; Dragon Boat Race
AUM IN THE NEWS
PRINT & ONLINE
TV (Please note: Footage is only available for 30 days from the time of the broadcast)
Go the Extra Mile to welcome students
The Friendly Campus Committee, part of the Student Retention Committee, has created the Extra Mile campaign as we welcome back students this week.
Here's how faculty and staff can support students: Faculty and staff who have general parking permits (white spaces) are encouraged to park in North Parking Lot 1, affectionately known as "The Duck Pond Lot" for the first two days of school, Aug. 16 and 17. Campus services will run a shuttle every 10 minutes from the lot to the Athletics Complex and to Taylor Center. The shuttle will run from 7:30–8:30 a.m. and from 4:30–7 p.m. both days. The shuttle is not available to run throughout the day.
Faculty and staff also are encouraged to wear their name tags on campus during this first two days of classes.
Dragon Boat paddlers wanted — Aug. 26
Join AUM downtown Aug. 26 at the Riverfront Park for the 2017 Montgomery Dragon Boat Race and Festival! More than 60 teams will participate in the daylong competition and compete for the
Grand Championship Trophy, so come root for AUM's Dragon Boat Team!
Beyond the excitement of the races, festivities will include live music, food vendors, and booths from local artists/exhibitors.
In support of AUM's team, Warhawk Transit will run special shuttles to the event throughout the day. Don't forget to visit AUM's booth at the festival to receive a Warhawk Nation gift, courtesy of AUM's Confucius Institute.
Sat., Aug. 26 | 8 a.m.–4 p.m. | Montgomery River Front Park and Amphitheater,
355 Commerce Street | Free and open to the public
Call for paddlers
Are you interested in competing in the Dragon Boat Race? Good news — we are still recruiting students, faculty, and staff for the AUM Dragon Boat Team!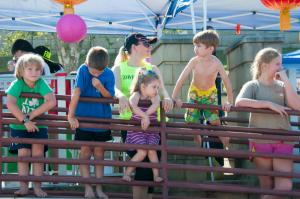 25 kids engage in academic, life lessons at College of Education camp
The faculty of the Curriculum, Instruction and Technology Department — Dr. Gil Dueñas, Ms. Michelle Tharpe-Baxter, Dr. Nick Bourke, and Dr. Tami Shelley — proudly witnessed the emergence of a strong community of learners as well as new friendships — during the AUM Summer Camp that took place between July 14–25 and served children in grades K–6.
The camp featured memorable, thought-provoking lessons in science, literacy, mathematics, and social studies. A corps of undergraduate and graduate students enrolled in the College of Education embraced the opportunity to guide the youthful hearts and minds of 25 children to engage in distinct ways of learning such as classroom conversation, collaborative problem solving, inquiry projects, journal writings, and research via technology tools.
It was commonplace to see the interaction of pre-service teachers and children wrestle with ideas as a starting point for deep thinking and new understandings and to recognize spaces where children's own thinking, own perspectives took center stage in the classroom.
There is no question that on the last day of this summer camp, AUM teacher candidates and a special group of 25 children walked away with a great sense of achievement — heartfelt memories and a renewed sense of discovery for new learning.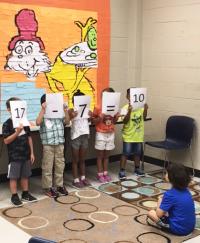 Math was fun at the College of
Education's summer camp.
Library moves to new course reserve system
The AUM Library will transition to a new course reserve system for the Fall 2017 Semester. Faculty members will be able to submit reserve requests for both print and electronic resources using
either the online form or downloading a form. In the coming weeks, faculty also will have the ability to make reserve requests from within Blackboard.
Read here for more information on the library's new course reserve system. If you have any questions about course reserves or any library services and resources, call Head of Public Services Librarian Jessica Hayes at 244-3814.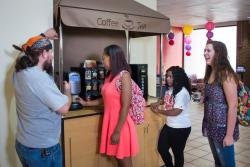 Students take a break for coffee and
tea inside the library.
Shelley selected as leadership cohort advisor
Dr. Tami Shelley, assistant professor in the College of Education's Department of Curriculum, Instruction, and Technology, has been selected as an advisor for the Alabama Pre-K-3 Leadership Academy's 2017–18 Cohort.
The cohort is an initiative of the National Association of Elementary School Principals (NAESP) to establish the first national evidence-based, blended-learning program to provide elementary-level principals of schools that serve Pre-K-3 students (ages 3 to 8) with next-generation professional learning and support. The program will help states and districts provide a high-quality early childhood educational experience for every child. Shelley will advise a group of principals from across the state during this yearlong program.
This program, in partnership with the W.K. Kellogg Foundation, involves several organizations working together to design a year-long mentorship program to promote and build the capacity of Alabama's principals and Pre-K program directors.  Participating organizations include the Council for Leaders in Alabama Schools (CLAS), Alabama Department of Early Childhood Education, National Association of Elementary School Principals (NAESP), and the American Institute for Research.
This blended professional learning model will allow the participants to learn, in part, through the synchronous delivery of content and instruction via digital and online media with some element of learner control over time, place, path or pace.
ROTC announces two new officers
Auburn University at Montgomery Army ROTC introduces its newest Army officers, 2nd Lt. Patrick McCormick and 2nd Lt. Luke Carey.
McCormick and Carey were commissioned into the Alabama Army National Guard on Aug. 5, 2017. AUM ROTC wishes them the best and know they will do great things for the U.S. Army and our nation.

Time for club and organization fairs; make sure you're registered
The Office of Student Involvement and Leadership Programs is excited to host the Fall 2017 club and organization fairs, which will take place on two days, Aug. 22 and Aug. 30. Student
organizations interested in having a table on both days of the fair can register here.
Tue., Aug. 22 | 11:30 a.m.–1 p.m. | Taylor Center 230
Wed., Aug. 30 | 5:30–7 p.m. | Taylor Center 230
Also, at the beginning of each academic year, all clubs and organizations planning to be active in the 2017–18 academic year must register in order to begin hosting programs. Any unregistered group will not be allowed to host any programs. For information, contact DeLisa Joseph at [email protected] or 334-244-3655. Register your club or organization.
Warhawk WOW: Get the app, join the fun
AUM is aiming for the WOW factor when we kick off a new semester Wednesday, and Weeks of Welcome (WOW) gets the semester off to an exciting start. Warhawk WOW features three weeks of events, featuring food, giveaways, competitions and fun, arranged by offices and organizations across campus to welcome new students and familiar faces back to AUM.
All events are open to AUM students, faculty and staff unless otherwise noted. Download the app, using the instructions below and come out, bring a friend and enjoy Warhawk WOW.
To download the app, click here, then:
Download the Auburn University at Montgomery Guides app to your device.
Search for Warhawk WOW.
Can't install the app? Check the Campus Events calendar for WOW activities and other opportunities to have fun, learn more and make new friends.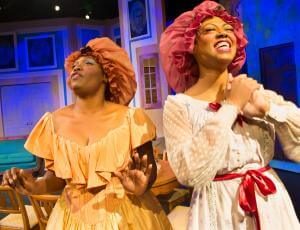 New Student Convocation
New students are invited to join AUM as the university formally inaugurates them into the Auburn University at Montgomery family at AUM's New Student Convocation.
Convocation provides new students with an opportunity to connect with other members of the Class of 2020, incoming transfer students, and AUM faculty and staff.
Fri., Aug. 18 | 10 a.m. | AUM Athletics Complex
Professors in Pubs presentations
The College of Arts and Sciences is featuring presentations by professors who will speak at TASTE and The Tipping Point in East Montgomery. All presentations are free and open to the public.
Tue., Aug. 29 | 6 p.m. | TASTE, 5251 Hampstead High Street, Unit 100 | Dr. David Steen, Auburn University Museum of Natural History, "Bringing the Indigo Snake Back to Alabama"
Wed., Sept. 6 | 7 p.m. | The Tipping Point, 5015 Hampstead High Street | Dr. Rosine Hall, Auburn University at Montgomery, "Climate Change"
River Region Forum
Join Air University, Maxwell Air Force Base, for the River Region Forum, hosted by AUM. Dr. Pano Yannakogeorgos, dean of the Air Force Cyber College, will speak on "The State of Cyber Conflict."
Thu., Sept. 7 | 8 a.m. | Taylor Center 230 | Free to attend; RSVP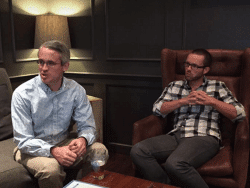 2016 attendees enjoy a lively discussion
Study Abroad Fair
The 5th Annual Study Abroad Fair will be held Oct. 5. During the fair, AUM students will be able to discover 2018 Study Abroad programs from Study Abroad faculty directors and ambassadors. Visitors also will have an opportunity to explore different languages and cultures.
Thu., Oct. 5 | 11 a.m.–2 p.m. | Taylor Center 230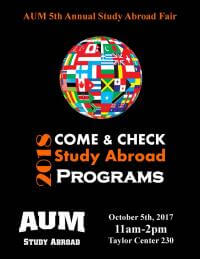 Campus parking decal pickup
Registration for campus parking permits for the 2017–18 academic year is now open, and parking decals are available for pickup.
Students, faculty and staff should register their vehicles through the MyAUM portal. In an effort to make the process run as smoothly as possible, we have set aside several dates for you to pick up your decals and to help with on-site registration.
Below are the dates, times, and locations where students, faculty and staff may pick up parking decals for the 2017-2018 academic year.
Aug. 15, 2017 | 8 a.m.–7 p.m. | Taylor Center 223
Aug. 16, 2017 | 8 a.m.–5 p.m. | Taylor Center 223
Details are available at www.aum.edu/Parking.
Certified Public Manager trainee presentations
SummaSource at Auburn University at Montgomery's nationally accredited Certified Public Manager program employs a state-of-the-art approach to enhance the professional and managerial skills of local, state and federal employees for stronger leadership. During the second year of the program, participants devote considerable time researching and forming solutions to critical issues facing Alabama.
On Aug. 23, they will present their findings during the Solutions Alabama Presentation at the State Capitol Auditorium. They will address bullying, suicide and teen pregnancy in Alabama, as well as other issues.
Students, faculty and staff are invited to attend this important presentation to learn from our state's leaders how you can advocate for continual improvement in these critical areas.
Wed., Aug. 23 | 10–11 a.m. | State Capitol auditorium | Free to attend, RSVP here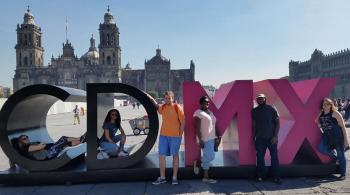 Faculty: AUM Study Abroad accepting proposals for 2018
Faculty, do you want to turn your class into an unforgettable experience? Are you interested in creating and leading a Study Abroad course for spring or summer 2018?
Think about aligning your course with a study abroad component. AUM Study Abroad is now accepting faculty-led program proposals for 2018. Faculty can find the 2018 Faculty-Led, Short-Term Study Abroad Handbook on AUM's Study Abroad website.
The proposal deadline is Thu., Aug. 31, 2017, at 4 p.m.  For questions or information, contact Yiyun (YY) Liu, AUM Study Abroad manager, at 334-244-3544 or [email protected].
Scholarship opportunity for marketing and veteran students
AUM students who are studying marketing or are veterans of the U.S. military are eligible to apply for $1,000 scholarships that will be awarded by the Harold and Murial Berkman Charitable Foundation. Scholarship applications are due Aug. 29. Applicants can apply online or print, fill out and mail a PDF version of the scholarship application.
Day of Giving set for Feb. 14
Mark your Calendar for Feb. 14, 2018. AUM Day of Giving is back! AUM's Office of Advancement is looking for projects that are compelling, unique, specific to AUM, and will appeal to potential donors. Start brainstorming ideas for a project for your department/unit/program!
The official call for proposals will be sent on Sept. 1. If you have questions or would like to discuss ideas, call Marie Harrington at 244-3596.
Student success advisors ready to help
Students, having problems with a class, worried about grades, unsure whether to drop a class or not? Let the student success advisors in the Warhawk Academic Success Center help. Walk-ins are welcome. For information, call Van Orum at 334-244-3338 or email [email protected]; or schedule an appointment — learn how at www.aum.edu/SuccessHowTo.