Warhawk Weekly 8–1: Campus parking registration; School of Nursing success
Warhawk Weekly 8–1: Campus parking registration; School of Nursing success
AUM IN THE NEWS
PRINT & ONLINE
Campus parking registration opens today
Registration for campus parking permits opens Aug. 1 for the 2017–18 academic year.
Students, faculty and staff should register their vehicles through the MyAUM portal. In an effort to make the process run as smoothly as possible, we have set aside several dates for you to pick up your decals and to help with on-site registration.
Details are available at www.aum.edu/Parking.
School of Nursing leads state colleges in licensure exam pass rate
The AUM School of Nursing's RN-to-BSN program achieved a near-perfect pass rate on the NCLEX exam for the third quarter of 2017, with 96.97 percent of students passing the nationwide examination for the licensing of nurses. This most recent pass rate puts AUM in the lead against other programs in the state. The NCLEX (National Council Licensure Examination) is a nationwide examination for the licensing of nurses.
"This is truly a whole School of Nursing effort and we are on the right path," said Dr. Jean Leuner, dean of AUM's College of Nursing and Health Sciences. "Thanks everyone for all your hard work. We should all be very proud of our outstanding students!"
Leuner attributed the high scores to a totally revised curriculum; new admission criteria; utilizing a standardized test plan integrated with the curriculum; revised standards in the final preceptor course for all seniors; and the school's mentoring program, which she said that has been integral to several of the more complex and challenging courses the school offers.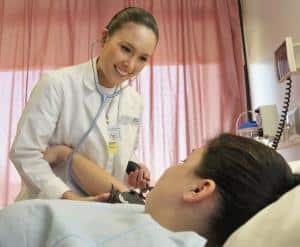 A student practices patient care at AUM.
High schoolers learn about health careers at AUM
Alabama high school students recently visited several labs and hands-on classrooms at Auburn University at Montgomery's College of Nursing and Health Sciences to learn about career options as health professionals.
Scholarship opportunity for marketing and veteran students
AUM students who are studying marketing or are veterans of the U.S. military are eligible to apply for $1,000 scholarships that will be awarded by the Harold and Murial Berkman Charitable Foundation. Scholarship applications are due Aug. 29. Applicants can apply online or print, fill out and mail a PDF version of the scholarship application.
Students: Deadline today to apply for Jack and Ruth Lee Scholarship
Today is the deadline for current and incoming students to apply for the 2017–18 Jack and Ruth Lee Scholarship.
Applications are available in the Scholarships Office (located in Admissions on the first floor of the Taylor Center) and in the Center for Disability Services.
The scholarship totals $1,000 ($500 per semester) toward approved books and supplies to be purchased in the AUM Warhawk Shop. Eligibility requirements include a minimum 2.5 GPA, full-time enrollment, demonstrated financial need (will be verified by Scholarships Office and FAFSA), and eligibility to receive services from the AUM Center for Disability Services.
For information, contact Jennifer Gardner at [email protected] or 334-244-3078.
Alumni Board nominations due today
Are you passionate about AUM? Do you want to make a difference? Are you willing to be a leader in the AUM Alumni Association? We invite you to apply for a position on the AUM Alumni Board of Directors.
The Auburn University at Montgomery Alumni Board meets three times per year on the AUM campus, and board members serve a term of two years. AUM Alumni Board members must be members of the AUM Alumni Association.
Submit your nomination today: 2017 Alumni Association Nomination Form
Register clubs and organizations; reserve booths for Aug. fairs
At the beginning of each academic year, all clubs and organizations planning to be active in the 2017–18 academic year must register in order to begin hosting programs. Any unregistered group will not be allowed to host any programs. For information, contact DeLisa Joseph at [email protected] or 334-244-3655. Register your club or organization.
Also, the Office of Student Involvement and Leadership Programs is excited to host the Fall 2017 club and organization fairs, which will take place on two days, Aug. 22 and Aug. 30. Student organizations interested in having a table on both days of the fair can register here.
Tue., Aug. 22 | 11:30 a.m.–1 p.m. | Taylor Center 230
Wed., Aug. 30 | 5:30–7 p.m. | Taylor Center 230
Williford, Reilly present in Germany
Dr. Hank Williford and Dr. Erin Reilly, professors in the Department of Kinesiology, recently presented research in Essen, Germany, at the European College of Sport Science Annual Congress, which is composed of more than 2,500 delegates from 84 countries. Williford presented on "Physical Fitness of Women and Their Ability to Pass an Entry Level Fire Fighter Test," and Reilly presented on "Neuromotor Exercise Program for Children Increases Mental Age."
Theatre AUM auditions
Theatre AUM will hold auditions for its first production of the 2017–18 season, a showcase with the theme liberty and justice, on Aug. 16.
To audition, prepare a monologue from a play that deals with American liberty, politics or civil rights (historical or current) or American justice (court cases, trial scenes). The monologue can be patriotic. If you would like to sing, prepare a song on one of these themes. There will be no accompanist, so bring a karaoke-type track on your phone or a CD.
For more information contact the Theatre office, 334-244-3632
Wed., Aug. 16 | 7:30 p.m. | Theatre AUM (Taylor Center)
New Student Convocation
First-year students are invited to join AUM as the university formally inaugurates them into the Auburn University at Montgomery family at AUM's New Student Convocation.
Convocation provides new students with an opportunity to connect with other members of the Class of 2020, incoming transfer students, and AUM faculty and staff.
Fri., Aug. 18 | 10 a.m. | AUM Athletics Complex
Faculty Service Award nominations are open
The AUM Alumni Association is now accepting nominations for the 2017 Faculty Service Award.
The Alumni Association sponsors the Faculty Service Award to recognize outstanding Auburn University at Montgomery faculty. To be eligible for this honor, faculty must have five or more years of full-time service at AUM. The award will be conferred during the fall semester convocation and the recipient will receive a $1,000 check from the Alumni Association.
To nominate a faculty member, see the full instructions. Nominations by AUM faculty, staff, students, alumni and friends must be submitted or postmarked by Aug. 11, 2017.
For more information, contact Valerie Rankin at [email protected].
Housing Move-in
Welcome, new Warhawks! Housing Move In is from 9 a.m. to 3 p.m. on Aug. 11-12, with returning Warhawks flying in Aug. 11 and brand-new Warhawks landing Aug. 12. The Housing and Residence Life staff will be on hand and ready to help! We'll see you there!
Fri., Aug. 11–Sat., Aug. 12 | 9 a.m.–3 p.m. | Housing communities
All students: 'Kickback' with Residence Life
It's hot outside, but Housing is so cool! All students are invited to join Housing and Residence Life in The Nest for a building-wide party, complete with pizza and a DJ, as well as games and dancing!
Sat., Aug. 12 | 5 p.m. | The Nest
Call for volunteers — Move-In Weekend
Housing and Residence Life is excited to welcome our new and returning residents, but to do so, we need your help! We rely on motivated volunteers to help us make the Move-In Weekend process easy, efficient, and exciting for our students. We would love to have you and/or your office volunteer to assist our students as they move their belongings into the residence halls.
Our returning students will be flying back into their nests on Friday, Aug. 11. Our new students will be landing for the first time on Saturday, Aug. 12. Residents will be allowed to move in between 9 a.m. and 3 p.m. on both days.
Certified Public Manager trainee presentations
SummaSource at Auburn University at Montgomery's nationally accredited Certified Public Manager program employs a state-of-the-art approach to enhance the professional and managerial skills of local, state and federal employees for stronger leadership. During the second year of the program, participants devote considerable time researching and forming solutions to critical issues facing Alabama.
On Aug. 23, they will present their findings during the Solutions Alabama Presentation at the State Capitol Auditorium. They will address bullying, suicide and teen pregnancy in Alabama, as well as other issues.
Students, faculty and staff are invited to attend this important presentation to learn from our state's leaders how you can advocate for continual improvement in these critical areas.
Wed., Aug. 23 | 10–11 a.m. | State Capitol auditorium | Free to attend, RSVP here
Faculty: AUM Study Abroad accepting proposals for 2018
Faculty, do you want to turn your class into an unforgettable experience? Are you interested in creating and leading a Study Abroad course for spring or summer 2018?
Think about aligning your course with a study abroad component. AUM Study Abroad is now accepting faculty-led program proposals for 2018. Faculty can find the 2018 Faculty-Led, Short-Term Study Abroad Handbook on AUM's Study Abroad website.
The proposal deadline is Thu., Aug. 31, 2017, at 4 p.m.  For questions or information, contact Yiyun (YY) Liu, AUM Study Abroad manager, at 334-244-3544 or [email protected].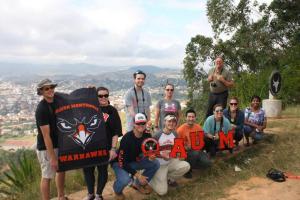 AUM students study abroad in Madagascar.
AUM Dragon Boat Team seeks faculty/staff paddlers
If you are an AUM faculty or staff member and interested in paddling in the Montgomery Dragon Boat Race on Sat., Aug. 26, contact Amanda Rodriguez at [email protected] to find out how to join the team!
Day of Giving set for Feb. 14
Mark your Calendar for Feb. 14, 2018. AUM Day of Giving is back! AUM's Office of Advancement is looking for projects that are compelling, unique, specific to AUM, and will appeal to potential donors. Start brainstorming ideas for a project for your department/unit/program!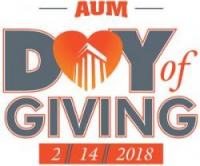 The official call for proposals will be sent on Sept. 1. If you have questions or would like to discuss ideas, call Marie Harrington at 244-3596.
Student success advisors ready to help
Students, having problems with a class, worried about grades, unsure whether to drop a class or not? Let the student success advisors in the Warhawk Academic Success Center help. Walk-ins are welcome. For information, call Van Orum at 334-244-3338 or email [email protected].