Warhawk Weekly 7–7: Commencement date set; Back to Campus; Senior marches
NEWS
Commencement set for August
Back to Campus plan unveiled
AUM senior marches for equality
Dean Austin recognized for 'true leadership'
Zoom your way to fitness
Aaij edits new book on medieval figure Boniface
Food for thought
Commencement set for August
A combined commencement ceremony for Spring and Summer 2020 graduates will feature ample space for social distancing of graduates and their families.
Auburn University at Montgomery's rescheduled commencement ceremony will be held on Saturday, August 15, at 9 a.m. at Garrett Coliseum. All participants and guests will be required to wear facemasks and maintain social distancing of at least 6-feet from non-household members at all times.
The walking order for graduates will be:
College of Business
College of Education
College of Liberal Arts and Social Sciences
College of Nursing and Health Sciences
College of Sciences
More details will be available on the AUM Graduation web page.
Back to Campus plan unveiled
Auburn University at Montgomery recently unveiled its Back to Campus plan for the Fall 2020 semester with guidelines for keeping the campus community safe during the coronavirus pandemic. AUM plans to resume in-person classes on Monday, August 17.
The plan will require students and employees to wear face coverings and observe social distancing in classrooms and other public areas on campus as part of its efforts to resume face-to-face instruction for the Fall 2020 semester. Other key components of the plan include:
Guidelines for students and employees who exhibit COVID-19 symptoms or test positive for the virus
Modifications to indoor spaces, including additional hand sanitizer stations, new directional signage and reduced seating capacity to promote hygiene and social distancing
An emphasis on virtual events for student organizations
Pre-order and delivery options for campus dining
"We are excited to welcome students back to campus for a new academic year," AUM Chancellor Carl A. Stockton said. "Our 'Re-Opening AUM' guidelines represent a flexible management plan that will allow us to make adjustments regardless of what course the COVID-19 pandemic may take. While we believe face-to-face instruction best aligns with our mission as a university, we will be prepared to make necessary changes should the need arise."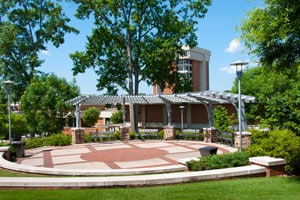 Other adjustments made in response to the COVID-19 pandemic include a modified academic calendar that ends face-to-face instruction on November 20 and allows students to complete coursework and final exams remotely after Thanksgiving break.
The back-to-campus plan was informed by public health experts and incorporates Centers for Disease Control and Prevention guidelines and best practices.
Read the full "Re-Opening AUM" guidelines here: https://online.fliphtml5.com/qgze/bbst/.
AUM senior marches for equality
When Black Lives Matter rallies erupted around the world following death of Minneapolis resident George Floyd while in police custody, Auburn University at Montgomery senior Dameyune Smith felt compelled to join the movement.
"A lot people say that young people don't care about the Black Lives Matter movement but look at how many young people are marching and protesting in the wake of the recent deaths of George Floyd, Breonna Taylor and so many other African Americans," said Smith. "We do care, but our generation has been painted in a negative light."
Smith said he set out to serve as an example of young people taking a stand as part of the Black Lives Matter movement when he joined local activists on the steps of the state capitol to march for equality and protest against policy brutality.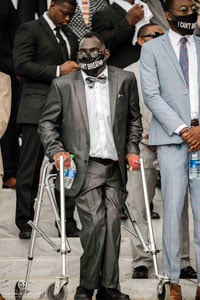 "I felt this was my way to be a part of something bigger and a way to use my platform as a young African-American man to do something good in our community," he said.
The June 14 rally was attended by black leaders and men to raise awareness about the disproportionate number of African Americans losing their lives at the hands of police.
Dean Austin recognized for 'true leadership'
Auburn University at Montgomery College of Education Dean Sheila Austin is one example of how AUM people live the values of citizenship and community engagement.
"I believe where much is given, much is required," Austin said. "I love bringing joy and hope to those searching for their purpose in life."
Austin shared her commitment to serving in the community for Leadership Montgomery's June issue of First Things First, the organization's monthly newsletter. She was spotlighted as an alum of Leadership Montgomery's Legacy Class XXXII and for her community work and long career as an educator.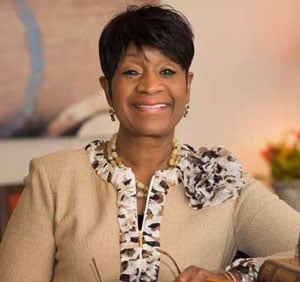 Zoom your way to physical fitness
AUM's Wellness Center continues to provide virtual group fitness classes via Zoom. To join one of this week's remaining classes, email Anna Champion. Remaining classes include:
Wednesday
11 a.m. – Yoga with Rebecca
12:30 p.m. – Body Barre with Angel
5:30 p.m. – Extreme Chaos with Erin
Thursday
11 a.m. – Stretch, Strength & Stability with Mel
3 p.m. – Zumba with Monette
5:30 p.m. – Full Body Tabata & Abs with Teresa
Friday
10 a.m. – 30 Body Barre/30 Jungle Body Konga with Angel
11:30 a.m. – Yoga with Rebecca
Aaij edits new book on medieval figure Boniface
Associate Professor of English and Philosophy Michel Aaij has edited a new book on eighth-century English missionary and church reformer Boniface, a highly influential figure in early medieval Europe.
The book, "A Companion to Boniface," is a collection of the latest scholarship on Boniface and examines his impact on the regions — Hessia, Thuringia, Bavaria, Frisia, and Francia — of Europe where he worked and developed a cult in the Middle Ages. Numerous saints' lives and modern devotional materials included in the work further reveal how Boniface was and is remembered by religious communities that claim him as a foundational figure, according to an excerpt of the work.
"This is a compendium of the most recent scholarship on this important saint, written by some of the most outstanding scholars in the world," Aaij said.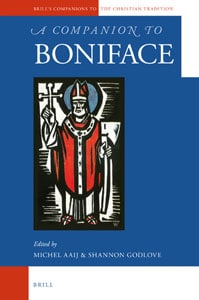 Food for thought
AUM Kinesiology faculty member Deanne Allegro is working with fellow researchers from Alabama Public Health Auburn University and The Alabama Cooperative Extension System to understand how the COVID-19 pandemic has affected food access and food purchasing habits in Alabama.
Complete the food security survey by July 15: https://aub.ie/coronavirus-survey.