Warhawk Weekly 7–14: First AUM Poll; Faculty Service Award; Chemistry professor science
NEWS
First AUM Poll
2020 Faculty Service Award nominations
Chemistry professor provides science for perfect spuds
Graduate Merit Scholarships Awarded
Enroll in Fall 2020 payment plans
Virtual group fitness classes
First AUM Poll
The first AUM Poll is out and shows a clear leader in the Alabama Senate runoff.
AUM Poll, a new university initiative led by AUM's Department of Political Science and Public Administration, indicates Tommy Tuberville leading Jeff Sessions in today's Republican U.S. Senate runoff. Tuberville enjoys support among 47 percent of Republican voters surveyed while Sessions has 31 percent of voters' support.
Faculty member Dr. David Hughes, director of AUM Poll, said regardless of who wins the Republican runoff, results from the survey indicate that Democratic incumbent Doug Jones is likely to face a difficult battle for reelection.
"Results from the poll are the first in a series of planned public opinion surveys that will be conducted by AUM Poll throughout the 2020 election cycle," Hughes said. "In the coming days, AUM Poll will release additional survey results regarding public opinion in Alabama."
2020 Faculty Service Award nominations
Nominations are currently being accepted for the 2020 AUM Faculty Service Award.
Every Fall semester, the AUM Alumni Association awards the Alumni Faculty Service award to recognize outstanding faculty.
To be eligible for the $1,000 award, faculty members must have five or more years of full-time service at AUM.
AUM faculty, staff, students, alumni and friends can submit nominations through August 31, 2020. Nomination letters should be no more than two pages in length, should emphasize teaching excellence, as well as a strong record of service to the university and community. A vita may be attached, if available. Nominations must be postmarked by August 31.
Send nomination letters to: Awards Committee, Auburn Montgomery Alumni Association, P.O. Box 244023, Montgomery, AL 36124-4023, or email them to [email protected].
If you have questions, contact Valerie Rankin at [email protected].
Chemistry professor provides science for perfect spuds
There is "a little science" to making the perfect, fluffy mashed potatoes, according to AUM Chemistry Professor Nick Thomas.
Thomas recently shared with The Kansan his recipe for whipping up the American favorite. His recipe begins with the perfect spud followed by some easy steps.
Graduate Merit Scholarships Awarded
AUM's Alumni Association recently awarded its annual Graduate Study Merit Scholarships to four outstanding AUM students.
The following graduate students were awarded $1,000 scholarships:
Riyyah James, who is currently pursuing a Master of Business Administration degree. James is extremely dedicated to giving back to her community and making sure others have the opportunity of furthering their education as well.
Erica Meriwether, who is pursuing a Master of Education for Clinical Mental Health Counseling degree. After graduating, her goal is to work towards licensure while completing advocacy work for the homeless and the mentally ill.
Catina Sistrunk, who is currently pursuing a master's degree in Liberal Arts. She wishes to continue teaching English at AUM in a way that is meaningfully expressive, transferrable, validating, and critically constructive.
Yuan Zhang, who is pursuing a Master of Instructional Leadership.
Scholarship recipients are required must have 3.4 grade point average or higher, enroll in and complete nine hours each semester and be continuously enrolled for each semester covered by the award.
The scholarships are funded by alumni memberships and awarded by the AUM Alumni Board of Directors.
Enroll in Fall 2020 payment plans
Student Accounts will open enrollment for flexible payment plan options for the Fall 2020 semester starting July 15.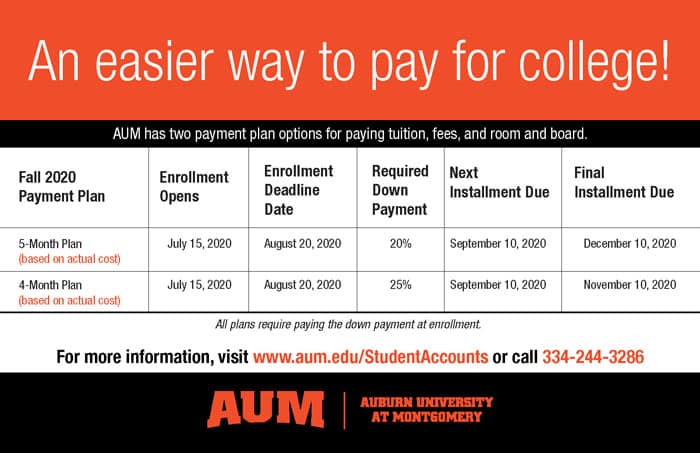 Zoom your way to physical fitness
AUM's Wellness Center is making it easy for you to exercise while maintaining your social distance. Sign up today for a virtual group fitness offered by the Wellness Center via Zoom. Email Anna Champion to reserve a spot and you'll receive password information for your class.
Upcoming offerings include:
Tuesday
1 p.m. – Zumba Toning with Monette
5:30 p.m. – Fully Body Tabata & Abs with Teresa
Wednesday
11 a.m. – Yoga with Rebecca
12:30 p.m. – Body Barre with Angel
5:30 p.m. – 30 Zumba Toning/30 Zumba Step with Leigh Anne
Thursday
11 a.m. – Stretch, Strength & Stability with Mel
3 p.m. – Zumba with Monette
5:30 p.m. – Full Body Tabata & Abs with Teresa
Friday
11:30 a.m. – 30 Body Barre/30 Jungle Body Konga with Angel
1 p.m. – Pilates with Angel