Warhawk Weekly 7–11: Warhawk Spotlight: Lifelong Learning; Study Abroad in 3 countries
Warhawk Weekly 7–11: Warhawk Spotlight: Lifelong Learning; Study Abroad in 3 countries
Warhawk Spotlight: Lifelong Learning
First Taylor Road campus student still learning at AUM
Pam Taylor was the first student to register for classes at Auburn University at Montgomery's Taylor Road campus. Almost a half century later, the grandmother is still learning at AUM, delightfully studying alongside her granddaughters, thanks to AUM's Osher Lifelong Learning Institute (OLLI).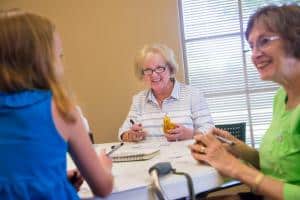 Pam Taylor, middle, studies
Zentangle in her OLLI class.
AUM students study abroad in Mexico, England, Japan
AUM students are learning new cultures and languages as they study abroad this summer in Mexico, England and Japan.
Students Ellen Smith, Tara Fenn, Ta'Kyler Barley, Rudolph Munnerlyn, Rachel Pate and Freeman Elam recently returned from Mexico's capital of Mexico City, led by Dr. Pamela H. Long, associate professor and coordinator of the Division of World Languages and Cultures.
Also, twelve students traveled to England — six to study English authors with Dr. Seth Reno, assistant professor in the Department of English and Philosophy, and six more to study with Dr. Laura Whatley, assistant professor of Fine Arts, in York.
While these students have returned, Kyra Nichols from the
College of Nursing is currently in Japan participating in a Study Abroad Exchange Program. For 45 days, she will experience firsthand Japan's profound language and culture.
Follow all of the adventures of students and professors at the Office of Global Initiatives' blog.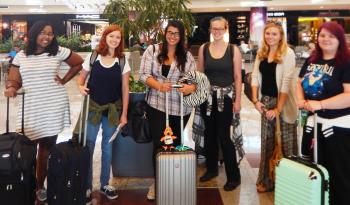 England Study Abroad students
prepare to take off for York, England.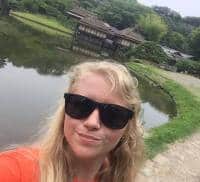 Nursing student Kyra Nichols
is studying in Japan.
Jack and Ruth Lee Scholarship available to students
The 2017-2018 Jack and Ruth Lee Scholarship application is now available to current and incoming students.
Applications are available in the Scholarships Office (located in Admissions on the first floor of the Taylor Center) and in the Center for Disability Services. The deadline to apply is August 1, 2017.
The scholarship totals $1,000 ($500 per semester) toward approved books and supplies to be purchased in the AUM Warhawk Shop. Eligibility requirements include a minimum 2.5 GPA, full-time enrollment, demonstrated financial need (will be verified by Scholarships Office and FAFSA), and eligibility to receive services from the AUM Center for Disability Services.
For information, contact Jennifer Gardner at [email protected] or 334-244-3078.
Call for volunteers — Move-In Weekend
Housing and Residence Life is excited to welcome our new and returning residents, but to do so, we need your help! We rely on motivated volunteers to help us make the Move-In Weekend process easy, efficient, and exciting for our students. We would love to have you and/or your office volunteer to assist our students as they move their belongings into the residence halls.
Our returning students will be flying back into their nests on Friday, Aug. 11. Our new students will be landing for the first time on Saturday, Aug. 12. Residents will be allowed to move in between 9 a.m. and 3 p.m. on both days.
Student success advisors ready to help
Students, having problems with a class, worried about grades, unsure whether to drop a class or not? Let the student success advisors in the Warhawk Academic Success Center help. Walk-ins are welcome. For information, call Van Orum at 334-244-3338.
Nominations open for AUM Alumni Board
Are you passionate about AUM? Do you want to make a difference? Are you willing to be a leader in the AUM Alumni Association? We invite you to apply for a position on the AUM Alumni Board of Directors.
The Auburn University at Montgomery Alumni Board meets three times per year on the AUM campus, and board members serve a term of two years. AUM Alumni Board members must be members of the AUM Alumni Association.
Nominations are due August 1: 2017 Alumni Association Nomination Form
Educators attend Reilly workshop
Dr. Erin Reilly, a professor in the Department of Kinesiology who is serving as the 2017-2018 president of the Alabama State Association for Health, Physical Education, Recreation and Dance (ASAHPERD), recently hosted a workshop at AUM on "Enhancing Academic Achievement."
More than 50 educators from around the state attended the workshop, which included presenters Tiffany Higginbotham, a physical therapist and owner of Body Logic Physical Therapy and Wellness in Montgomery; Juli Bethea, a teacher at Trinity Presbyterian School in Montgomery; Nancy Ray of the state department of Education; and Angela Russell, a doctoral candidate at the University of Alabama and a researcher in the field of exercise in special populations.
Farrow lectures on Alaska Purchase
Dr. Lee Farrow, distinguished teaching professor in the Department of History, World Languages and Cultures, recently gave a lecture on the Alaska Purchase at the invitation of the Seward House Museum in Auburn, New York. Farrow's book, Seward's Folly: A New Look at the Alaska Purchase, led to the invitation.
Farrow was invited by Jeff Ludwig, education director of the Seward House Museum, who used Farrow's book as the main source for a new exhibit in the museum on the Alaska Purchase.
Farrow's lecture was one of many sesquicentennial events organized by the Seward House and other museums in the United States. In her talk, Farrow discussed international reaction to the purchase in 1867, as well as contemporary ideas and conspiracy theories about the future of Alaska.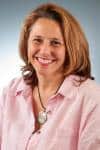 Evans editor of 'Critical Approaches: Moral'
Dr. Bob Evans, a professor in the Department of English and Philosophy, is the editor of a new volume in the Critical Approaches series published by Salem Press. Critical Approaches to Literature: Moral includes essays by such noted scholars as James S. Baumlin, Jeffrey Folks, Brian Yothers, Christopher Baker, R. Kent Rasmussen, Nicolas Tredell and Susan C. W. Abbotson, among others.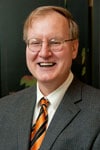 Trivia Tuesday: Mental Health Edition
Counseling and Health Promotion Services is sponsoring "Trivia Tuesday: Mental Health Edition," the game where knowing the right answers to questions about your mental health makes you a winner! Answer trivia questions Jeopardy-style to win awesome prizes and learn more about mental wellness.
Today, July 11 | 12:30–1:30 p.m. | Taylor Center 230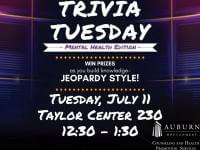 Housing Pool Party
It's hot outside, but Housing is oh, so cool! AUM students, join Housing and Residence Life for a pool party at the Wellness Center to cool off, chill out and float away on the waves. There will be food and pool games!
Tue., July 18 | 5 p.m. | Wellness Center Pool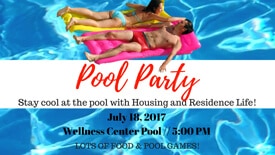 Alumni Travel at Home — Tuskegee
Join the Auburn University at Montgomery Alumni Association for a tour of the Tuskegee Airmen National Historic Site and The Oaks, Booker T. Washington's former home. The tour group will depart from AUM at 9:15 a.m. on Fri., July 21. Transportation to Tuskegee and lunch will be provided. RSVP to [email protected] or 334-244-3369.
Fri., July 21 | Departure from AUM: 9:15 a.m. | Tuskegee, Ala.
Housing Move-in
Welcome, new Warhawks! We are beyond excited to have you and are on hand to help with absolutely anything you need! Housing Move In is from 9 a.m. to 3 p.m. on Aug. 11-12, with returning Warhawks flying in Aug. 11 and brand-new Warhawks landing Aug. 12. The Housing and Residence Life staff will be on hand and ready to help! We'll see you there!
Fri., Aug. 11–Sat., Aug. 12 | 9 a.m.–3 p.m. | Housing communities
'Kickback' with Residence Life
It's hot outside, but Housing is so cool! All students are invited to join Housing and Residence Life in The Nest for a building-wide party, complete with pizza and a DJ, as well as games and dancing!
Sat., Aug. 12 | 5 p.m. | The Nest
Project Wild educator certification
Elementary and middle school teachers, including pre-service teachers, are invited to join the College of Education for a morning of environmental education and receive your certification as a Project Wild educator.
Project Wild curriculum is a wildlife-focused conservation education program designed for elementary educators.
All curriculum materials will be provide free of charge by the Alabama Department of Conservation and Natural Resources. See the curriculum at Project Wild's website.
Space is limited, so sign up today by emailing [email protected]. Anyone interested in environmental education can register.
Wed., July 26 | 8 a.m.–noon | AUM Reading Center (Liberal Arts 112)
Faculty Service Award nominations are open
The AUM Alumni Association is now accepting nominations for the 2017 Faculty Service Award.
The Alumni Association sponsors the Faculty Service Award to recognize outstanding Auburn University at Montgomery faculty. To be eligible for this honor, faculty must have five or more years of full-time service at AUM. The award will be conferred during the fall semester convocation and the recipient will receive a $1,000 check from the Alumni Association.
To nominate a faculty member, see the full instructions.
For more information, contact Valerie Rankin at [email protected].
Faculty: AUM Study Abroad accepting proposals for 2018
Faculty, do you want to turn your class into an unforgettable experience? Are you interested in creating and leading a Study Abroad course for spring or summer 2018?
Think about aligning your course with a study abroad component. AUM Study Abroad is now accepting faculty-led program proposals for 2018. Faculty can find the 2018 Faculty-Led, Short-Term Study Abroad Handbook on AUM's Study Abroad website.
The proposal deadline is Thu., Aug. 31, 2017, at 4 p.m.  For questions or information, contact Yiyun (YY) Liu, AUM Study Abroad manager, at 334-244-3544 or [email protected].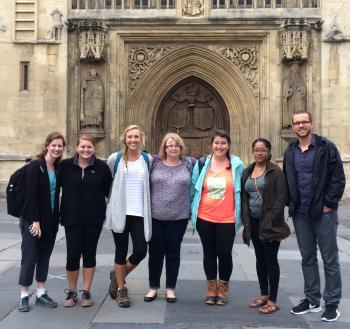 Dr. Seth Reno, far right, leads AUM students in England.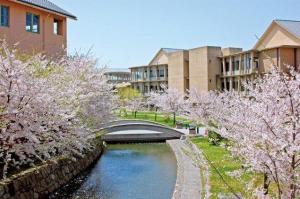 Students and faculty also study abroad in Japan.