Warhawk Weekly 7–10: Project Learning Tree; Dragon Boat Team
Warhawk Weekly 7–10: Project Learning Tree; Dragon Boat Team
NEWS
Project Learning Tree workshop success
Join the AUM Dragon Boat team!
Be a part of the Unmasked Fashion Experience
Bio Boot Camp
Faculty: Send in Study Abroad proposals
Nominations now open for Faculty Service Award
Faculty, Staff: UNIV has open teaching positions
Enroll in Fall Payment Plans
EVENTS
Alumni Night at ASF
From Our Community to Yours: Family Sunshine Center
Cool Strokes
NEWS
Project Learning Tree workshop success
In a partnership with the Alabama Forestry Association, the AUM College of Education hosted a Project Learning Tree (PLT) workshop for classroom and future teachers. PLT is a forestry-focused conservation education program for K-12 educators and their students. The Alabama Forestry Association staff, along with staff from the Alabama Department of Education, conducted the half-day professional development for our education majors and local classroom teachers. PLT uses trees and forests as windows on the world to increase students' understanding of the environment and actions they can take to conserve it.
From its beginning in 1976, PLT has exemplified high-quality environmental education. Attendees of the workshop participated in a variety of activities from the PLT Curriculum guide, which was provided to all of the participants at the workshop. They left the professional development with new knowledge and teaching strategies that they are eager to share with their future students.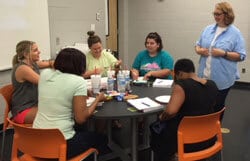 Join the AUM Dragon Boat team!
AUM faculty, staff or alum interested in paddling for the Montgomery Dragon Boat Race on Aug. 25 should email Alice Jia or call 334-244-3121 by July 13 to find out how to join!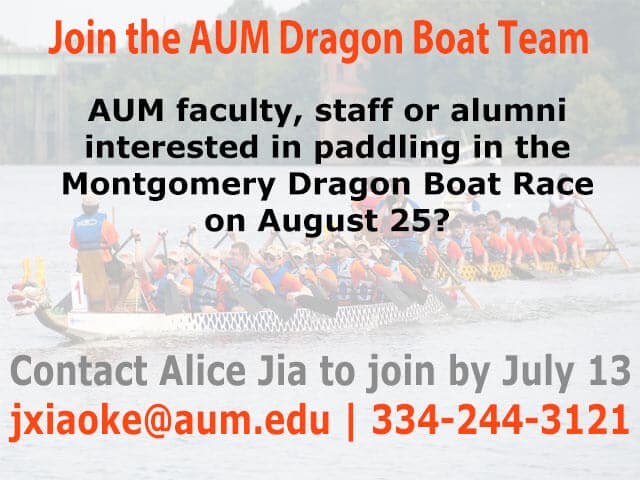 Be part of the Unmasked Fashion Experience
Sharp Love Productions is hosting a fashion show on AUM's campus and is looking for student models and volunteers to help put on the show. There is no cost to tryout or sign up to help. The show will be Sun., Sep. 23 at 6 p.m.
Anyone interested in modeling, helping with production, or working as a stagehand needs to email Kayla Nettles or call 423-362-6823 or 985-640-5862 by July 20.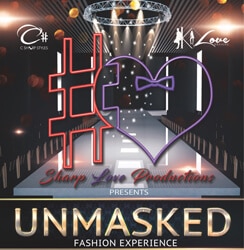 Bio Boot Camp
Biology and Environmental Science is hosting Bio Boot Camp for all students to get ready to take BIOL 1010/1011. The camp will be the week before fall classes begin (Aug. 13–17) from 9 a.m.–3 p.m. (lunch is provided). There is a $10 attendance fee, and students must sign up for the camp by registering for BIOL 0006 for fall term.
If you have any further questions or concerns, please email Chelsea Ward or call 334-244-3317.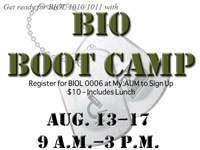 Faculty: Send in Study Abroad proposals
Do you want to turn your class into an unforgettable experience? Are you interested in creating and leading a Study Abroad course for spring or summer 2019?
Study Abroad is now accepting faculty-led program proposals for 2019! Faculty can find the 2019 Faculty-Led, Short-Term Study Abroad Handbook on AUM's Study Abroad website.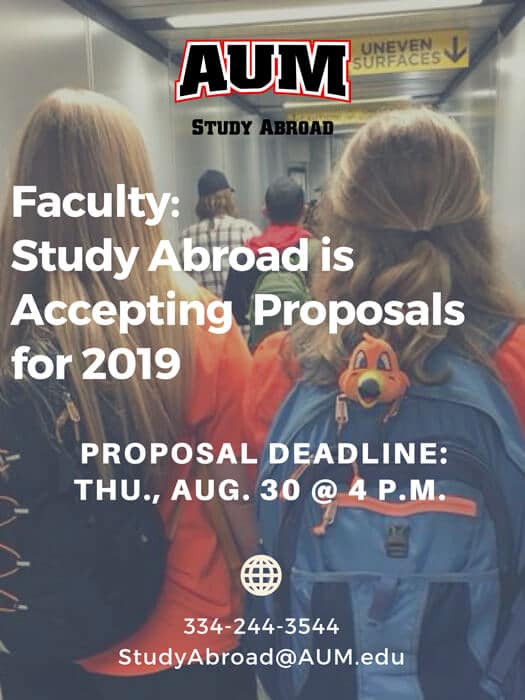 For more information, please email Yiyun (YY) Liu or call 334-244-3544.
Deadline: Thu., Aug. 30 by 4 p.m.
Nominations now open for Faculty Service Award
The AUM Alumni Association sponsors an alumni faculty service award to recognize outstanding AUM faculty. To be eligible for this honor, faculty must have five or more years of full-time service at AUM. This honor will be conferred during the fall semester convocation and the recipient will receive a $1,000 check from the Alumni Association.
Nominations by AUM faculty, staff, students, alumni and friends must be submitted or postmarked by Aug. 31. Nomination letters should be no more than two pages in length and should emphasize teaching excellence as well as a strong record of service to the university and community. A vita may be attached, if available.
Please send all nomination letters to: Awards Committee, Auburn University at Montgomery Alumni Association, P.O. Box 244023, Montgomery, AL 36124-4023, or email them to [email protected]. If you have any further questions, please email Valerie Rankin or call 334-244-3557.
Faculty, Staff: UNIV has open teaching positions
Are you interested in teaching first-year students and helping them succeed at AUM? Then, consider teaching a UNIV course in the fall!
UNIV is committed to AUM's mission to exemplify excellence through education, as well as the institution's emphasis on increasing retention, persistence and graduation rates. UNIV provides opportunities for students to successfully transition into college, both academically and personally. Specifically, it orients students to AUM's academic expectations, introduces them to services that support their academic success, guides them through professional, academic and personal goal-setting processes, and provides a peer cohort with whom they experience their first semester.
In addition to providing professional development, resources, supplies, and support, the UNIV Program creates the course syllabus and builds the course in Blackboard for you.
For an application packet or more information, please email UNIV Program Manager Amy Ingram or call 334-244-3153.
Enroll in Fall Payment Plans
Four payment plans are available for the Fall 2018 semester.
For more information, visit AUM Student Accounts online or call 334-244-3286.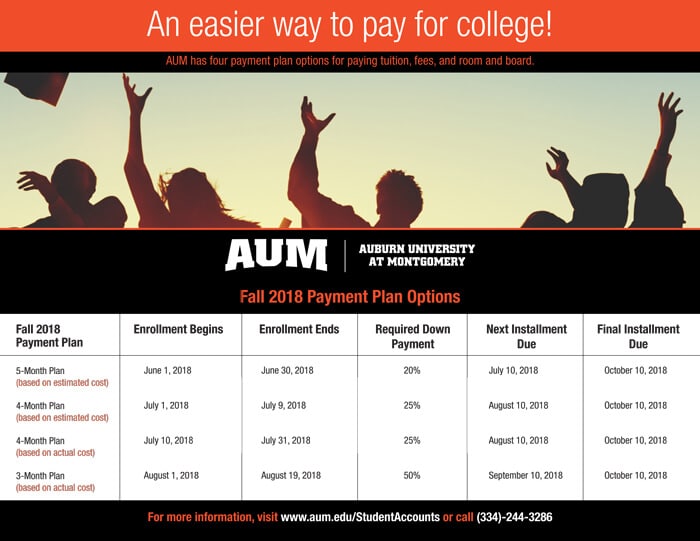 EVENTS
Alumni Night at ASF
Please join us for a night out featuring the Alabama Shakespeare Festival production of Annie. A limited number of tickets is available to AUM alumni and their guests.
No one can resist the optimism of Annie, a little orphan girl who refuses to give up hope. The delightful cast of this feel-good musical will get toes tapping with memorable song-and-dance numbers, such as "It's the Hard Knock Life," "Easy Street" and "Tomorrow."
If you have other questions, please email the Office of Alumni Affairs or call 334-244-3557.
Thu., Jul. 12 | 7:30 p.m. | Alabama Shakespeare Festival
From Our Community to Yours: Family Sunshine Center
Summer is in full swing, and Housing is ready to give back to the community! Join Housing and Residence Life for their community service effort with the Family Sunshine Center, a shelter for battered women and children in the River Region. Lunch and transportation is provided; sign up in the Housing office.
Fri., Jul. 13 | 9:30 a.m. | Meet in The Nest

Cool Strokes
Summer has gotten extremely hot, but Housing and Residence Life wants to keep things cool! With exams around the corner, Housing is ready to help you relax and chill out with some frozen treats and creativity. Join Housing under the tent on the lawn next to Plum Place for painting art and some cool snacks!
Tue., Jul. 17 | 7 p.m. | The lawn next to Plum Place