Warhawk Weekly 6–27: Study Abroad Mexico City; Christian sorority at AUM
Warhawk Weekly 6–27: Study Abroad Mexico City; Christian sorority at AUM
Note: Warhawk Weekly will not publish Tuesday, July 4. We will resume publication Tuesday, July 11.
AUM students study abroad in Mexico
Six AUM students are halfway through a Study Abroad trip to Mexico City, Mexico.
Ellen Smith, Tara Fenn, Ta'Kyler Barley, Rudolph Munnerlyn, Rachel Pate and Freeman Elam departed June 19 for the Mexican capital, led by Dr. Pamela H. Long, associate professor and coordinator of the Division of World Languages and Cultures. During the 15-day educational trip, the students are exploring Mexican language and culture.
Student Involvement welcomes Christian sorority in fall
The Office of Student Involvement and Leadership Programs will welcome Sigma Alpha Omega National Christian Sorority Inc. to campus beginning in Fall 2017. Beginning this September, Sigma Alpha Omega (SAO) will hold various information sessions for women who are interested in joining. SAO is looking to engage highly motivated women who will help forge a successful path for SAO at AUM for years to come!
Sigma Alpha Omega's mission is to glorify God by reaching women across the world through the expansion of the sisterhood, by encouraging spiritual development through Christ-inspired accountability and unity, by participating in evangelistic and philanthropic endeavors, and by focusing on good scholarship and humble leadership.
Those interested are encouraged to contact Natasha Lyons, SAO's vice president of expansion, for further details on SAO as well as our informational sessions, at [email protected].
To learn more about Sigma Alpha Omega Christian Sorority, Inc., visit its website. More information about the fall programs will be released in August. For general information, email Assistant Director DeLisa Joseph at [email protected].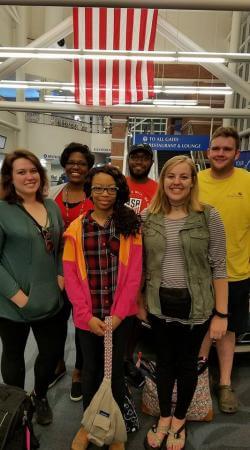 Study Abroad students — from left to right,
Ellen Smith, Tara Fenn, Ta'Kyler Barley,
Rudolph Munnerlyn, Rachel Pate and Freeman
Elam — await their flight to Mexico City.
Admissions counselors attend higher education conference
AUM's admissions counselors — Adonis Bozeman, Jordan Cockrell, Shaw Cornelius and Shanisty White — and Associate Registrar Ronnie McKinney recently attended the annual conference of the Alabama Association of Collegiate Registrars and Admissions Officers in Mobile, Ala.
ALACRAO hosts annual meetings and college fairs throughout Alabama, including a three-day annual meeting in June to provide members with professional development opportunities.
Each annual meeting features a schedule of sessions covering higher education issues within admissions, articulation, school relations, records/registration and professional access and equity.
McKinney served as president of ALACRAO for the 2016–2017 academic year, his term ending at this year's conference.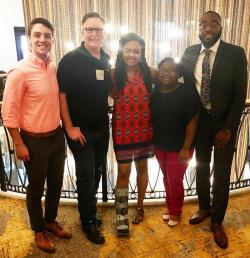 From left to right, AUM's Shaw Cornelius,
Ronnie McKinney, Jordan Cockrell, Shanisty White,
and Adonis Bozeman recently returned from a higher
education conference in Mobile, Ala.
Last call for Fall 2017 Warhawk WOW events
Each semester the Office of Orientation and Transitions puts on the Weeks of Welcome — better known as WOW. During these weeks, clubs and organizations have the opportunity to host an event on campus from sponsoring a business breakfast to putting on an activity for all of our Warhawks.
Weeks of Welcome will last throughout the first few weeks of the new semester. If you are interested in having an event at Fall 2017 WOW, please fill out the online application. Fall 2017 WOW events are due by July 1, 2017.
Additionally, this summer, the Club and Organization Fair will be held during WOW events rather than during Orientation and Transition sessions. The Club and Organization Fair will have two dates:
Aug. 22 | 11:30 a.m.–1 p.m.
Aug. 30 | 5:30 p.m.–7 p.m.
TODAY — Kickoff to Summer Cookout
It's officially summer, and Housing and Residence Life is ready to celebrate! Do you like burgers, hot dogs, and games? Join Housing and Residence Life in the shade for some tasty food and lots of fun!
Today, June 27 | 4 p.m. | Warhawk Hall grilling stations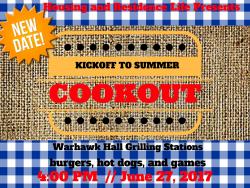 'Early Alabama Voices'
Sense of Place: Stories of Alabama in History and Fiction, a teacher institute led by Nancy Anderson, distinguished OutReach fellow, and sponsored by the Alabama Humanities Foundation, will present "Early Alabama Voices," an evening of readings by Native Americans, explorers, settlers, slaves and writers in Alabama of the 18th and 19th centuries.
The institute will take place at the Cloverdale Playhouse in Montgomery. Other scholars participating are Cliff Browning, Foster Dickson, Wayne Flynt, Frye Gaillard, Steve Murray and Donald G. Nobles, among others.
Tue., June 27 | 7:30 p.m. | Cloverdale Playhouse, 960 Cloverdale Road, Montgomery | Admission: General, $15; Student, 10 years through college, $10
Trivia Tuesday: Mental Health Edition
Counseling and Health Promotion Services is sponsoring "Trivia Tuesday: Mental Health Edition," the game where knowing the right answers to questions about your mental health makes you a winner! Answer trivia questions Jeopardy-style to win awesome prizes and learn more about mental wellness.
Tue., July 11 | 12:30–1:30 p.m. | Taylor Center 230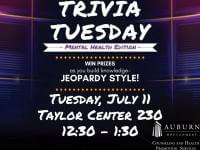 Housing Pool Party
It's HOT, but Housing is oh, so cool! AUM students, join Housing and Residence Life for a pool party at the Wellness Center to cool off, chill out and float away on the waves. There will be food and pool games!
Tue., July 18 | 5 p.m. | Wellness Center Pool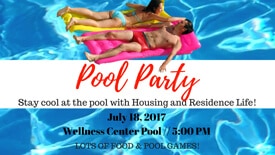 Project Wild educator certification
Elementary and middle school teachers, including pre-service teachers, are invited to join the College of Education for a morning of environmental education and receive your certification as a Project Wild educator.
Project Wild curriculum is a wildlife-focused conservation education program designed for elementary educators.
All curriculum materials will be provide free of charge by the Alabama Department of Conservation and Natural Resources. See the curriculum at Project Wild's website.
Space is limited, so sign up today by emailing [email protected]. Anyone interested in environmental education can register.
Wed., July 26 | 8 a.m.–noon | AUM Reading Center (Liberal Arts 112)
Submit Faculty Service Award nominations
The AUM Alumni Association is now accepting nominations for the 2017 Faculty Service Award.
The Alumni Association sponsors the Faculty Service Award to recognize outstanding Auburn University at Montgomery faculty. To be eligible for this honor, faculty must have five or more years of full-time service at AUM. The award will be conferred during the fall semester convocation and the recipient will receive a $1,000 check from the Alumni Association.
To nominate a faculty member, see the full instructions.
For more information, contact Valerie Rankin at [email protected].
AUM Study Abroad accepting proposals for 2018
Faculty, do you want to turn your class into an unforgettable experience? Are you interested in creating and leading a Study Abroad course for spring or summer 2018?
Think about aligning your course with a study abroad component. AUM Study Abroad is now accepting faculty-led program proposals for 2018. Faculty can find the 2018 Faculty-Led, Short-Term Study Abroad Handbook on AUM's Study Abroad website.
The proposal deadline is Thu., Aug. 31, 2017, at 4 p.m.  For questions or information, contact Yiyun (YY) Liu, AUM Study Abroad manager, at 334-244-3544 or [email protected].
Faculty, staff: $20 off youth camps
Spots are filling up quickly for AUM OutReach's summer educational enrichment activities, now through July 28, and AUM faculty and staff receive $20 off all camps! Sign up your children and share the camps with friends and neighbors. Register online or call 334-244-3804.