Warhawk Weekly 6–20: Welcome to AU president; Muckler-Elliott scholarship established
Warhawk Weekly 6–20: Welcome to AU president; Muckler-Elliott scholarship established
Kickoff to Summer Cookout
It's officially summer, and Housing and Residence Life is ready to celebrate! Do you like burgers, hot dogs, and games? Join Housing and Residence Life in the shade for some tasty food and lots of fun!
Tue., June 27 | 4 p.m. | Warhawk Hall grilling stations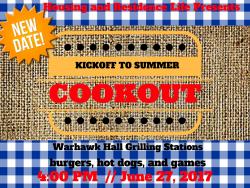 Anderson-led teacher institute presents 'Early Alabama Voices'
Sense of Place: Stories of Alabama in History and Fiction, a teacher institute led by Nancy Anderson, distinguished OutReach fellow, and sponsored by the Alabama Humanities Foundation, will present "Early Alabama Voices," an evening of readings by Native Americans, explorers, settlers, slaves and writers in Alabama of the 18th and 19th centuries.
The readings will take place at the Cloverdale Playhouse in Montgomery. Other scholars participating are Cliff Browning, Foster Dickson, Wayne Flynt, Frye Gaillard, Steve Murray and Donald G. Nobles, among others.
Tue., June 27 | 7:30 p.m. | Cloverdale Playhouse, 960 Cloverdale Road, Montgomery | Admission: General, $15; Student, 10 years through college, $10
Faculty, staff: $20 off youth camps
Spots are filling up quickly for AUM OutReach's summer educational enrichment activities. AUM faculty and staff receive $20 off all camps!
OutReach at AUM currently has almost 700 campers registered for its summer youth camps, beginning the week of June 5 until July 28. Some of the most popular camps are Vet Camp, Robotics, Cupcake Craze, Hogwarts Academy and American Girl Camp.
Sign up your children and share the camps with your friends and neighbors. Register online or call 334-244-3804.
AUM Alumni Night at the Biscuits
Are you ready for some family fun and baseball?
Join us at the Riverwalk Stadium for a night of excitement and great Biscuits baseball action! Each Alumni Association member will receive $5 in Biscuit Bucks with their order. Go online to reserve tickets.
For more information, contact the AUM Alumni Association at 334-344-3557 or [email protected].
Thu., June 22 | 7:05 p.m. | Montgomery Riverwalk Stadium
Clubs and Orgs – Get Visibility
Each semester the Office of Orientation and Transitions puts on the Weeks of Welcome — better known as WOW. During these weeks, clubs and organizations have the opportunity to host an event on campus from sponsoring a business breakfast to putting on an activity for all of our Warhawks.
Weeks of Welcome will last throughout the first few weeks of the new semester. If you are interested in having an event at Fall 2017 WOW, please fill out the online application. Fall 2017 WOW events are due by July 1, 2017.
Additionally, this summer, the Club and Organization Fair will be held during WOW events rather than during Orientation and Transition sessions. The Club and Organization Fair will have two dates:
AUM students: Housing Pool Party
It's HOT, but Housing is oh, so cool! AUM students, join us for a pool party at the Wellness Center to cool off, chill out and float away on the waves. There will be food and pool games!
Tue., July 18 | 5 p.m. | Wellness Center Pool