Warhawk Weekly 6–16: Experiential learning; Vote AUM; Poll initiative
NEWS
Leading experiential learning at AUM
Vote AUM the River Region's No. 1 university
AUM Poll initiative to study voter opinions
Weighing COVID-19's impact on elections
CARES Act reminder
Love playing music?
Get healthy with Zoom fitness
Leading experiential learning at AUM
Michelle "Shelly" Taliaferro, Taylor Palmer and Brenda Plympton are the faces of AUM's new Experiential Education and Engagement Center (EEEC). The three-member team is charged with overseeing student peer mentoring, faculty development and experiential learning at AUM.
Taliaferro, who previously served as a senior lecturer of biology, will lead the team in her new role as EEEC director. Taliaferro is known for her collaborative and environmental work on and off campus, including her recent project to build AUM's chimney swift tower with funding from Alabama Audubon.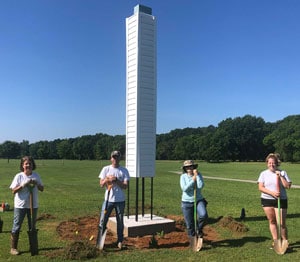 "I am grateful for this new opportunity to help improve student retention and ensure students' path to graduation," she said. "I have a deep commitment to supporting student success, and this new position allows me to continue my work in this area."
In Fall 2019, AUM announced the creation of the Experiential Education and Engagement Center through a $2.16 million, Title III "Strengthening Institutions" grant awarded from the U.S. Department of Education. Over the next five years, the grant will support the center's staffing and AUM's efforts to improve student retention and persistence to graduation through increased student engagement and faculty development.
Vote AUM the River Region's No. 1 university
We know that Auburn University at Montgomery is the No. 1 destination for learning and working in the River Region, and beyond. Now, we need your help to show that we're ranked the best because of how much we love our world-class campus.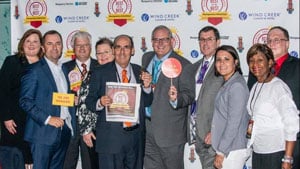 The Montgomery Advertiser has opened voting for its 22nd annual Reader's Choice Awards 2020 "Best of the Best" list, and AUM wants to be at the top.
You can help us get there by showing your Warhawk Pride and voting to make AUM No.1 on this year's list in the Best College/University category (Professional Services). Students, alumni, faculty, staff, and your family and friends can vote once per day in the contest through midnight Sunday, July 5.
With your support, we hope to see AUM named the Reader's Choice Awards top university for the third consecutive year! Submit your vote now online.
AUM Poll initiative to study voter opinions
A new polling initiative at Auburn University at Montgomery (AUM) will gauge Alabama voters' opinions on candidates for office and critical public policy issues, positioning AUM to become a leading destination for poll surveys and students with an interest in politics.
Housed in the AUM College of Liberal Arts and Social Sciences' Department of Political Science and Public Administration, the new polling operation, tentatively known as the AUM Poll, will initially be conducted as a part of a new political science course, "Survey Research Experience," being offered this summer.
Under the guidance of Assistant Professor of Political Science David Hughes, AUM Poll will launch in early July in time to canvass voter preferences in the state's July 14, 2020, Republican runoff for the U.S. Senate. AUM Poll will also measure Alabama voters' opinions on significant political, social, and economic issues at the state and national level.
AUM students taking the survey course will have the opportunity to learn not only how to conduct a public opinion poll, but also how to analyze and interpret polling data, Hughes said.
"The survey data collected by students will then be used to provide information to the public," he said. "We plan to disseminate the results to the general public and the media using a blog and other means."
Learn more about how AUM Poll will impact Alabama elections.
Weighing COVID-19's impact on elections
The COVID-19 pandemic presents a variety of challenges for upcoming political elections, including the safety of voters and poll workers and increased requests for absentee ballots. Auburn University at Montgomery political science assistant professor David Hughes recently discussed the potential impact on voter turnout for upcoming state elections.
Hughes said he expects there will be a healthy voter turnout despite COVID-19 and the state's recent surge in caseloads.
"Now, whether that participation is by mail-in ballot or people turning out to the polls remains to be seen, but there is a real appetite to vote among the public," he said.
Voters nationwide have formed long lines and endured long waits outside polling sites to vote in primary elections during the COVID-19 crisis, giving some indication of what may play out in Alabama next month for Republican primary run-off election and during the November 3 general election, Hughes said.
"We've seen a lot of excitement among the American public to participate in elections recently," Hughes said. "Anytime voters are deciding whether they want to participate in an election, they are considering factors such as the relative weight their vote carries, the costs of turning out, and the democratic imperative to participate."
CARES Act reminder
Applications are still being accepted for funding through the Coronavirus, Relief and Economic Security (CARES) Act, which provides higher education emergency relief funding to AUM students affected by disruptions during the Spring 2020 semester due to the COVID-19 pandemic.
AUM students can only apply one time for funding. If approved, students will receive funds via direct deposit. Students are asked to verify their bank account and routing number. Because payments are processed manually, there may be some delay between application approval and receipt of funds.
Grants may be used to offset expenses related to the disruption of campus operations during the spring semester, including housing, tuition, course materials, fees, technology, food, health care, or childcare. Eligible students can complete the online application process until all CARES Act funds are exhausted.
In order to qualify for CARES Act grant funding, students must meet the following criteria in accordance with federal guidelines:
A student must have been enrolled during the Spring 2020 semester when the university made the transition from face-to-face instruction to remote course delivery on March 23, 2020.
A student must have a completed 2019-2020 FAFSA on file with AUM and meet all federal aid eligibility guidelines. If you have not yet filed FAFSA for 2019-2020, but are eligible to do so, please complete the form by June 30, 2020.
Students who withdrew from all spring classes are not eligible to receive funding. The CARES Act does not allow funds to be used for international or DACA students or U.S. citizens who were enrolled exclusively online at the beginning of the Spring 2020 semester.
Student who have submitted applications for CARES Act emergency funding began receiving payments June 8.
For more information on the CARES Act, eligibility requirements and the application process, please visit our FAQ page.
Love playing music?
If you can play an instrument and have a passion for music, there might be a spot and scholarship for you with AUM's Spirit Band.
The AUM Spirit Band is a new tradition at our university, and virtual auditions are taking place now. Honors Associate Professor and Fine Arts Advisor Mark Benson is assembling the band's new ensemble to perform at university and community events.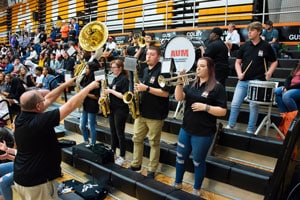 Get healthy with Zoom fitness
AUM's Wellness Center continues to offer virtual group fitness classes via Zoom. Work up a sweat without leaving your home. Email [email protected] to register for your choice of classes and you'll receive a Zoom link with your confirmation.
This week's offerings include:
Wednesday
11 a.m. – Yoga with Rebecca
12:30 p.m. – Body Barre with Angel
5:30 p.m. – Extreme Chaos with Erin
Thursday
9 a.m. – 30 Grind/ 30 Butts & Guts with Angel
11 a.m. – Stretch & Stability with Carroll
3 p.m. – Zumba with Monette
Friday
11 am. – Zumba with Leigh Anne
12:30 p.m. – Pilates with Carroll