Warhawk Weekly 5-28: Filibuster jobs still available; Summer Enrichment Camp slots open
Warhawk Weekly 5-28: Filibuster jobs still available; Summer Enrichment Camp slots open
NEWS
Filibuster jobs for students –– Last call for applications!
Save now on Summer Enrichment Camp!
AUM Athletics offers variety of sports camps
Sign up for AUM texts!
Summer payment plans open for May and Summer
Summer ACT Test Prep
Apply for Summer Graduation!
EVENTS
Student Orientations
Game Night with Housing
Stand Out; Move Ahead in your Career
NEWS
Filibuster positions close Friday
Filibuster, AUM's student-run literary and arts magazine, is looking for a new editor-in-chief and graphic designer for its 2020 issue. The positions begin in the fall 2019 semester and continue into the spring 2020 term. Students will receive a small scholarship as part of their position.
To apply, candidates need to submit both a one-page letter of intent that describes their vision for the magazine and a one-page resume that describes their qualifications for serving the position.
Experience with Adobe In-Design is required for the graphic design position. Experience with In-Design is preferred, but not required for the editor position. All candidates must be enrolled as a full or part-time student during the year to serve in the position, and he or she must maintain a 2.0 grade point average. Applicants should also have completed ENGL 1010 and ENGL 1020.
Candidates can send their required documents as attached Microsoft Word files to Filibuster's academic advisor, Dr. Robert Klevay. The deadline to apply for the position is May 31.
Save now on Summer Enrichment Camp!
Find the perfect summer enrichment camp for your K5-12 camper at AUM. Classes start June 10.
The AUM Summer Enrichment Camp is the perfect way for your kids to have fun while they catch up – or get ahead – with Math, Reading, Language, Science & Technology Art and Special Interest classes.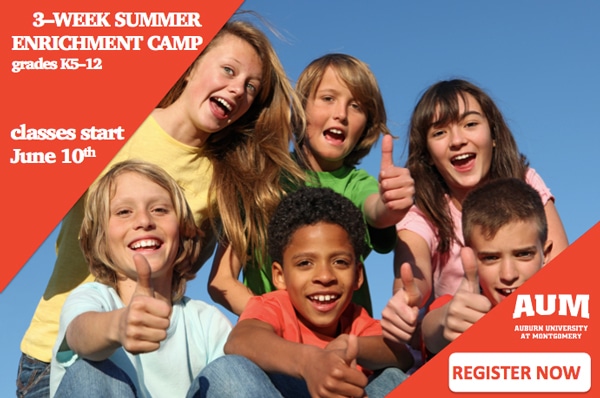 Military and Employee discounts are available; register now to save a spot for you child!
AUM Athletics offers sports camps
AUM Athletics will offer summer camps for volleyball, boy's basketball and softball. AUM's youth volleyball camp for students in grades 2-8 begins will run from June 3-7. There will also be all-skills camps, as well as a variety of specialized camps, for players in grades 9-12. Learn more about the volleyball camps at https://www.flaviasiqueiravolleyballcamps.com/.
Coach Cheaney's Basketball Academy will feature boy's basketball camps for students in grades 1-11 June 3-6 and July 29-August 1, as well as an Elite Camp on June 8 for players in grades 9-12. Learn more at https://www.coachcheaneybasketballcamp.com/.
The Eric Newell Softball Camps will feature prospect camps for players in grades 7-12 May 29, June 13, 17 and 25, and July 2, 3 and 23. Learn more at https://www.ericnewellsoftballcamps.com/.
Sign up for AUM texts!
You're a busy Warhawk –– we know! Now you can get info on campus events, important dates and deadlines and more texted right to your phone.
Summer payment plans just in time for Summer Semester
Registration is open for AUM's summer courses, and payment plans make it easier to spread the cost. Payment plans make paying for classes easier by breaking the cost into smaller payments.
2-Month Plan: 1st installment is 50% of actual charges; plan enrollment is May 14–June 3.
Haven't started your summer registrations yet? Log into MyAUM and search for summer courses. If you don't see the course you want or need, let us know at www.aum.edu/WishList.
For more information, please visit www.aum.edu/PaymentPlans or call 334-244-3286.
Get a jump on ACT Test Prep
AUM Continuing Education and Community Engagement offers ACT Test Prep courses throughout the year for those who wish to improve their ACT scores, or prepare for the exam. The next upcoming ACT Test Prep classes start in June. Classes meet from 6-8 p.m., Mondays through Thursdays.
For a complete review of all subjects, the cost is $309 or it is $119 for individual reviews of one subject. There is a $20-off discount to AUM faculty and staff; use coupon code AUDISC19.
Apply for Summer Graduation!
If you plan to graduate this summer, please apply online through the MyAUM portal until June 14.
If you have any questions, please email [email protected] or visit www.aum.edu/Graduation.
EVENTS
Student Orientations
New Warhawks will be on campus this week for orientation. They'll learn about AUM's programs, services and traditions, and register for classes and connect with fellow classmates. Please help us welcome our new Warhawks with big smiles!
International
Tues., May 28–Thurs., May 30
Graduate
Tues., May 28 | 5:30–7:30 p.m.
Undergraduate
Thurs., May 30 | 8 a.m.
Fri., May 31 | 8 a.m.
Game Night with Housing
Let's kickoff the summer semester with fun, games, and free food! Join Housing & Residence Life for Game Night. We look forward to seeing you there!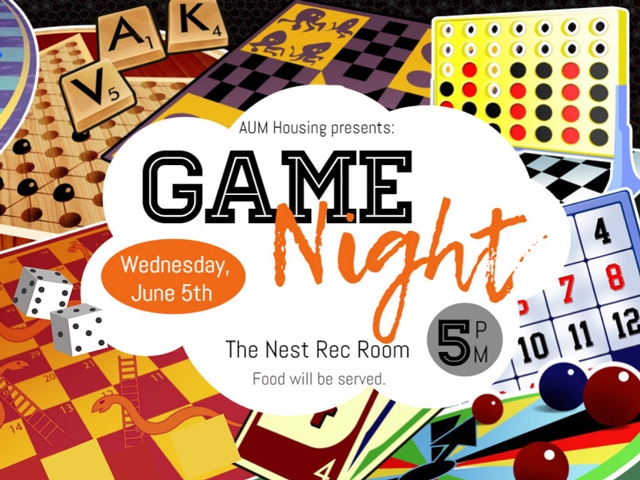 Wed., June 5 | 5 p.m. | The Nest Rec Room
Stand Out; Move Ahead in your Career
Are you ready to stand out and move ahead in your career? Join the College of Business in June for a Business Graduate Studies event to network and get answers to questions such as:
What business degree suits my career path and goals?
Can I fit business school into my schedule?
Is graduate school affordable?
Register online to save your spot at Business Graduate Studies events!
Wed., June 5 | 11:30 a.m.–1 p.m. | Chicken Salad Chick, 7924 Vaughn Rd.
Tues., June 18 | 7:30–8:30 a.m. | Prevail, 39 Dexter Ave.