Warhawk Weekly 5–23: Computer science student tapped for mentoring program; Evans named editor
Warhawk Weekly 5–23: Computer science student tapped for mentoring program; Evans named editor
#WhyWeLearn
Digital Humanities course provides tech edge for students
Auburn University at Montgomery students are learning about the Humanities while sharpening their technological and analytical skills. AUM World Languages and Cultures professors are providing cutting-edge instruction in Digital Humanities — a method for learning about literature, music, architecture or historical documents with the aid of digital tools — that is giving students an edge as they prepare for future careers or post-graduate studies.
Computer science student selected for mentoring program
Adrian Rodriguez, an AUM student majoring in Computer Science, has been selected to participate in the XSEDE EMPOWER (Expert Mentoring Producing Opportunities for Work, Education, and Research) Program during Summer 2017.
Rodriguez has been approved to work on the "Introduction to Computational and Mathematical Tools" project with his mentor, Dr. Luis Cueva-Parra, associate professor and associate head of the Department of Mathematics and Computer Science at Auburn University at Montgomery.
Rodriguez will work under Cueva-Parra's supervision for 10 weeks for 30 hours per week over the summer. And he will attend a 2-week Petascale Institute at the National Center for Supercomputer Applications (NCSA) at the University of Illinois at Urbana-Champaign, May 29–June 9.
XSEDE is an NSF-funded project that comprises 13 supercomputer resources and expertise providers including University of Illinois at Urbana-Champaign, Carnegie Mellon University/University of Pittsburgh, University of Texas at Austin, University of California San Diego, and many others.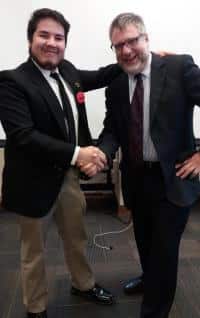 Adrian Rodriguez is congratulated
by Dr. Michael Burger
at the recent Dean's List luncheon.
Evans named editor of 'Critical Approaches to Literature'
Dr. Bob Evans, professor of English in the Department of English and Philosophy, is the editor of a new book, Critical Approaches to Literature: Psychological.
Published in print and online by Salem Press, the volume contains 17 essays on a wide variety of topics and perspectives. Among the essayists are such noted academics as David Willbern, Allan and Nancy Chavkin, James and Tita Bauman, Michelle Scalise Sugiyama, Jeffrey Folks, Nicolas Tredell, Jeffrey Berman, and Steve Gronert Ellerhoff.
Retirement reception for Marilyn Ray
Faculty and staff are invited to a retirement celebration in honor of Marilyn Ray, associate vice chancellor of Advancement.
Wednesday, May 31 | 4–6 p.m. | Office of Advancement, 7515 Halcyon Summit Drive, Suite 102
Summer 2017 dining hours
Clubs and Orgs – Get Visibility
Each semester the Office of Orientation and Transitions puts on the Weeks of Welcome — better known as WOW. During these weeks, clubs and organizations have the opportunity to host an event on campus from sponsoring a business breakfast to putting on an activity for all of our Warhawks.
Weeks of Welcome will last throughout the first few weeks of the new semester. If you are interested in having an event at Fall 2017 WOW, please fill out the online application. Fall 2017 WOW events are due by July 1, 2017.
Additionally, this summer, the Club and Organization Fair will be held during WOW events rather than during Orientation and Transition sessions. The Club and Organization Fair will have two dates:
August 22 | 11:30 a.m.–1 p.m.
August 30 | 5:30 p.m.–7 p.m.