Warhawk Weekly 5–22: Summer 2018 class updates, payment plans
Warhawk Weekly 5–22: Summer 2018 class updates, payment plans
NEWS
Summer 2018 class updates
Summer 2018 Payment Plans
Summer course wish list
EVENTS
Budget Advisory Committee meeting
Kickoff to Summer Cookout
REMINDERS
Filibuster seeking editor and designer
Summer 2018 class updates
Classes/seats are still available for Summer 18. Classes Start June 4, and the last day to add classes is June 7.
Check out the new convenient payment/installment plans at www.aum.edu/PaymentPlans.
Questions? Contact Student Accounts at [email protected] or 334.244.3286.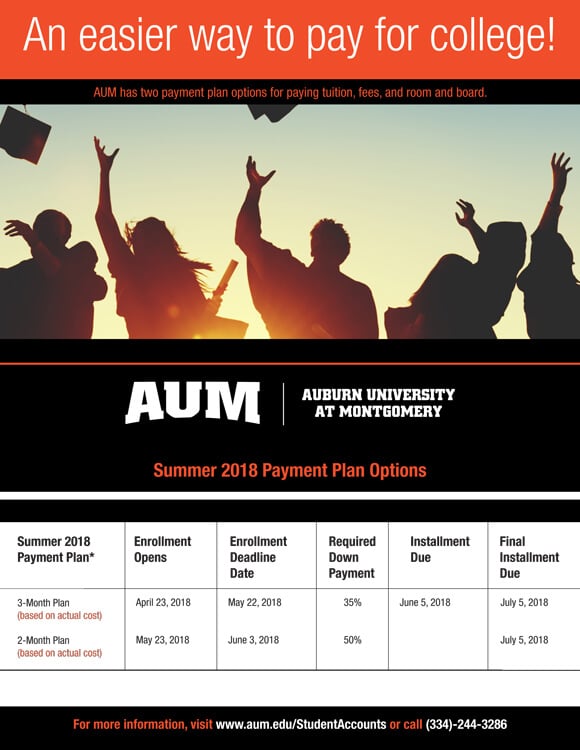 Summer course wish list
Planning to take classes this summer but don't see what you want or need? Auburn University at Montgomery wants to help you stay on track or get ahead this summer! Tell us what you're looking for and we may be able to help. You can also let us know if there's something else keeping you from registering that we might be able to help with.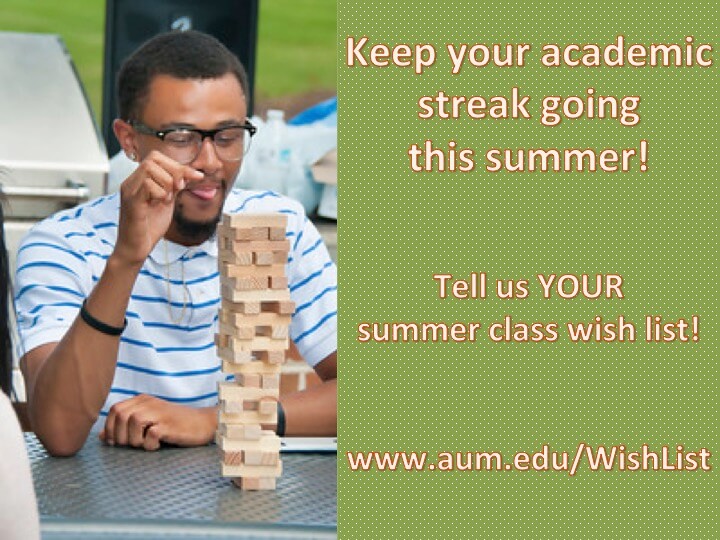 Budget Advisory Committee meeting
The Budget Advisory Committee meets on the fourth Thursday of every month at 2:00 p.m. on the 10th Floor of the Library Tower. Meetings are open to all current AUM faculty, staff and students to attend.
For more information, please call Crystal Taylor, CPA, at 334-244-3716.
Thu., May 24 | 2 p.m. | Library Tower 10th floor
Kickoff to Summer Cookout
Summer is officially here! Join Housing and Residence Life as they kick off the summer semester with a seasonal classic — a cookout! There will be games, activities and lots of hamburgers!
Tue., Jun. 5 | 5:30 p.m. | Warhawk Grilling Stations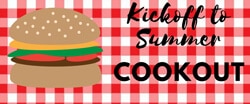 Filibuster seeking editor and designer
The Filibuster, AUM's student-run literary and arts magazine, is looking for a new editor-in-chief and graphic designer for its 2019 issue. The positions begin in the Fall 2018 semester and will continue into the Spring 2019 term.
Experience with Adobe InDesign is required for the graphic design position. Experience with InDesign is also preferred for the Editor position but not required. All candidates must be enrolled as either a full- or part-time student during the year to serve in the position. He or she must maintain a 2.0 grade point average. Applicants should also have completed ENGL1010 and ENGL1020.
To apply, potential candidates will need to submit both a one-page letter of intent that describes their vision for the magazine and a one-page resume that describes their qualifications for serving in the position.
Candidates can send their letter of intent and resume as attached Microsoft Word documents to the Filibuster's academic advisor, Dr. Robert Klevay.
Deadline to apply: May 31, 2018.