Warhawk Weekly 5–2: Fine Arts students in New Orleans; New inMotion interface
Warhawk Weekly 5–2: Fine Arts students in New Orleans; New inMotion interface
#WhyWeLearn
Queens, Jagger and Warhol: Fine Arts students hit New Orleans
AUM students recently had a rare "face-to-face" encounter with Marie Antoinette, the queen of France who died by guillotine.
On a trip to New Orleans, 23 Fine Arts students visited art museums and Tulane University to expand their knowledge and understanding of artwork.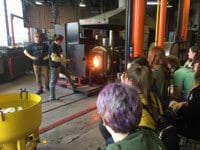 New inMotion interface, step-by-step guide
InMotion, AUM's online creative and publicity request portal, has updated the interface and functionality of the review process. The new version will go into effect on Wednesday, May 3.
Use this step-by-step guide to learn about the new process and please contact Megan Bronson, Client Services Manager with Strategic Communications and Marketing at [email protected] with any questions.
Filibuster seeking new editor-in-chief
Filibuster, AUM's new student-run literary and arts magazine, is looking for a new editor-in-chief for its 2018 issue. The position begins in the Fall 2017 semester and continues into the Spring 2018 term. The position comes with a small scholarship from the College of Arts and Sciences.
To apply, potential candidates will need to submit both a one-page letter of intent that describes their vision for the magazine and a resume that describes their qualifications for serving in the position. Experience with Adobe In-Design is preferred but not required. All candidates must be enrolled as either a full or part-time student during the year to serve in the position, and he or she must maintain a 2.0 grade point average. Applicants should also have completed ENGL1010 and ENGL1020.
Candidates can send their letter of intent and resume as attached Microsoft Word documents to Filibuster's Academic Advisor, Dr. Robert Klevay at [email protected].
The deadline to apply for the position is May 31. Any questions about the position should also be directed to [email protected].
Information Systems students tour Hyundai
On Friday, April 21, several Information Systems students toured the Hyundai plant. These students included Kruti Patel, Wendy Anderson, Alexander LaFrance, Jonathon McNulty, Chris Reeves, Faried Kochi and Lanchessica Cross (pictured left to right).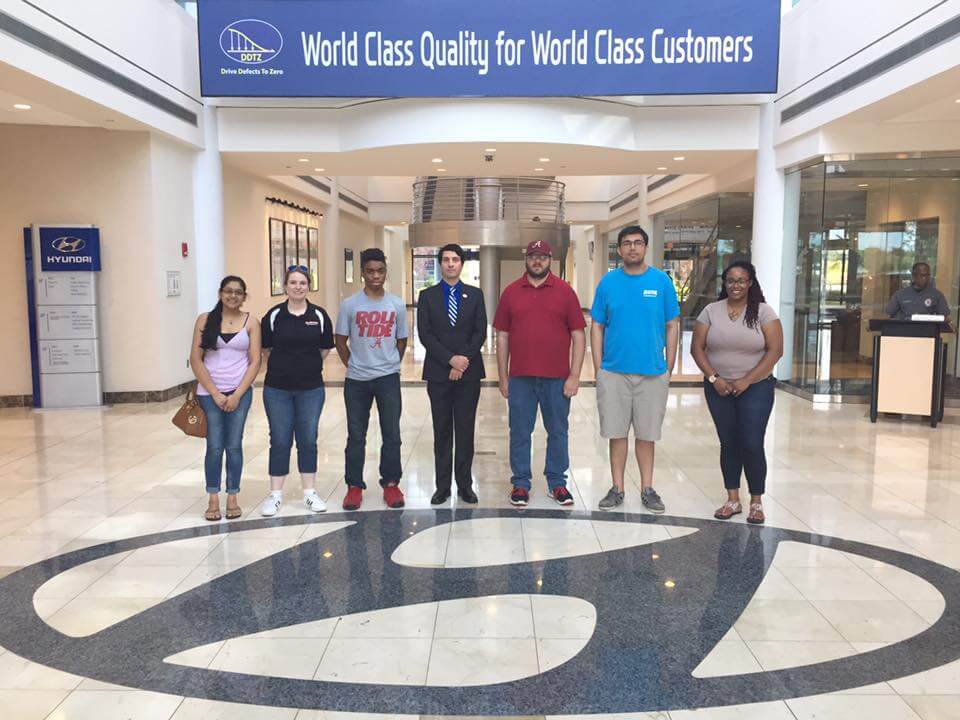 Simmons' Oxford paper at the press in Belgium
The paper that Dr. Michael Bland Simmons, distinguished research professor in the Department of History, World Languages & Cultures, read at the XVI International Conference on Patristics at the University of Oxford, UK, in August 2015, has gone through final editing and will be published later this year in Studia Patristica through Peeters Press, Leuven, Belgium.
The paper, "Exegesis and Hermeneutics in Eusebius of Caesarea's Theophany (Book IV): The Contemporary Fulfillment of Jesus' Prophecies," philologically compares Hellenistic Greek fragments of the Theophany with parallel texts from a later Syriac translation to show how Eusebius' interpretation of biblical prophecies changed after the Christianization of the Roman Empire under Constantine.
Simmons dedicated the paper to his four grandchildren – Hannah, Levi, Austin Michael and Ava Grace – and his two great-grandchildren ­– Alaya Maria and Emma Joy.
Harris-Fain participated in radio program
Dr. Darren Harris-Fain, professor of English, was invited to participate in a local radio program on the eve of the 2016 U.S. Presidential election while visiting the University of Lincoln, UK. The program, on Lincoln's Siren FM, recently received a 2017 Regional Edward R. Murrow Award from the Radio Television Digital News Association.
Friends of Curtiss tryouts
Are you mascot material? Try out for Friends of Curtiss!
If you have an energetic personality and a passion for AUM — and have an interest in college mascoting — Friends of Curtiss is the place for you.
Friends of Curtiss are energetic, committed, punctual, team oriented, able to perform as the best Mascot! If you've got what it takes, register for tryouts.
For more information, email Friends of Curtiss at [email protected].edu.
Tryouts | Thurs. May 4 | Register here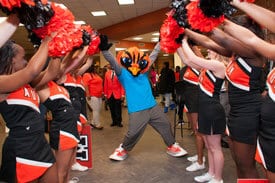 Clubs and Orgs – Get Visibility
Each semester the Office of Orientation and Transitions puts on the Weeks of Welcome — better known as WOW. During these weeks, clubs and organizations have the opportunity to host an event on campus from sponsoring a business breakfast to putting on an activity for all of our Warhawks.
Weeks of Welcome will last throughout the first few weeks of the new semester. If you are interested in having an event at Fall 2017 WOW, please fill out the online application. Fall 2017 WOW events are due by July 1, 2017.
Additionally, this summer, the Club and Organization Fair will be held during WOW events rather than during Orientation and Transition sessions. The Club and Organization Fair will have two dates:
August 22 | 11:30 a.m.–1 p.m.
August 30 | 5:30 p.m.–7 p.m.