Warhawk Weekly 4–9: Holocaust Memorial program on Thursday; Curtiss Course Critiques now open
Warhawk Weekly 4–9: Holocaust Memorial program on Thursday; Curtiss Course Critiques now open
­NEWS
Holocaust Memorial Program set for April 11
Curtiss Course Critiques for spring semester
Exploring 'intellectual love' in Romantic poetry
Payment Plans for Summer Semester open next week
Regional Summer Academy –– STEM for high schoolers
Apply for Summer Graduation!
Cheerleading tryouts set for April 12–13
Seeking candidates to become Curtiss
EVENTS
Mindfulness
Political Film Series: Woman in Gold
Theatre AUM's Arcadia continues this week
2019 Honors Day
Art Around the World
De-Stress Fest
Yoga on the Quad
NEWS
Holocaust Memorial Program set for April 11
AUM's Office of Diversity and Inclusion will host a Holocaust Memorial Program on Thurs., April 11, from 9:30 a.m. to 12 p.m. at the AUM Athletics Complex. The event is free and open to students, faculty and staff, as well as members of the general public. The program will feature stories from Holocaust survivors Max Herzl and Riva Hirsch, as well as an audience Q&A. Attendees will receive a Tolerance wristband.
Attendees are asked to submit an online RSVP at www.aum.edu/Holocaust.
Curtiss Course Critiques for spring semester
The Spring 2019 Curtiss Course Critiques for Second Half Term are open from April 8–23. The Full Term critiques will be open April 10–25.
Please keep on you AUM email for reminders!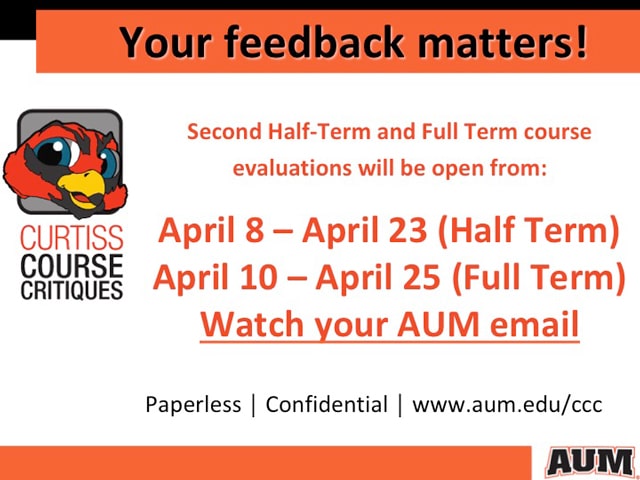 Reno publishes new book exploring 'intellectual love'
Seth Reno, associate professor in the Department of English and Philosophy, has recently published a book on "intellectual love" with Liverpool University Press. The book, "Amorous Aesthetics: Intellectual Love in Romantic Poetry and Poetics, 1788-1853," is the first book-length study on intellectual love in the Romantic era. As Reno explains, "Intellectual love is a kind of love that connects the individual to the entire world – to the universe – rather than one particular person or object."
Reno's book traces the evolution of intellectual love from its initial expression by Baruch Spinoza through adoption and adaptation in 18th Century philosophy, as well as its emergence in the works of six major Romantic poets.
Payment Plans for Summer Semester open next week
Payment plans make paying for classes easier by breaking the cost into smaller payments. Summer 2019 payment plan options open April 16.
3-Month Plan: 1st installment is 35% of actual charges; plan enrollment is April 16–May 13.
2-Month Plan: 1st installment is 50% of actual charges; plan enrollment is May 14–June 3.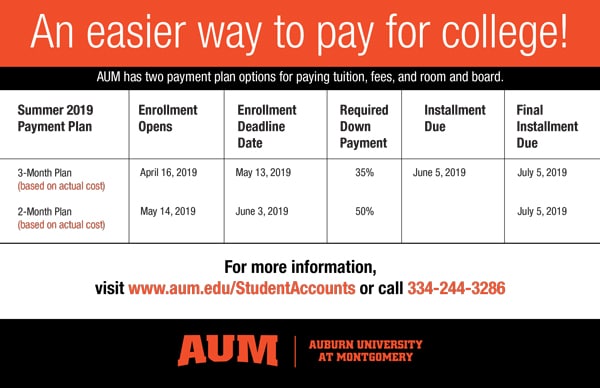 Regional Summer Academy — STEM for high schoolers
The Greater Alabama Black Belt Regional Louis Stokes Alliance Minority STEM Summer Academy is an exciting 5-day overnight summer academy that helps rising 11th and 12th graders get ahead, experience, and learn STEM influenced English, Mathematics, and Physical Science. This academy is a great way to prepare for the ACT, as well as, get valuable time management, study skills, financial aid, and library resources.
There are only 20 slots available so apply today! The academy is free for qualifying students, with the exception of transportation to campus and home. Housing and all meals are included.
For more information and to apply for the academy, please visit www.aum.edu/regionalsummeracademy. If you have questions, please email Dr. Matt Ragland or call 334-244-3138.
Apply for Summer Graduation!
If you plan to graduate this summer, please apply online through the MyAUM portal until June14.
If you have any questions, please email [email protected] or visit www.aum.edu/Graduation.
Cheerleading tryouts set for April 12-13
AUM's cheerleading team will host tryouts for the 2019-2020 squad on Fri., April 12 and Sat., April 13 in the AUM Wellness Center. Friday's tryout session will begin at 5 p.m., with doors opening at 4:30 p.m. Saturday's session will feature interviews at 10 a.m. (interview times will be assigned Friday evening) with final tryouts to begin at 2 p.m.
Students interested in trying out for a spot on the team must complete the Warhawk Cheerleading Tryout Application. Interested participants will need a current physical (completed within the last six months), a copy of their insurance card and a letter of recommendation. For additional questions, contact coach Samantha Rose at [email protected].
Seeking candidates to become Curtiss
Are you good at working a crowd? You might have what it takes to fill the beak – and orange and white sneakers – of Curtiss the Warhawk. If you're a student with a minimum grade point average of 2.5 and the maximum amount of AUM spirit, you might be a candidate for the coolest job on campus. Tryouts for the role of Curtiss will be held Sat., April 13, at 3 p.m. in the Wellness Center. Interested in learning more? Get the details by emailing [email protected].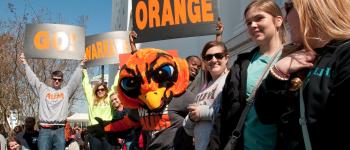 EVENTS
Mindfulness
Counseling and Health Promotion Services will offer tips on how to live a more "mindful" life on Wednesdays in Goodwyn Hall 110. The sessions build awareness of mental processes and offer guidance on how to avoid feeling overwhelmed. The Mindfulness series will continue April 17 and 24.
Wed., April 10 | 3:30 p.m. | Goodwyn Hall 110
Political Film Series: Woman in Gold
Auburn University at Montgomery's College of Liberal Arts and Social Sciences will feature a biographical drama about a Jewish woman who attempts to reclaim her possessions that were seized by the Nazis as the next feature in its 2019 Political Film Series. The screening of "Woman in Gold" on Thurs., April 11 at 7 p.m. in Goodwyn 109 is free and open to the public. Complimentary popcorn and sodas will be available for attendees. The film series schedule can be found at www.aum.edu/politicalfilms.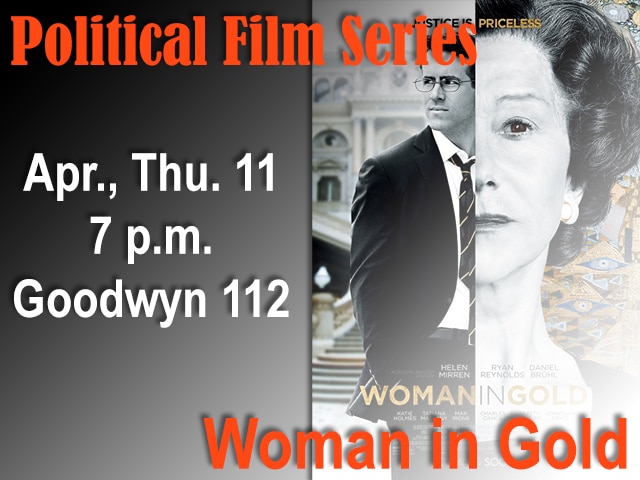 Theatre AUM's Arcadia continues this week
Theatre AUM's production of "Arcadia," by Tom Stoppard, runs through Sun., April 14.
This comedy moves between 1809 and the present and explores the nature of truth and time, certainty and uncertainty, the difference between classical and romantic temperaments and the influence of sex.
General admission is $10; $5 for senior citizens, military, and students; AUM students, faculty and staff are free with AUM ID. Show times are at 7:30 p.m. Thursday to Saturday, with a matinee showing of 2 p.m. on Sunday.
Thurs.–Sat., April 11-13| 7:30 p.m. | Theatre AUM
Sun., April 14 l 2 p.m. l Theatre AUM
2019 Honors Day
The 2019 Honors Day Program will be Fri., April 12. The university will honor and recognize distinguished undergraduates from all disciplines as well as outstanding members of the various honor societies.
Please join us to recognize our high achievers and celebrate their academic excellence.
Fri., April 12 | 2–4 p.m. | Taylor Center 222-223 | Reception to follow in Taylor Center 230
Art Around the World
In honor of World Art Day, AUM is hosting a program to celebrate the fine arts! There will be three sessions on Wednesday, each of which will include writing a short paragraph on what the art piece you create means to you. Judges will decide on the art winners and there will be prizes awarded! The winning artwork will also be posted on social media.
Space is limited. Lunch will be provided to all registered participants between Session 1 and 2. More information on the event can be found at www.aum.edu/art-around-world.
Session 1: Acrylic Painting | 9–11 a.m.
Session 2: Sketching | 11:30 a.m.–1 p.m.
Session 3: Acrylic Painting | 2–4 p.m.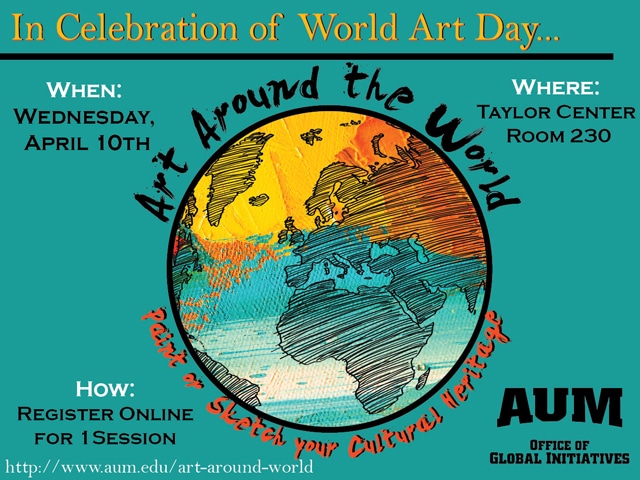 De-Stress Fest
The Campus Activities Board will help students unwind in advance of final exams with De-Stress Fest. The event will feature masseuses, popcorn, cotton candy and do-it-yourself Mason jars.
Wed., April 17 | 1–3 p.m. | Warhawk Alley
Yoga on the Quad
Join Curtiss for Yoga on the Quad! Take some time out of your busy day to slow down and de-stress.
Yoga instructors from the AUM Wellness Center will guide you through a series of yoga postures with a focus on linking breath with movement. All experience levels are welcome! Mats and water will be available.
Wed., April 17 | 2–4 p.m. | AUM Quad