Warhawk Weekly 4–28: Send us your selfie; Prep for finals; Scholarship fund created
Graduates: Send us your selfie
Prep for finals at virtual Professors-N-Pajamas
Sarah Mills Scholarship Fund created
Get active for a good cause
Preservice teachers adjust to new classroom setting
Tenure and Promotion
University task force forms
More virtual fitness classes offered
Celebrating Warhawk Champions
Register summer and fall classes
People of AUM: Pepper Martin
Graphic Design summer course
Online tutoring assistance available
Try out for Cheerleading
Filibuster applications extended
Graduates: Send us your selfie
For our soon-to-be-graduates: In a typical year, we would be looking forward to hearing bagpipes and seeing you in our commencement processional. But this has not been a typical year.
We still want to celebrate our Spring 2020 graduates even though we're delaying our in-person commencement ceremony until August 15. Send us your graduation selfies (cap and gown preferred).
Email them to [email protected] along with your name, major, hometown and post-graduation plans. You can also send us a short video with shout-outs to professors who have helped you along the way.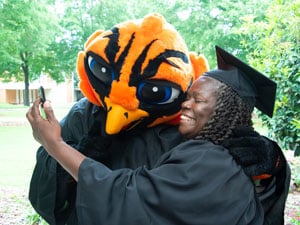 Prep for finals at virtual Professors-N-Pajamas
Even though we can't connect face to face, we're still planning to celebrate the end of spring semester with one of our favorite traditions.
Make plans to join us Wednesday, from 7-9 p.m. for the virtual version of Professors-N-Pajamas. While you're on your own for breakfast, we're still able to provide tutoring, music and some of our favorite furry friends. AUM Chancellor Carl A. Stockton will drop in for a Q&A.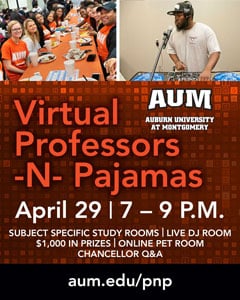 Sarah Mills Scholarship Fund created
As the campus community mourns of the loss of senior nursing major Sarah Mills, classmates have set up a scholarship fund to honor her memory and assist future AUM students.
Mills, 21, of Salem, Ala., lost her life last Friday morning in a three-car accident on Interstate 85.
Memorial gifts for the Sarah Mills Scholarship can be made online (Type Sarah Mills Scholarship in the "Other" box located on the gift form) or by mailing checks made out to the Auburn University Foundation to:
AUM Development Office
Attn: Marie Harrington
P.O. Box 244023
Montgomery, AL 36124-4023
Please write "Sarah Mills Scholarship" in the memo section of the check.
Get active for a good cause
Work up a sweat and help AUM students in the process. Get off the couch and get involved in the AUM Warhawk Activity Challenge May 11-17. Exercise generosity while you run, walk or engage in other physical activities. This combination of activity and philanthropy offers an opportunity to help AUM students who may be in financial need due to the COVID-19 pandemic.
Preservice teachers adjust to new classroom setting
Preservice teachers from our College of Education have traditionally gained valuable experience developing lesson plans for classes taught face-to-face. Then a pandemic came along.
While we don't yet know what the K-12 educational experience will look like in the fall or beyond, our education students will be ready to lead in-person or virtual classes.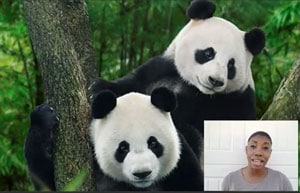 Tenure and Promotion
Please join us in congratulating the following faculty members who have earned tenure and promotion:
Clinical Associate Professor
Associate Professor and Tenure
Hoehun (Bryan) Ha
Gabriel C. Costa
James Francisco
Lilian W. Mina
Naomi H. Slipp
Yue Chen
Tenure
Shanta Varma
Walter Smith
Scott Lane
Professor
Venessa Martin Funches
Joyce Kelley
Sheila Mehta
Bridgette D. Harper
University forms task force to address reopening campus
While Auburn University at Montgomery remains committed to offering coursework remotely through the end of summer semester, it has formed a task force focused on how to reopen campus safely at the appropriate time.
Chancellor Carl A. Stockton said the task force will examine how the COVID-19 pandemic will potentially affect the AUM campus community in the coming year and will develop a plan to restore residential and in-person operations for the fall. The 17-member task force will seek to answer such questions as what classes and other campus interactions might look like if public health officials recommend limiting group interactions. Other considerations will include enhanced cleaning, housing and facility occupancy, classroom procedures, campus security, and health and wellness programs.
More virtual fitness classes offered
The AUM Wellness Center continues to offer virtual group fitness classes for the campus community via Zoom. Email Anna Champion to claim your spot and receive a Zoom link for your class. Faculty and staff can also register through the AUM Training Calendar. Remaining offerings for this week include:
Wednesday
10 a.m. – Coach Dee: Cardio Fitness (45 mins)
Noon – Angel: Body Barre
4 p.m. – Mel: Stretch & Stability
Thursday
9 a.m. – Brenda: Cardio/Strength Circuit
Noon – Velvet: Yoga
3 p.m. – Monette: Zumba
Friday
10 a.m. – Mel: Stretch & Stability
Noon – Jungle Body-Konga
Celebrating Warhawk Champions
We are fortunate to have faculty and staff who continually go above and beyond to serve the needs of students amid extraordinary and difficult circumstances. We are proud to recognize several individuals and units as "Warhawk Champions."
Included in this group are:
Office of University Marketing
Faculty members Haley Dyer, Eric Sterling, Susan Willis,
Ann Gulley, Learning Center & Warhawk Academic Success Center
Bill Broadway, Information Technology Services
Office of Digital Learning
Nominate a Warhawk Champion at: http://www.aum.edu/aboveandbeyond
Register for summer and fall classes
The sooner you register for Summer and Fall classes, the more likely you are to get the classes you want at the times you need. Keep in mind that additional Pell money may be available for Summer classes as well. Summer is a great time to get ahead in some areas in order to take the pressure off in Fall and Spring.
People of AUM: Pepper Martin
Why has AUM emerged as the No. 1 choice for students in Alabama's River Region?
Simply put, AUM graduates are prepared to lead and succeed, whether their post-graduation plans take them into the workforce or on to graduate school.
Pepper Martin, who earned a degree from Auburn University in Communication and Media Studies in 1998, discusses the AUM experience.
Introducing new Graphic Design summer course
A new course on graphic design will be opening this summer!
In VISU 1102: Two-Dimensional Design, students will focus on developing an understanding of the principles of organization and the elements of art through creating works digitally that convey organic unity. Utilizing the raster graphics software, Autodesk Sketchbook, students will also receive training in digital software as they take their initial concept from sketch to final design.
In this online studio course, students will receive a Wacom Drawing Tablet and stylus to work with for the term. The tablet must be returned to the university upon a given student's completion of the course. In order to take this course, students must have their own computer, however, with the minimum requirements to support Autodesk Sketchbook Pro and a USB port.
For more information, please email the Fine Arts Department or Tony Veronese.
Online tutoring assistance available
Having difficulties with online classes?
The Warhawk Academic Success Center can help you. Schedule an online tutoring appointment, Monday-Friday, 8 a.m. to 5 p.m., by emailing [email protected] or calling 334-244-3230.
Try out for Cheerleading virtually
Cheerleading tryouts for the 2020-21 season will be done virtually. Applications are open until Thursday, April 30 and the virtual tryouts will be held May 1-3. Requirements include performing two jumps, a cheer, a dance (females only), and tumbling is optional. After the tryout application is received, materials will be emailed. For more information, check out the AUM Athletics site.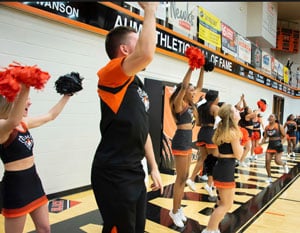 Filibuster extends application deadline
The Editor-in-Chief and Graphic Designer positions for the 2021 Filibuster applications are still open until Friday, May 1.
To apply, potential candidates will need to submit both a one-page "Letter of Intent" that describes their vision for the magazine and a one-page "Resume" that describes their qualifications for serving in the position. The positions begin in the Summer 2020 term and continue through Spring 2021. Each student will receive a small scholarship as part of their position in Fall 2020.
Experience with Adobe In-Design is required for the Graphic Design position. Experience with this program is also preferred, but not required, for the Editor position. All candidates must be enrolled as either a full or part-time student during the year to serve in the position, and he or she must maintain a 2.0 grade point average. Applicants should also have completed ENGL1010 and ENGL1020.
Candidates can send their "Letter of Intent" and "Resume" as attached Microsoft Word documents to Filibuster's Academic Advisor, Dr. Robert Klevay, at [email protected]. Any questions about the position should also be directed to Dr. Klevay.